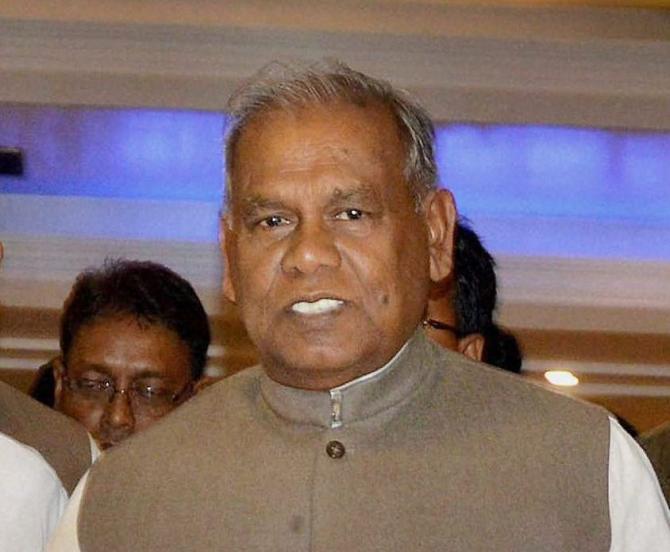 Taking advantage of ongoing tussle in Bihar's ruling Janata Dal-United government over the removal of Chief Minister Jitan Ram Manjhi by the powerful Nitish Kumar's camp, opposition Bharatiya Janata Party on Friday has offered its support to Manjhi if he managed to augur the support of 30 JD-U MLAs.
"BJP is ready to help and support Manjhi against Nitish Kumar camp. But the BJP has agreed to render conditional support to Manjhi in exchange for written support of at least 30 JD-U MLAs. If Manjhi manages, the BJP would support him on the floor of the house to prove a majority and continue as chief minister," a senior BJP leader told Rediff.com in Patna.
The BJP has 88 MLAs in the 243-member Bihar assembly while the JD-U has 115 MLAs and enjoys the support of 24 Rashtriya Janata Dal MLAs, 5 Congress's MLAs, 1 Communist Party of India and two independents.
"The BJP is closely monitoring the developments in the JD-U," another BJP leader said.
The JD-U is presently divided into the pro-Manjhi and the pro-Nitish camps. Both camps are ready for a showdown over Manjhi's removal as CM.
This showdown may come sooner than later, sources say, since a day after JD-U president Sharad Yadav called a meeting of the legislature party on Saturday, amid speculation that Jitan Ram Manjhi will be removed as the chief minister and replaced by Nitish Kumar, Manjhi on Friday called a separate meeting of JD-U legislature party on Feb 20.
Manjhi, who termed the planned meeting illegal and unconstitutional, has already refused to resign despite pressure by powerful group within the JD-U.
According to JD-U leaders in Patna, the party may discuss the crucial issue of replacing Manjhi in the party legislators meeting.
Another senior JD-U leader said that the party leadership is keen to know the mood of the legislators before taking any final decision regarding Manjhi.
The RJD and Congress have made it clear that they had extended support to the JD-U and not to any individual.
Lalu has reportedly told JD-U leadership to take decision about Manjhi on its own.
"The Congress has already said that Nitish Kumar's image is good and he has set a track record for development during his tenure. It is high time that all secular forces unite under his leadership so that their votes do not get divided and benefit rival parties like BJP," Bihar Pradesh Congress Committee Chief Spokesperson HK Verma said.


Image: Bihar CM Jitan Ram Manjhi. Photograph: PTI photos