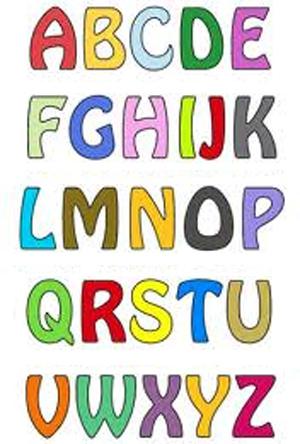 Major rival parties in poll-bound Madhya Pradesh are literally waging a 'war of words' by coining meanings to alphabets to highlight issues of corruption allegedly linked to each other.
Experts feel that this is not a good thing as it may send a wrong message among children when they listen to such attribution of meanings to alphabets.
The ruling Bharatiya Janata Party in the state has coined terms such as 'A for Adarsh scam, B for Bofors scam, C for CWG scam, D for Damad Ka Scam, E-Enron Scam' and so on in an alphabetical order till Z, as highlighted by party leaders during their poll rallies, against the Congress.
Not to be left behind, the Congress hit back at the BJP by formulating a similar order in Devnagiri (script) language's "Barahkhadi", of scams which allegedly took place during the BJP's governance, specially in Madhya Pradesh.
State Congress unit issued a press note last month highlighting scams in 'Barahkhadi' (of Hindi) order - "A-Apex Bank Ghotala (scam) AA-Aditya Construction Company Ghotala, E-Indore Vikas Pradhikaran Ghotala, EE-E-tendering Ghotala, U-Udyogon ka nakli sapna, Uu-Urja kharid Ghotala, A-Arrears Ghotala, Ai-Essar coal Block Ghotala, O-Ola-pala muawja Ghotala, Ou-Aurton par Atyachar...and so on."
However, experts feel politicians should not coin such words.
"In politics, rivals use various ways to down each other by phrasing things in such a manner, but politicians should also think about its wider impact on the society," Dr
Gyanendra Gautam, head of sociology department in Barkatullah University Bhopal, told PTI.
"In terms of political socialisation, when children listen to such things they start believing two things about politics, first, that it is a bad thing and secondly, it is a mechanism to mint money...which is not good for the society as such," Gautam said.
Terming the coining of English and Hindi alphabets in this manner as "completely unnecessary," Bhopal School of Social Sciences College's psychology department head, Vinay Mishra said, "It may not end up in polluting young minds totally, but would definitely leave them utterly confused."
"It will also lead to raising levels of prejudices against political parties at a tender age," Mishra said, adding that it is not a good way of grabbing attention of young minds.
Meanwhile, Madhya Pradesh Congress Committee joint spokesman Pankaj Chaturvedi said the party was forced to come out with such a thing to counter the BJP, which had come out first with such a list.
However, he said political parties must think a lot before coming out with such things for campaigning as it may have a lasting impact on school-going children.
BJP MLA and spokesman Vishwas Sarang said that such a thing will not affect the young minds as people in the country, specially children and youth, and aged people, all are equally affected by the series of corruption that the Congress party has indulged into."It is a way of explaining things or sending the message down the line, but definitely it will not have any impact on the children," Sarang added.