Forges ties with Bodo People's Front; to continue talks with AGP, reports Archis Mohan.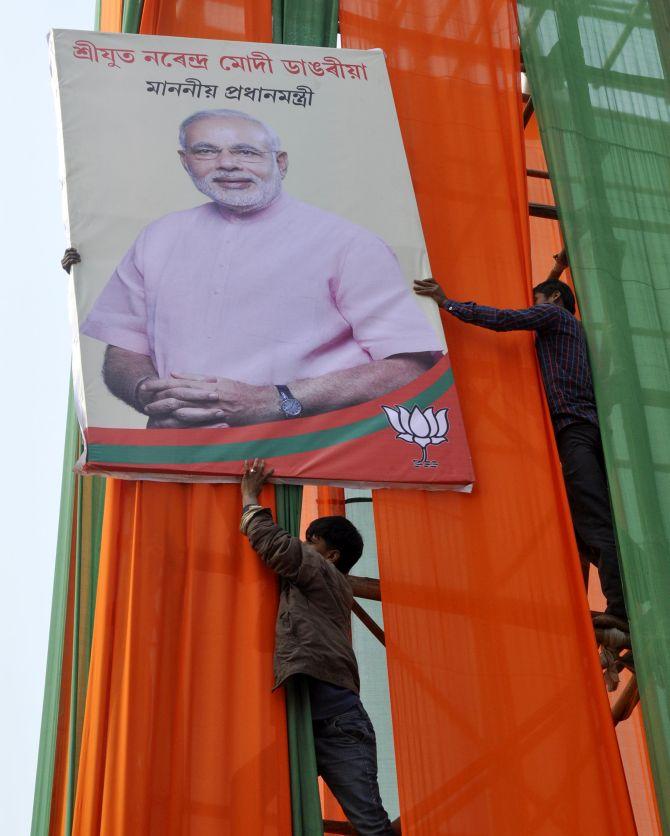 The Bharatiya Janata Party is busy shaping a grand alliance of its own in Assam, but hopes to meet more success in its efforts in the days to come.
Late on Sunday night, the BJP sealed electoral alliance for the upcoming state polls with the Bodoland People's Front.

BJP sources say they are unsure if the party will succeed in its efforts to stitch an alliance with the Asom Gana Parishad.

Ram Madhav, general secretary entrusted with the BJP's Assam affairs until the state polls in April, tweeted late Sunday night that BJP-BPF alliance was sealed after a meeting between BPF chief Hagrama Mohilary, Union youth affairs minister and BJP's face for Assam polls Sarbananda Sonowal, and BJP president Amit Shah.

But, the party state unit leadership's meeting with AGP ended inconclusively.

The alliance with the BPF will help BJP in 16 seats the former has sway in, in four districts of lower Assam, particularly in the Kokrajhar district. On Tuesday, Prime Minister Narendra Modi is scheduled to address a public meeting of tribal communities in Korkrajhar and a youth rally in Khanapara, Guwahati.
This will be the official launch of the BJP's election campaign in Assam. It is expected that the PM will announce an economic package for the Bodo areas. The BPF had won 12 seats in the 126-seat assembly in the 2011 state polls. The BJP is also in talks with the United People's Front. It is an umbrella outfit of tribal communities.
But, BJP feels the need for an equally important ally in the Brahmaputra valley. The AGP submitted a list of 42 seats that it wishes to contest in the Assembly polls. The BJP believes 42 to be an unreasonably high number given that the AGP is no longer as influential a party. The BJP had won seven of the 14 Assam seats in the 2014 Lok Sabha elections.

"Of the five state polls due by April, Assam is the only state where the BJP stands a chance of forming a government. But, much would depend on how effectively we sew up an alliance of like-minded parties," a BJP leader, privy to the alliance talks, said. BJP state leader Sonowal and Himanta Biswa Sarma started their political careers in the All Assam Students Union and AGP.
Image: Preparations are in full swing ahead of Prime Minister Narendra Modi's visit to Guwahati.