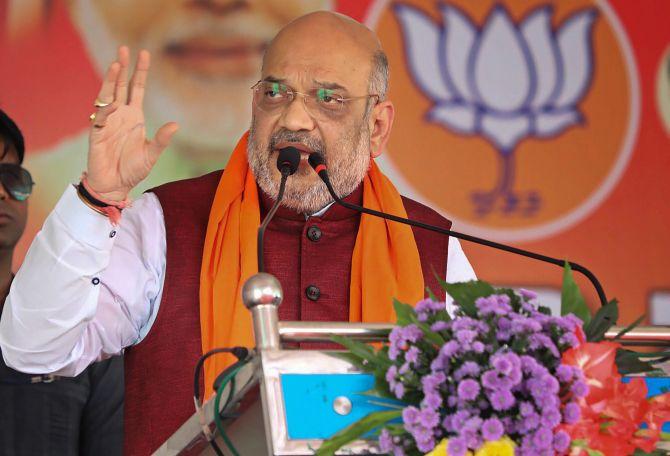 The Bharatiya Janata Party in its manifesto for the December 7 assembly polls in Telangana, has proposed introduction of Yoga in schools and colleges and setting up a Sanskrit University in the state, besides establishment of a board for welfare of IT sector employees.
These measures are in addition to other proposals made earlier, including regulation of sale and consumption of liquor, free trips to certain religious places like Sabarimala and distribution of one lakh cows every year.
"This (introduction of Yoga in schools and colleges) is not linked to Hindutva. Yoga is for better health," BJP's manifesto committee Chairman N V S S Prabhakar told PTI.
The manifesto would be formally released soon.
The history of Hyderabad, including the Nizam rule, the activities of Razakars and the struggle for separate Telangana would be made part of academic curriculum, Prabhakar, a member of the recently-dissolved assembly, said.
Observing that employees in the IT sector faced problems like sudden reduction in salaries and absence of various welfare measures, Prabhakar said a board would be set up for their welfare.
Hyderabad is one of the major centres of IT and related sectors in the country with thousands of employees working in the IT and ITes companies.
The other proposals include setting up exclusive Corporations for the welfare of different communities (Eg. Reddy and Vysya).
The manifesto had earlier proposed various measures, including free distribution of one lakh cows every year to those who seek them, setting up a 'mini-India linguistic welfare board' for the welfare of linguistic minorities (those coming to Hyderabad from other states for livelihood).
The proposals also include regulating sale and consumption of liquor, cancellation of surcharge fares by state-run Road Transort Corporation (RTC) buses during festival seasons and free transportation to those taking up 'Deeksha' (religious code of behaviour) for visiting temples, including Sabarimala.
Total waiver of the tax on petrol and diesel, free online and offline coaching to youth appearing for competitive examinations and provision of safe drinking water for Rs 6 per month per household are the other proposals made by the manifesto committee.
The BJP, which had five MLAs in the dissolved (119-member) assembly, hopes to substantially increase its strength in the coming polls.
The Election Commission on Monday issued notification for the December 7 election to the Telangana Legislative Assembly.
The BJP asserted that it would not join hands with the Telangana Rashtra Samiti if the latter falls short of numbers to form government, as it rejected the Congress charge that two parties were hand-in-glove.
Telangana BJP spokesperson Krishna Saagar Rao also challenged the Congress to give a similar 'guarantee'.
The Congress has in recent times repeatedly alleged that the caretaker Telangana Chief Minister K Chandrasekhar Rao was a 'stooge' of the BJP and the two parties have a 'tacit understanding' in the upcoming assembly poll.
"There is 100 per cent tactical understanding between the TRS and BJP," All India Congress Committee in-charge of Telangana affairs, R C Khuntia told PTI.
In his counter, Krishna Saagar Rao said, "I have a challenge for (Telangana Pradesh Congress Committees president) Uttam Kumar Reddy and (Congress president) Rahul Gandhi. Will you guarantee the people of Telangana that if KCR (as Chandrasekhar Rao is referred to by many) falls short of winning that you (Congress) will not help."
"We (BJP) can assure you that we will not. Even if the TRS falls short, that BJP will not, no matter how many seats we get, we will not form government with TRS. We can assure you that," he said.
The TRS had supported National Democratic Alliance candidates in the Presidential and Vice-Presidential elections, as also the goods and services tax and demonetisation measures, giving rise to speculation in some quarters over the proximity between the two parties.
BJP fought the 2014 assembly elections in alliance with the Telugu Desam Party, winning five seats in the 119-member House.
This time it's going it alone. TRS leaders also dismissed the Congress allegation of a tacit electoral understanding with the BJP.
"In the present Telangana and also undivided Andhra Pradesh (before 2014), TRS is the only party which has not aligned with BJP. TRS will not align with any other party, much less the national political parties (BJP and Congress)," TRS deputy floor leader in Lok Sabha, B Vinod Kumar told PTI.
Meanwhile, a senior BJP leader said on condition of anonymity said, "KCR understands that BJP wants him to be neutral and not go to Congress-led alliance at the national level."
"And he (KCR) also understands that we (BJP) don't want the Congress to rise," he said.
"If we (BJP) fight hard (in Telangana polls), who are we going to defeat (TRS or Congress) is the question. If you fight hard, you are defeating a wrong person (TRS). If Congress wins...that's not our objective," the leader said alluding to his party's 'predicament'.
© Copyright 2021 PTI. All rights reserved. Republication or redistribution of PTI content, including by framing or similar means, is expressly prohibited without the prior written consent.