Several opposition leaders hit out at the Bharatiya Janata Party following the disqualification of Rahul Gandhi as an MP on Friday, alleging the ruling party was involved in vindictive politics, and said it was a new low for democracy.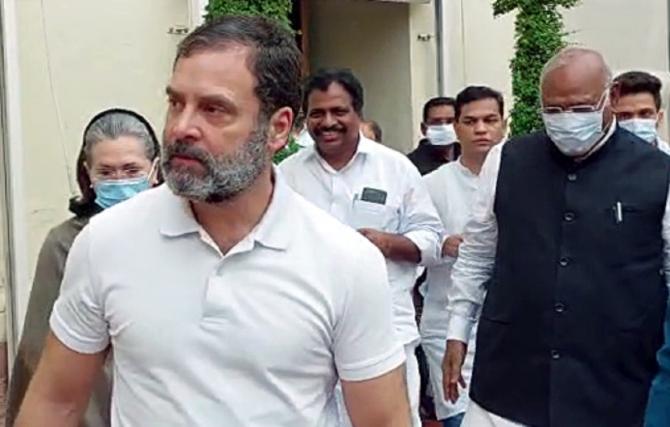 In Kolkata, West Bengal Chief Minister Mamata Banerjee on Friday without naming Rahul Gandhi said the country is witnessing a new low in a constitutional democracy.
Opposition leaders are being disqualified for their speeches, she asserted.
"In PM Modi's New India, opposition leaders have become the prime target of BJP! While BJP leaders with criminal antecedents are inducted into the cabinet, opposition leaders are disqualified for their speeches. Today, we have witnessed a new low for our constitutional democracy," she said in a tweet.
"Today, we have witnessed a new low for our constitutional democracy," Banerjee, added.
In Mumbai, Uddhav Thackeray, who heads the Shiv Sena-Uddhav Balasaheb Thackeray faction, dubbed Congress leader Rahul Gandhi's disqualification as "murder" of democracy and said this is the beginning of the end of "dictatorship".
In a statement, Thackeray said it has become a crime to call a thief a thief, while those "looting" the country are out.
"This is the murder of democracy. All agencies are under pressure. This is the beginning of the end of the dictatorship...the battle only needs a direction (now)," Thackeray said.
"Vindictive and shameful action against Rahul Gandhi. This disqualification yet again proves that we are living in the times of caged democracy," she said in a tweet.
Communist Party of India-Marxist Leninist general secretary Dipankar Bhattacharya highlighted the speed with which action was taken against Gandhi.
"The sentence against @RahulGandhi in the alleged Modi defamation case was announced yesterday and within a day he is now disqualified from the Lok Sabha! Nothing short of a surgical strike on democracy! Time for the entire opposition to rally against this unbridled emergency!" he said.
Communist Party of India leader Binoy Viswam asked where India was going as a democracy.
"Where is our democracy heading to? For a speech made in Kolar, case in Surat, that too after how many years? Anybody of their dislike can be booked for whatever reason they decide! Today it is Rahul Gandhi, tomorrow it can be you or me. Time to unite in defence of democracy," he said.
Bahujan Samaj Party MP Danish MP termed Gandhi's disqualification unfortunate, and said if MPs were to lose their membership on such matters of defamation, then 70 per cent of parliamentarians will lose their membership, most of them being from the BJP, he claimed.
He alleged that many BJP leaders have linked Muslims to terrorism, while criticising the disqualification.
"If such an issue becomes a yardstick to disqualify an MP, then filing defamation cases will become a means to strip lawmakers of their membership," he said.
The Lok Sabha Secretariat disqualified Rahul Gandhi as MP from Wayanad in Kerala after a day after a Surat court convicted him in a 2019 criminal defamation case for his remark, " "How come all thieves have Modi as the common surname?"
Following his disqualification, Gandhi would not be able to contest elections for eight years unless a higher court stays his conviction and sentence.
While the Congress has said it will fight the matter politically and legally, the BJP has said the decision to disqualify Gandhi was a legal one and not a political call.
© Copyright 2023 PTI. All rights reserved. Republication or redistribution of PTI content, including by framing or similar means, is expressly prohibited without the prior written consent.