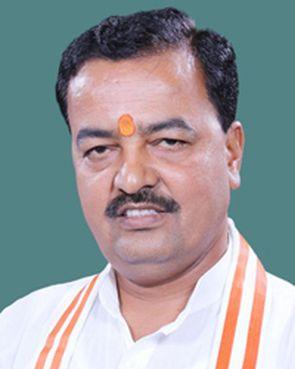 The Bharatiya Janata Party announced a major organisational reshuffle in the party, appointing Hindu hardliner Keshav Maurya and former chief minister B S Yeddyurappa as state party presidents in Uttar Pradesh and Karntaka respectively.
Keshav Prasad Maurya's nomination as the new BJP chief in Uttar Pradesh is expected to provide a fillip to the party's hardline Hindutva agenda in the state, which goes to the polls in less than a year.
Besides Hindutva, Maurya's OBC background is expected to come in handy to woo the backward community, who form a giant vote bank in the state, where BJP's influence was traditionally limited to the upper caste Hindus. It was only in the 2014 national elections that popular support could cut across caste lines in the name of Narendra Modi and take the party to unprecedented heights.
Maurya succeeds Laxmi Shankar Bajpai, whose term concluded in December, after which a search was on for a "suitable" leader, who could infuse life into the otherwise rudderless party, even though it held sway over as many as 71 of the state's 80 Lok Sabha seats.
A first time MP from Phulpur (Allahabad), a parliamentary constituency once held by India's first prime minister Jawaharlal Nehru, Maurya is known for his long association with the Vishwa Hindu Parishad. He's been a close lieutenant of former VHP supremo the late Ashok Singhal and was a visible face at various stages of the Ayodhya temple movement, particularly since the late '80s.
BS Yeddyurappa, the tallest Lingayat leader who was removed as chief minister on corruption charges and had floated his own party before the last assembly elections, returns to the helm of affairs in Karnataka, which is looking to wrest power back from Congress.
Reacting to his appointment, Yeddyurappa said his priority would be to bring back BJP to power as people are "fed up" with the "corrupt" Congress government.
Yeddyurappa had returned to the BJP ahead of the Lok Sabha elections, helping the party win 17 of the 28 seats in the state.
Image: Keshav Prasad Maurya succeeds Laxmi Shankar Bajpai, whose term concluded in December
-- With inputs from PTI