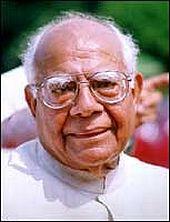 Brushing aside reservations from a section of the party, the Bharatiya Janata Party on Sunday nominated eminent lawyer and former Union Minister Ram Jethmalani from Rajasthan for the Rajya Sabha elections.
The announcement made by party president Nitin Gadkari triggered protests from some BJP supporters in Rajasthan who felt the seat should not go to an 'outsider'.
The name of Rajasthan BJP president Arun Chaturvedi was doing the rounds for the seat.
87-year-old Jethmalani's candidature was supported by L K Advani as also Gujarat Chief Minister Narendra Modi, party sources said.
Jethmalani has advised Advani in connection with the Babri Masjid demolition case and Modi on the 2002 Gujarat riots case.
His name was finally cleared by the BJP parliamentary board at its last meeting but an official announcement was made only today.
Jethmalani had recently written to the BJP president expressing his desire to join the party and represent it in Rajya Sabha from Madhya Pradesh where the party is in power.
A section of the BJP was reported to be opposed to Jethmalani being nominated, contending that he had contested against senior party leader and then Prime Minister Atal Bihari Vajpayee from Lucknow in the 2004 Lok Sabha elections.
They noted that Jethmalani, who stood as an independent candidate, had been supported by the Congress.
Vajpayee had defeated Jethmalani by a huge margin. Another bone of contention is that contrary to the BJP view that the death penalty to Parliament attack convict Afzal Guru should be quickly executed, Jethmalani has argued in the Rajya Sabha that his sentence should be commuted to life imprisonment.
BJP has been accusing the government of not carrying out the death sentence against Afzal for votebank politics and appeasement of minorities.
Jethmalani has served as a Union minister in the United Front and NDA governments. Jethmalani, an independent MP, joined the BJP-led NDA ministry in 1998 and then again in October 1999.
However, he quit the Vajpayee government in July 2000. Gadkari also nominated Ajay Maru as party's candidate from Jharkhand where the party requires 28 MLAs to get its candidate elected to Rajya Sabha.
BJP has 18 MLAs in Jharkhand and it has sought the support of NDA ally JD-U which has two MLAs.
Seeking a second term, Hema Malini, yesteryear actor, may still be able to make it from Karnataka or Orissa where BJP can field one candidate from each state with the support of other parties.
Party sources said she has been a star campaigner and could be rewarded for that. Another aspirant Najma Heptullah, who has completed two terms, is also looking for a renomination.
Image: Ram Jethmalani