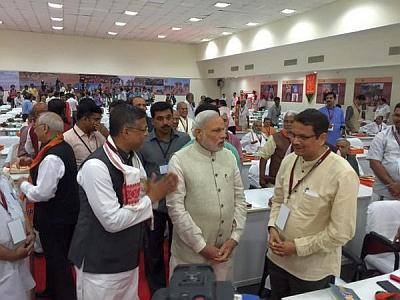 Under attack over the land bill, the Bharatiya Janata Party on Friday said it will launch a mass contact programme to dispel "myths and propaganda" spread by the opposition and engage farmers in dialogue even as it insisted that it remains open to changes suggested by rival parties and farmers.
As the two-day BJP National Executive meet began in Bengaluru on Friday in the presence of Prime Minister Narendra Modi and party president Amit Shah, BJP General Secretary P Muralidhar Rao said the party would brainstorm over the issue and will also come out with a nationwide outreach to publicise the good works of the government when it completes one year in power next month.
"There will be a discussion over the land bill. The opposition has spread various myths and propaganda about it. We will go to people against it. Industrialisation is necessary and we do not see any conflict between the industry and agriculture. We are making farmers a stake-holder and their interest would not be compromised," he told media persons.

BJP leadership, he noted, had already made it clear that it was willing to talk to opposition parties and farmers and consider bringing changes in the bill.
"We want to talk with an open mind," he said.

Rao said over 15 lakh members would undergo a training programme and they will play an important role in reaching out to public about the good work being done by the government.
The question that whether senior leader L K Advani will address the delegates or not continues to loom large as Rao said he would be present throughout the two-day meet being attended by over 111 national executive members besides a host of special invitees, including chief ministers of party-run states and its state presidents.
"He has come here and will be present throughout. He is always there to guide us," he said, evading a direct reply.
Advani's valedictory address has been a customary fixture in the national executive meetings barring the one in Goa in 2013 which he had skipped in apparent protest against the elevation of Modi as the party's campaign committee head ahead of the Lok Sabha elections in 2014.

The veteran leader has been eased out of the party's key decision-making bodies by the Modi-Shah combine and made a member of largely ceremonial 'margdarshak mandal'.