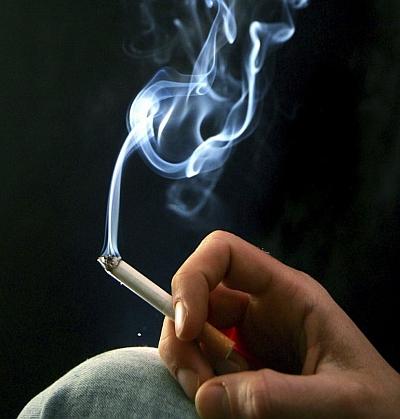 Amidst a raging controversy over remarks on smoking by a Bharatiya Janata Party MP who is a 'beedi' baron, another Member of Parliament from the party Ram Prasad Sarmah on Friday waded into the row, claiming there is no clear proof yet linking cigarette puffing and cancer while wondering whether tobacco contains "herbal medicine".
"Whether cigarette smoking causes cancer or not, there is no full proof till now," Ram Prasad Sarmah, BJP MP from Tezpur, Assam said in Biswanath Chariali, about 75 km from Tezpur town.
Sarmah, a member of the Parliamentary Committee on Subordinate Legislation which is looking into the rules regarding tobacco sale in the country, said the panel would focus on facts.
"It is difficult to prove, whether it (smoking) causes cancer or not. Whether smoking, tobacco is cancerous or not or whether it contains any herbal medicine also, it has to be found out. So we have kept it in the committee meeting so that doctors can come and testify as witnesses or provide chemical proof, medical proof that smoking causes cancer," Sarmah said.
"We are not for or against, we want to look at it impartially without bias, whether smoking cigarettes causes cancer or not," he added.
He mentioned that he knew two senior lawyers, of whom one smoked 60 cigarettes and had a bottle of liquor everyday yet died at 86, without cancer while the other at 75 years is alive and smokes 40 cigarettes a day and drinks liquor but is not afflicted by cancer.
Sarmah's remarks come in the back drop of a controversy triggered by 'beedi' baron and BJP MP from Allahabad, Shyama Charan Gupta, also a member of same Parliamentary panel, that a lot of chain-smokers had no cancer.
"I can produce a lot of people in front of you who are chain smokers of beedi and till date they have had no disease, no cancer... You get diabetes due to eating sugar, rice,
potatoes," Gupta, a Lok Sabha MP from Allahabad, had said.
Gupta's remarks had come barely days after the Parliamentary panel head Dilip Gandhi, also from BJP, had said there was no Indian study to confirm that tobacco use leads to cancer, leaving the government embarrassed and rival parties and the medical fraternity fuming.
Meanwhile opposition parties continued to criticise Gupta's remarks with the JD-U saying that there is a conflict of interest and questioned Gupta's continuance in the panel which has to consider issues related to tobacco.
JD-U leader K C Tyagi said the World Health Organisation, of which India is a member, had held that tobacco is injurious to health.
He also said that there was a conflict of interest in Gupta's presence on the panel which would look into the effects of tobacco on health as he is a beedi baron.
Tyagi said that as per the Ethics Committee of Parliament, no MP should be part of committee in which his commercial interests are involved.
National Democratic Alliance ally Pattali Makkal Katchi said both the BJP MPs had made "ignorant and foolish" utterances without any scientific basis and asked the Modi government to put an end to such remarks "as the country should not be put to shame".
"I mean these people should stop these silly utterances and people globally think Indian Parliamentarians have low acumen and that's not to be," PMK founder leader and former Union Health Minister Anbumani Ramadoss said.
Globally-acclaimed institutions, including the Indian Council of Medical Research, had done hundreds of studies linking tobacco use to not just cancer, but to diseases related to kidney, lungs and brain as well, he noted.
He alleged that people were apprehensive of a "collusion between health ministry and tobacco lobby."
While the tobacco industry's market size was Rs 40,000 crore, expenditure to tackle tobacco caused diseases were estimated at Rs.1,15,000 crore, he contended.
Dismissing arguments against increasing the size of pictorial warnings on cigarette packets, Ramadoss urged Prime Minister Narendra Modi to give directions to ensure it is increased to 85 per cent as scheduled earlier.
"It is high time the prime minister intervened. I appeal to him to order the health ministry to increase pictorial warning to 85 per cent (on cigarette packets) immediately," he told reporters in Chennai.
The health ministry has put in abeyance the move to increase pictorial warning in tobacco products to 85 per cent effective April 1.
Ramadoss said that as health minister he had withstood pressure from the tobacco lobby and opposition from different quarters and got notified that 40 percent of the space on all tobacco products should have pictorial warning.