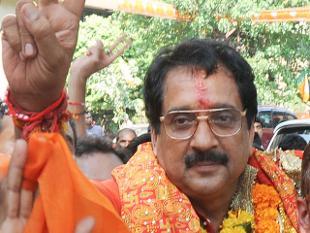 A sting operation video, purportedly showing Bharatiya Janata Party MLA from Mumbai Raj Purohit saying that there is no collective leadership in the party, left the BJP embarrassed but the legislator dismissed it by saying the voice in it is not his.
Terming the video as "forged", Purohit said in a statement, "The voice in it is not mine. The matter should be investigated forensically. I hold both Modi and Amit Shah in high esteem."
Purohit had allegedly said in the sting video that only two people take decisions in the BJP and others only implement it. "There is no collective leadership in the BJP. Only two people take decisions and others merely implement it. Collective leadership is a farce," Purohit purportedly said in the video.
Meanwhile, suspected Maharashtra Navnirman Sena workers attacked Purohit's office in Kalbadevi area in South Mumbai on Friday, as the MLA was also seen allegedly ridiculing Raj Thackeray in the video.
"Raj Thackeray is bogus. He is not a leader. He is just a caste leader," the video shows Purohit as saying.
"Injustice is being done to me. I am one of the senior most people in the BJP. I should have been a minister, next to Eknath Khadse," the MLA said.
Purohit also alleged in the video that Mumbai BJP MLA Mangal Prabhat Lodha had gotten hold of late BJP leader Pramod Mahajan's 'huge money', which Lodha had ulitised for elections.
"Lodha's writ runs in the RSS. He has lots of money. He manages everyone," Purohit said.
Criticising the Modi government's decision, Purohit said 'banias' (traders) who are BJP supporters are unhappy about Permanent Account Number being made mandatory for gold purchases of over Rs 1 lakh.
Reacting to what Purohit said in the sting video, Maharashtra state BJP unit president Raosaheb Danve said, "If the truth is established and if he has violated party discipline, the matter will be taken up before the BJP disciplinary committee and he will be expelled from the party."
"The veracity of the sting operation needs to be verified. Raj Purohit will have to be called and asked to explain. I called him up after returning to Mumbai from Nagpur. He is not here," Danve said.