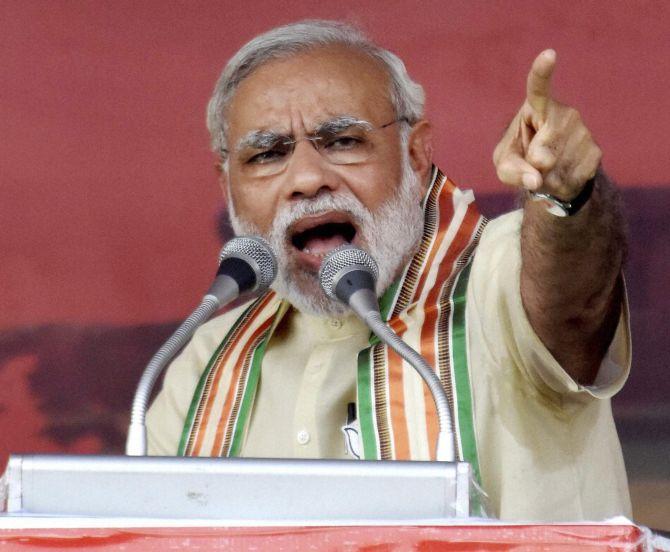 Congress also won most of the seats where Rahul addressed election rallies.
This is clearly something which the Bharatiya Janata Party top brass would not like to listen at this time. But it is true. It is learnt that the party lost most of the assembly seats in Bihar where Prime Minister Narendra Modi had addressed election rallies. Wait, it doesn't end here. It could be another jolt to the BJP that the Congress won all the seats where party president Sonia Gandhi addressed election rallies and also won majority of seats where party vice president Rahul Gandhi campaigned.
In the Bihar elections, Modi was the face of the BJP-led National Democratic Alliance and the star campaigner. He addressed 26 election rallies in as many assembly constituencies. The PM's campaign began from Banka assembly seat on October 2 and concluded in Darbhanga assembly constituency on November 2. It was the most by any prime minister so far.
"Out of the 26 election rallies addressed by Modi in as many assembly constituencies, the BJP won 10 seats and was defeated in 16," a BJP leader said.
Modi addressed four rallies in the state in July and August even before the assembly polls were announced, with two official visits during the same period.
No prime minister before Modi ever visited Bihar more than two or three times during assembly elections. Former prime minister Atal Bihari Vajpayee had addressed a few rallies during the 2000 Bihar assembly polls while his successor Manmohan Singh addressed two or three rallies in the 2005 assembly elections, and a similar number in the 2010 polls.
The BJP won Banka assembly seat, but was defeated in Nawada, Aurangabad and Jehanabad where Modi addressed election rallies. It was also defeated in Begusarai, Munger, Samastipur, Naubatpur, Buxar, Bettiah, Sitamarhi, Madhubani, Madhepura and Farbisganj where Modi addressed rallies.
Modi's appeal for change (parivartan) in Bihar clicked in only a few seats. "Modi's election rallies were attended by a large number of people but it was not converted into votes," the BJP leader said.
BJP president Amit Shah addressed 63 election rallies and camped for over a month in Bihar, but failed to ensure a victory for the party. BJP won only 53 seats and its allies Lok Janshakti Party and Rashtriya Lok Samata Party won two seats each while Hindustani Awam Morcha bagged only one.
On the other hand, the Congress won all the four assembly seats -- Kahalgaon, Vajirganj, Buxar and Manjhi --where Sonia Gandhi addressed election rallies.
Rahul Gandhi addressed 12 election rallies in as many constituencies and the party managed to win eight -- Bachwada, Barbigha, Riga, Benipatti, Kishanganj, Amaur, Araria and Kodha -- out of those seats.