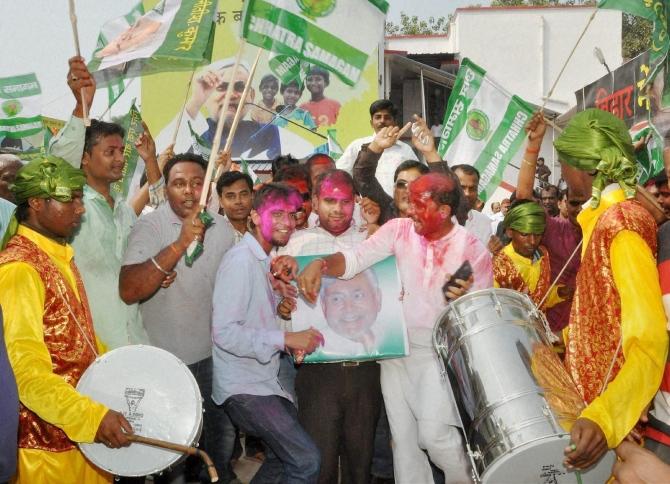 As the Janata Dal-United-led alliance ambled towards a scintillating victory in Bihar polls, the social media threw up a whole spectrum of responses, with some equating the win as the "triumph of democracy" while few others feared that it will lead to "return of jungle raj".
From Patna to Muzaffarpur and Darbhanga to Delhi, people took to Facebook and Twitter to express their opinions, which ranged from overwhelming support for the Lalu-Nitish combine to abject disappointment over the poor results of Modi-Shah-led Bharatiya Janata Party campaign at the hustings.
"'Ek Bihari Nagpuriyon par bhari' (one Bihari trounces Nagpuris)," wrote city-based Kumud Singh, with an apparent reference to Rashtriya Swayamsevak Sangh.
Nabil Ashraf, a Bangalore-based IT professional from Patna, used humour-laced lines to express his satisfaction over the results.
""BJP says cow wasn't allowed to vote that's why we lost the ground#losers #modibhagao Jay Ho," he wrote on Facebook.
Netizens, living in the US also posted and tweeted with much glee and even gave new twist to Bihar-related stereotypes, that otherwise populate the social media.
"'Jo na kate aari se, wo kate Bihari se' (Those who cant be removed by tools, need a Bihari to get the boots)," said Ajit Chauhan, a United States-based research professional.
References to cow, beef and Pakistan, which dominated political speeches and rallies during the keenly-fought Bihar polls, resurfaced on the media, with the twitterati targeting Modi-Shah duo.
One of the posters shared on Facebook, depicted Lalu-Nitish igniting a rocket to which Modi-Shah duo were strapped to, with the Bihari duo wishing them "Happy Diwali" while the Modi-Shah duo saying, "I'm sure this is made in Pakistan rocket."
But, BJP supporters were left high dry as results showed a thumping victory for the alliance. "'Mubarak ho...Jungle raj hua hay' (congratulations, its 'jungle raj'), said Delhi resident Surbhi Prasad.
The BJP camp had used the 'jungle raj' term as major bait to woo voters in their favour.
"And suddenly the calendar in Bihar changes to year 1995. Congrats to all the Proud Biharis," wrote Gurgaon-based Gaurav Dikshit.
Twitter was abuzz with reaction soon after the trends started coming in on Sunday morning.
"#Bihar win is a reminder that there might still be hope to call it My country. Not for me but for those who r facing the fire of hate across," wrote @alifazal9 from Mumbai.
"The BJP gets a thrashing in the #Bihar elections: loses badly..158 for JDU and 75 for BJP," tweeted @NasimZehra. Some of the reactions, were loaded high on humour with ample references to cows and India's neighbouring country.
"Instead of 'cow' eating the 'fodder', this time fodder ate the cow. #BiharResults," wrote @GabbarSingh @hyzaidi shared a mock poster bearing the title 'Ghayal-Once Again' in a reference to Sunny Deol-starrer film, with a message: "BJP releases first-look poster after #BiharResults."
"I dont know about Pakistan but I can hear a lot of crackers in India #BiharResults," wrote @shammybaweja.
But, many also expressed their disappointment over the results of the Bihar election, which kept the entire nation on the edge of their seats, for the last several months.
"Best description of Bihar election -- Two idiots and a Cow," wrote @Bharatitis on the micro-blogging site. Incidentally, a Shah Rukh Khan fan posted an image of the Bollywood superstar from his 50th birthday, showing him standing at the edge of his home's terrace in Mumbai, waving at a sea of crowds below.'
"'Thoda credit inko bhi diya jaye?' (Should he be credited for (the results) or not?," Akram wondered on his Facebook post.
The popular actor had come under attack for his remarks that there was intolerance in the country.
Image: JD-U supporters celebrate the Mahagathbandhans victory in Bihar assembly elections in Patna. Photograph: PTI