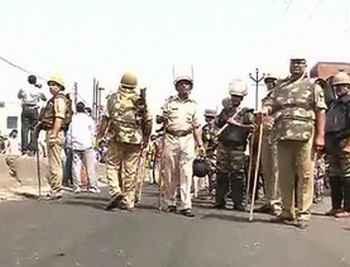 Alleging political vendetta, the family of Bharatiya Janata Party leader Vijay Pandit on Sunday demanded a Central Bureau of Investigation inquiry into his killing as police detained four persons in the case and prohibitory orders were clamped in Gautam Budh Nagar, where the murder had sparked violence on Saturday night.
The ruling Samajwadi Party in Uttar Pradesh came under attack over the killing of Pandit, who was cremated in Greater Noida on Sunday on the outskirts of Delhi amid tight security, even as Chief Minister Akhilesh Yadav promised swift action in the case saying the culprits will not be spared.
Pandit was shot dead by four assailants on Saturday night following which his supporters torched 16 vehicles near Dadri police station and pelted stones at a police team. Police had to resort to firing in the air to control the mob. The clashes between the two sides continued till late last night. BJP workers also blocked traffic on the national highway demanding arrest of the killers.
"Section 144 has been clamped... killers would be arrested soon," District Magistrate A V Rajamouli said.
"We have detained four persons for questioning. Family had given names of some suspects. Manhunt has been launched to nab them," police said, adding paramilitary personnel and Rapid Action Force have been deployed to maintain law and order.
ADG (Law and Order) Devendra Chauhan said that several teams have been constituted to nab the killers. Special Task Force has also been roped in to investigate the case.
Pandit's wife Geeta, who is Dadri Nagar Panchayat chairman, alleged that he was killed due to election rivalry at the behest of local SP leader Narinder Bhati, who denied the allegation.
She claimed that they were receiving threats because they were campaigning for BJP MP Mahesh Sharma in the Lok Sabha election.
Pandit had led the election campaign for the BJP candidate in recent elections.
His family also accused the police of inaction saying they had informed the cops about the threats to Pandit but they paid no heed.
"We will ask for a CBI probe. The administration is at fault," Pandit's brother Lokesh said.
After the post mortem, Pandit's body was taken to his house. Locals and BJP workers joined the procession to the cremation ground escorted by a large contingent of Provincial Armed Constabulary and local police force.
The last rites of the BJP leader, who was shot dead last night, were held at Dadri cremation ground
Gautam Budh Nagar MP Mahesh Sharma demanded a CBI inquiry and alleged there was 'jungle raj' in the city as criminals were striking at will while the police failed to check rising crime.
The killing of the BJP leader has "exposed" the law and order situation, he charged.
BJP leader Mukhtar Abbas Naqvi said, "Nothing like government can be seen in UP. Law and order situation has completely been destroyed and the UP government is responding in a very casual way towards it".
Condemning the killing, Congress leader Rashid Alvi said, "Incident is unfortunate. Those responsible must be punished".
"UP government has failed to maintain law and order in the state. Condition is very bad. People are losing faith. UP government must take steps immediately," he alleged.
As the Akhilesh government came under criticism, senior officials said that the CM has directed thorough investigation into all the aspects of the case.
"Last night till 3 am, we were monitoring. Very senior officials, IG (Noida Zone) Alok, DIG, DM have gone there", Deepak Singhal, Principal Secretary in the Uttar Pradesh Home Department, said.
"It's a sad incident but the administration and our CM has decided to firstly take the law and order situation under control and secondly to arrest those responsible as soon as possible and take strict action" he added.
Pandit's brother alleged that "he was getting threat calls about which written complaints were lodged in police station. But police took no action".
"During Lok Sabha election, a criminal... had called and threatened that they will kill my husband and me if we campaign for BJP candidate Mahesh Sharma.
"Later, SP candidate Narinder Bhati too had called and threatened. One threatening call was received from some contractor having patronage of ruling SP party. As we campaigned for Sharma, they took revenge and killed my husband," Geeta alleged.
Bhati, however, said the allegations were lies. "Why will I do such a thing? These are all lies," he said.
Sharma met the family members and expressed condolences.
The MP said he had spoken to Union Home Minister Rajnath Singh on the issue.
Image: Video grab showing security personnel patrolling the roads to contain law and order issues