BJP leader tells Prasanna D Zore why he met Ajmal Kasab, the 26/11 terrorist.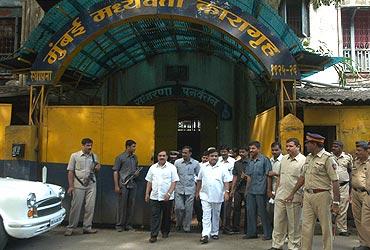 "Visiting Kasab was not the sole purpose of our visit," Eknath Khadse, Leader of the Opposition in the Maharashtra assembly, told Rediff.com on Wednesday.
Speaking on his way to Muktainagar, his constituency in Jalgaon district, the Bharatiya Janata Party leader said he and state Home Minister R R Patil had visited the Arthur Road jail on Tuesday to review security measures inside the prison where Pakistani terrorist Ajmal Kasab is incarcerated in a high security cell.
"We met more than 250 prisoners at random and Kasab was one amongst them," Khadse said, trying to pacify the BJP's ally in the state, the Shiv Sena, who has taken umbrage to the visit.
The Sena has termed the visit an 'insult to the memories of heroes who lost their lives in the 26/11 carnage and a grave mistake.'
"We did not visit Kasab to express our sympathies," Khadse emphasised.
He said the questions raised about Kasab being fed biryani by jail officials are baseless and added that the terrorist who killed more than 50 people at the Chhatrapati Shivaji Terminus and near the railway station along with his accomplice Abu Ismail, is safe inside the jail.
Khadse said a review of security arrangements inside the prison became imperative after questions were raised in the legislative assembly after gangster Abu Salem was attacked in Arthur Road jail some weeks ago by a member of a rival gang owing allegiance to fugitive terrorist Dawood Ibrahim.
The home minister and he were satisfied with the security arrangements inside the prison, Khadse added.
He said he had sampled the food served to prisoners and found it to be good.
Image: Eknath Khadse, left in a white shirt, and Home Minister R R Patil, in white, emerge after visiting the Arthur Road jail in central Mumbai. Photograph: Sahil Salvi.