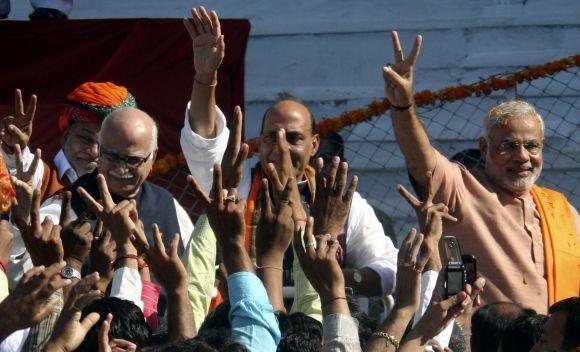 The Bharatiya Janata Party's parliamentary board, which met at its headquarters at 11, Ashoka Road, New Delhi, on Friday, could not come to any decision about its electoral alliance in the southern states.
The BJP's central leadership awaits a response from Vijayakanth, leader of the Desiya Murpokku Dravida Kazhagam.
The idea is, if he doesn't join the front the party with align with the Marumalarchi Dravida Munetra Kazhagam and the Pattali Makkal Katchi.
In the next one week, BJP president Rajnath Singh will meet MDMK founder Vaiko and PMK chief Dr S Ramadoss in New Delhi to bring about a formula.
According to sources, the message emerging from Friday's meeting is that the party will not be aligning itself with the Dravida Munetra Kazhagam.
Singh and former president Nitin Gadkari, who were at the party's parliamentary board meeting, were emphatic that the party had rejected the Tamil Nadu unit's suggestion to align itself with the DMK.
Singh also conveyed that the party's prime ministerial candidate Narendra Modi would be responsible for alliances in major states such as Maharashtra, Uttar Pradesh and Bihar, and leave other states to the central leadership.
For example, in Tamil Nadu, Modi will not interfere with Jayalalithaa's AIADMK.
The BJP's internal assessment from southern states is that it should expect a maximum of 25 Lok Sabha seats and a minimum of 18 to. In Tamil Nadu, the party hopes to get three to five seats, in Andhra Pradesh five to eight seats, and in Kerala one or two.
This is exclusive of Karnataka, where the BJP is expecting 10-13 seats.
The BJP's central leadership has a three-pronged strategy for Karnataka. First and foremost is that former chief minister Yeddyurappa should merge his party -- the Karnataka Janata Paksha -- with the BJP.
However, there is opposition to this from senior leaders LK Advani and Sushma Swaraj.
The other option is that Yeddyurappa should join the National Democratic Alliance and negotiate an alliance.
The third option is that the KJP would contest the Lok Sabha polls under the BJP's election symbol, the lotus.