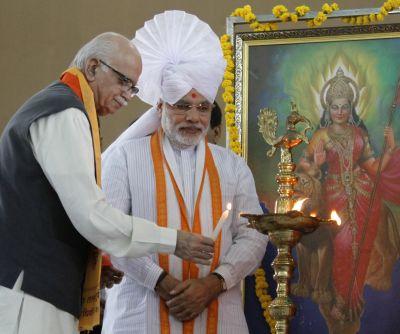 Bharatiya Janata Party was in a dilemma on Saturday over anointing Narendra Modi as campaign committee chief for the 2014 Lok Sabha elections in the absence of patriarch L K Advani and other senior leaders, who have not turned up for the ongoing national executive meeting in Goa as they are said to be opposed to such a move.
Ill health was cited as the reason for Advani's decision to keep away from the two-day meeting of the national executive that began today with leaders clamouring for Modi's elevation as campaign head for the elections.
Party spokesman Prakash Javadekar had a difficult time when newspersons plied him with questions on the absence of Advani and other leaders and reservations of some other leaders over the proposal to elevate Modi.
"Wait till tomorrow....in BJP we don't take decisions without consensus at the top level," he told the media when asked whether a decision is expected to be taken by Sunday when the executive meeting would conclude.
Advani not attending the executive meeting is perhaps the first time in the party's history that he has kept away from crucial deliberations.
Party leaders sought to play down the absence saying nothing much should be read into it or as if there were serious differences at the top level.
However, sources said there is a possibility of senior leader Sushma Swaraj, considered close to Advani, and others raising objections to announcement about Modi's role in the absence of Advani.
The RSS is now said to be of the view that the party should go ahead with the announcement without further delay.
Soon after the two-day conclave kicked off, the party gave signals that there could be some decision by Sunday with BJP spokesperson Prakash Javadekar saying the participants will go back "with new energy, new confidence and new enthusiasm".
However, he was evasive when asked repeatedly whether this statement meant that a bigger role for Modi will be announced. "Wait till tomorrow," he kept saying.

Another leader Mukhtar Abbas Naqvi, who is also the vice president, said the party is going to make a "major announcement" in Goa that will strengthen the organisation and project it as an alternative to the UPA government.
He was responding to a question on whether Modi will be appointed the campaign committee head at the conclave. Regarding absence of other members like Uma Bharati and Yashwant Sinha, he said they must have informed the party president.
"There is nothing like whip in the party national executive which can force the members to come," he commented.
Asked whether a big decision can be taken without Advani's presence, Javadekar said the senior leader had conveyed his "blessings" for the meet as he was unable to attend due to ill-health. At the same time, he said, "No decision is taken in our party without everybody's consent."
Sources said the party is keen to make the announcement about Modi at the National Executive and the RSS has given its go-ahead to it. "Whether Advani is there at the meeting or not, the announcement about Modi is likely," at least two senior party leaders said.
Insisting that Advani was "really unwell", Javadekar said that party president Rajnath Singh even talked to the senior leader's doctors. After that he advised Advani to take rest even though the latter was keen on attending at least on the second day.
To a volley of questions on Advani, he said the senior leader does not usually fall ill but this time "the changing weather has affected him." He noted that in the last 50 years, this was the first time that Advani has not attended such a meeting. Javadekar said though Advani was keen on attending the national conclave at least on the last day, Singh advised him not to do so due to his ill-health and the opinion of doctors that he should take rest.
"Our party president said you take rest. We will come to meet you," he added. Singh had called Advani today to enquire about his health. He advised Advani not to strain himself, BJP leaders said.
BJP denied reports that Singh is in touch with NDA allies like JDU to discuss the appointment of Modi as head of the campaign coordination committee.
"JDU has already said this is an internal matter of the BJP," Javadekar said. The party insisted there were no factions within the organisation.
Image: Narendra Modi with L K Advani in Ahmedabad in September, 2011
Photograph: Amit Dave/Reuters
© Copyright 2021 PTI. All rights reserved. Republication or redistribution of PTI content, including by framing or similar means, is expressly prohibited without the prior written consent.