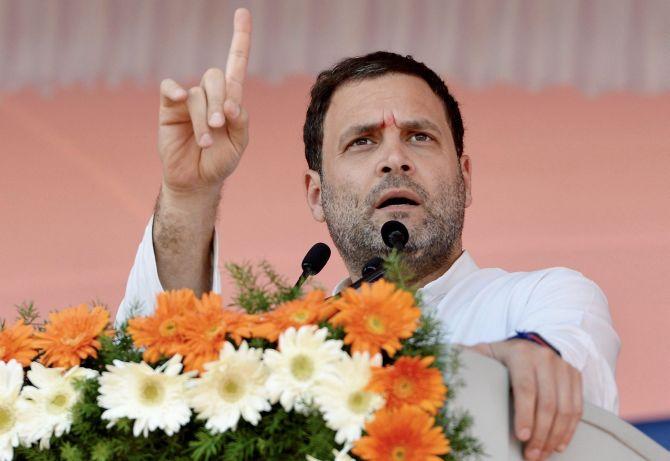 IMAGE: Congress president Rahul Gandhi addresses a public meeting at Karatagi in Koppal district of Karnataka on Sunday. Photographs: PTI Photo

Stepping up his attack on the Bharatiya Janata Party over the issue of corruption, Congress president Rahul Gandhi on Sunday said while the Siddaramaiah government had a scam-
free rule, the BJP had broken 'world records' in graft in Karnataka.
The Congress president, continuing with the first leg of his four-day poll campaign in Hyderabad-Karnataka region, said when the BJP was in power in the state, there were 'scams one after the other'.
Hyderabad-Karnataka region comprises the districts of Bidar, Yadgir, Raichur, Koppal, Ballari and Kalaburagi which were part of the Nizam ruled Hyderabad state till 1948.
"In the last five years there was not even a single scam, and during their (BJP) time there were scams one after the other, from mining to what not, different scams," he said.
At roadside meetings in Koppal district during his ongoing 'Janashirvad Yatra' in Koppal ahead of assembly polls in the state, Gandhi said, "Elections are coming, support the Congress party and Siddaramaiah. Once again bring our government here so that we can together work for you."
The Congress president, who is travelling by a special bus along with other state leaders, received an enthusiastic response from party workers and people who had gathered in large numbers on both sides of the road at different places.
Gandhi also alighted from the bus and walked some distance along with Chief Minister Siddaramaiah and Karnataka Pradesh Congress Committee President G Parameshwara at Kushtagi, giving anxious moments to security personnel as the surging crowds tried to get close to him.
IMAGE: Rahul meets the crowd during a public meeting.
At the public meetings, Gandhi hit out at Prime Minister Narendra Modi for talking about corruption in Karnataka overlooking his own party's 'track record' while running the government in the state.
Pointing out that the previous BJP government had seen three chief ministers, he said four ministers had gone to jail and had to resign.
"But still Modiji comes here and speaks about corruption against us," he said.
The BJP government in the state had seen three chief ministers -- B S Yeddyurappa, Sadananda Gowda and Jagadish Shettar -- in five years from 2008.
"The previous BJP government in Karnataka broke world records in corruption and they come here and talk on corruption pointing at us," he added.
Asking the people to support Congress in the coming elections, Gandhi urged them to thereby contribute towards the progress of Karnataka at a much 'faster pace'.
Claiming credit for implementing Article 371(J) of the Constitution, giving special status to the Hyderabad-Karnataka region, where he is now on tour, he said during the National Democratic Alliance rule, then Deputy Prime Minister L K Advani had said it (giving special status) could not be done, holding that it would open up a 'Pandora's box' with others making similar demands.
Attacking the central government for not waiving farmers' loans despite agrarian distress, Gandhi appreciated the Karnataka government's move writing off loans.
"This is the difference between the Congress and BJP," he said.
He targeted Modi on issues of unemployment, demonetisation and the GST, referring to the tax regime as 'Gabbar Singh Tax'.
'Modi ji Start working; you don't have much time'
Lashing out at Prime Minister Modi, the Congress president asked him to stop giving speeches on the past and start working, saying he did not have much time before completing his term.
IMAGE: He also visited the Kanakachal Laxminarasimha Temple in Koppal.
"You will have to tell the country during the elections what you did in the last five years. It is going to be five years and you have not even opened your account," he told Modi, making him the focal point of his attack in a series of roadside and public meetings in Karatagi.
Gandhi said, "BJP failed to create jobs, bring back black money and brought down the economy, but all Modi talks about is Congress is this, Congress is that."
He said the country had made Modi prime minister to provide employment to youth, to help farmers, to establish schools and hospitals and not to talk about Congress party.
"Modi ji stop giving speeches and start working, because you don't have much time," he said.
Invoking the pithy saying 'work is worship' of Karnataka's 12th century social reformer and philosopher, Basavanna, Gandhi said, "Modi ji you keep taking Basavanna's name, but you don't work. You keep talking, but you don't work. Even if you talk, you only talk about the past."
Claiming that the Congress 'does what it says', Gandhi said his party always worked for the future, while Modi drove the vehicle looking at the rear view mirror.
He also claimed that the Modi government was 'slowly' waiving the loans of businessmen who had debt of around Rs 10 lakh crore but refused to write off farmers debt.