Congress president M Mallikarjun Kharge on Thursday likened Prime Minister Narendra Modi to a poisonous snake, drawing strong rebuke from the Bharatiya Janata Party which said 'hate is coming out' with such comments and sought an apology from the veteran leader.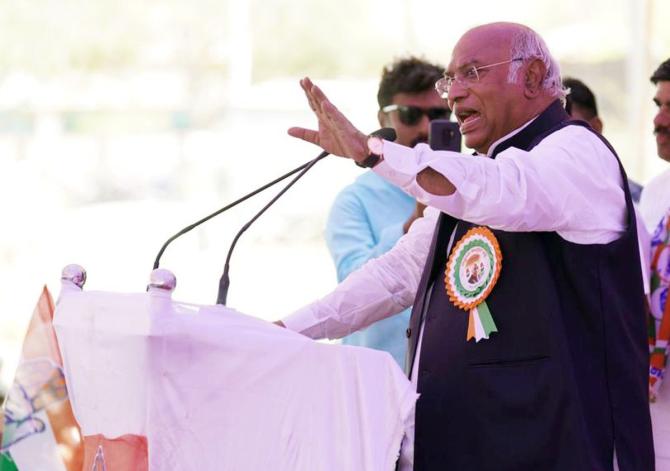 Kharge later sought to clarify his remarks were not aimed at the PM but instead at his party, the BJP, but it didn't seem to find any takers in the saffron party.
Dismissing the Congress president's clarification, Union Finance Minister Nirmala Sitharaman said he was trying to 'wriggle out'.
Addressing a public meeting at Ron in Gadag district, as part of the party's campaign for the May 10 assembly elections in Karnataka, Kharge said: 'don't make a mistake. Modi is like a poisonous snake. If you say, 'no, it's not poisonous, let's lick it and find out.' Don't go to lick it. If you lick, you die'.
Kharge further added, '(if you think that) no, no, this is not poison because Modi has given it, good man prime minister has given it, let's try it and lick it'--if you lick that poison then you will sleep forever'.
Hitting out at Kharge for his remarks, Sitharaman said 'hate is coming out' and sought the leader's apology.
Another Union minister Rajeev Chandrasekhar said as the Congress' desperation grows, its 'lies and abuses' for Modi are increasing.
'Just recently some Congie leaders want to see our PM dead, some mock him and now @kharge abuses him. Mark my words, people of Karnataka will never forget, forgive or vote this bunch of Cong hoodlums who have normalized this type of vicious abuse of our PM and result will only be even stronger PM because of respect and love of people who he serves steadfastly,' he tweeted.
BJP IT department chief Amit Malviya, who also shared the video where Kharge made those comments, on Twitter, said: 'Now Congress president Kharge calls Prime Minister Modi 'poisonous snake'. What started with Sonia Gandhi's 'maut ka saudagar' (merchant of death), and we know how it ended, the Congress continues to plummet to new depths. The desperation shows Congress is losing ground in Karnataka and knows it.'
Kharge later told reporters he only said the BJP was like a snake, and that party's ideology is like a poison.
"If you support that ideology and lick (try) it, death is certain."
"I did not speak against him (Modi) because I have already said that I never make personal comments," he said.
Dismissing Kharge's clarification, Sitharaman said the Congress chief was trying to 'wriggle out'.
'My intention was not to hurt anyone's feelings, if knowingly or unknowingly someone's feelings were hurt, it was never my intention,' Kharge said in a series of tweets in Hindi.
'BJP's ideology is divisive, disharmonious, full of hatred and prejudiced towards the poor and Dalits. I discussed this politics of hatred and malice. My statement was neither for PM Modi personally nor for any other person, but for the ideology he represents,' he said.
'Our fight with PM Modi is not personal. It is an ideological battle. My intention was not to hurt anyone's feelings and if knowingly or unknowingly someone's feelings were hurt, then it was never my intention and nor has it been the conduct of my long political life,' he further said.