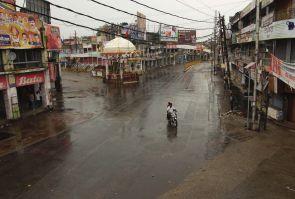 Taking exception to Uttar Pradesh government's proposed move to withdraw cases against Muslim leaders in Muzaffarnagar riots, the Bharatiya Janata Party on Tuesday asked Governor B L Joshi to press the government to withdraw all cases, including those lodged against its leaders, in connection with the violence.
Alleging that the government's move would disturb communal harmony in the state, the party submitted a memorandum to the UP governor, demanding his immediate intervention in the matter.
In its memorandum, BJP alleged that on the basis of reports lodged against 4,000 people in connection with the violence, police was "terrorising and financially harassing them" and the government was not concerned with that, BJP's chief spokesman Vijay Bahadur Pathak said.
The delegation was led by state president Laxmi Kant Bajpai.
Demanding that the cases be withdrawn, Pathak pointed out that cases had been lodged against BJP MLAs Suresh Rana, Sangeet Som and a dozen others in similar sections (as lodged against Muslim leaders). He said these cases should also be withdrawn.
The BJP leader said the government was not clarifying why opinion of the law department and the district magistrate was sought on these cases.
Riots in Muzaffarnagar and adjoining areas, which began in the last week of August last year, claimed over 60 lives and left thousands homeless. Several cases of inciting violence with inflammatory speeches have been lodged against religious and political leaders.
The party also alleged that the power tariff was highest in the state, but the UP Power Corporation Limited has once again started process to hike it.
It demanded that the government give a package of Rs 15,000 crore to UPPCL through the finance corporation.

Image: A curfew in Muzaffarnagar during the riots last September

Photograph: Reuters