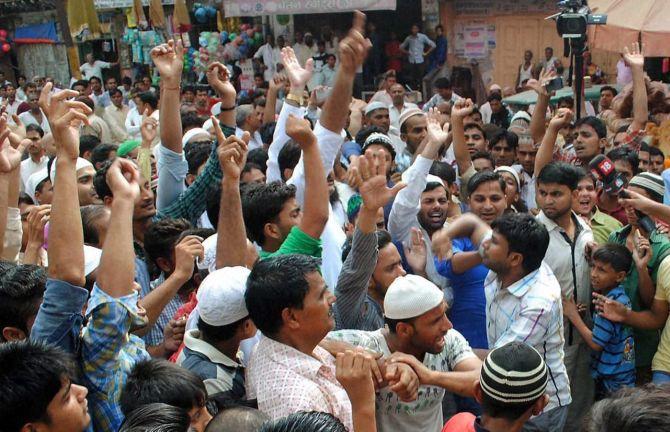 A nine-member Bharatiya Janata Party team on Wednesday visited Kairana village in Uttar Pradesh to review the situation over alleged migration of Hindus that has set off a political slugfest even as the Congress said the BJP leadership has been "totally exposed" after a party MP's U-turn on the issue.
The fact-finding team was announced by BJP president Amit Shah on Monday during the course of its national executive meeting in Allahabad after BJP MP Hukum Singh alleged there was a communal angle to the 'migration' from Kairana village in Shamli district in UP where elections are due next year.
Singh, who had recently alleged that several Hindu families have been forced to migrate from Kairana following atrocities from "one particular community", did a volte face on Tuesday, saying that it was "not communal" in nature but had more to do with the law and order situation.
The team met some families of Hindus who had allegedly migrated, said Suresh Rana a BJP MLA, adding it also had an interaction with officials of the district administration.
"We have been raising the same issue in Vidhan Sabha for three years now. We only talk about migration when the atmosphere of fear is at its peak. Had the CM of UP wanted, he could have controlled the situation long back," Rana said, adding a report will be sent to the party leadership.
Chief Minister Akhilesh Yadav should visit Kairana village and assess the situation rather than accusing the BJP of lying on this "sensitive matter", he added. The team was led by Suresh Khanna, BJP's legislature party leader in UP assembly.
Besides Khanna, the other members of the delegation included Baghpat MP Satpal Singh, Saharanpur MP RLP Sharma, Bulandshahr MP Bhola Singh, Aligarh MP Satish Gautam, Aonla MP Dharmendra Kashyap and former UP DGP Brij Lal.
"There has been mass exodus(from Kairana) due to gunda raj" of the Samajwadi Party government," Sharma alleged.
Congress's in-charge of UP Ghulam Nabi Azad said the BJP leadership stood "totally exposed" on how they wanted to exploit the situation and tell the people that the alleged migration is on religious lines while it was for economic reasons.
"Exactly that is what we are afraid of because they (BJP) are having an eye on assembly elections. They might even turn small issues into big issues. They will try to polarise the situation. This is what people in UP should be cautious about," he added.
Janata Dal-United leader Sharad Yadav cautioned against any attempts to foment communal tension ahead of the assembly polls.
"People from Kairana did come to me. They told me that what all they (BJP) are saying is a lie. It is nice that they (BJP) have taken a U-turn from what they have earlier said. Soon there will be elections in UP, there should not be any tension on communal divide," he said.
Shamli District Magistrate Sujeet Kumar has already ruled out any communal and law and order issues behind some people leaving the area.
"[The] party president has set up a committee, which will go there and study the situation. Such a migration is not good for democracy. The party is sensitive about it and proper steps will be taken after the report comes," senior BJP leader and Union Minister Nitin Gadkari said on Monday.
The BJP said it will await the report of its fact-finding team, which visited Kairana and met locals, before moving further on the issue.
On reports that migrations have been happening for many years from Kairana, a senior BJP leader said, 'then it is very serious' as no government has addressed the issue by seriously taking it up.
Terming the migration problem as that of law and order, BJP secretary Shrikant Sharma claimed the ruling SP is giving a communal twist to it only to divert the public attention from its own 'failures of lawlessness' in the state.
"The Akhilesh Yadav government in Uttar Pradesh is a failure on the law and order front and the truth is now coming out in the open," he said, adding that the so called secular brigade is trying its best to save Akhilesh over the issue.
"Those involved in doing politics over deaths are now trying to save the Akhilesh Yadav government on the issue by raising questions on the list provided by us," he said.
Sharma claimed it is Akhilesh who is giving communal colour to Kairana incident as he has 'failed' to address basic issues of water and electricity and people are questioning him.
Brushing aside charges of a U-turn on the issue, the BJP leader said the party has maintained its stand right from day one that the issue is of deteriorating law and order and is linked to extortions by a particular community.
"350 families of Kairana have migrated out and government should hold an inquiry to ascertain the reasons why they have fled. Even if one family flees, it should be probed as to why it has done so," he said.
He said the BJP is not making it a Hindu-Muslim affair but a law and order issue, the BJP leader said, alleging that 'members of only one community are involved in extortions and Akhilesh Yadav is giving protection to such people.'
Image: Muslim community people protest against nine members committee of the BJP visited in Kairana, Uttar Pradesh on Wednesday. Photograph: PTI Photo