Billionaire philanthropist George Soros believes the turmoil at Gautam Adani's business empire may weaken Prime Minister Narendra Modi's hold on the government -- a statement which was strongly countered by BJP as an attack on Indian democracy.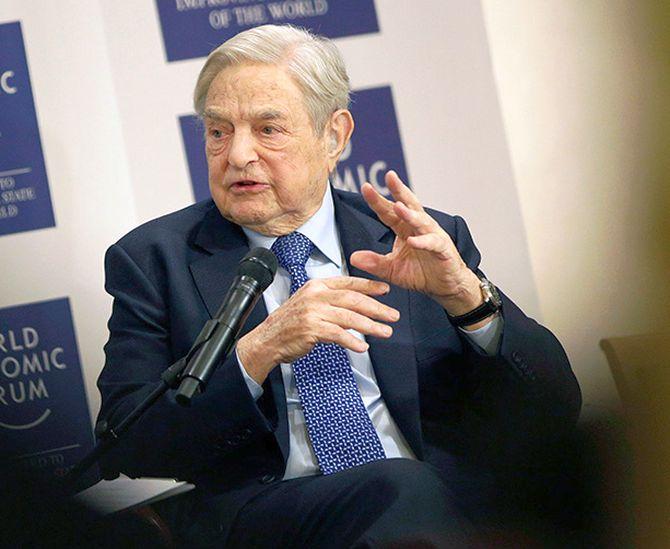 The Adani group has been under severe pressure since the US short-seller Hindenburg Research on January 24, accused it of accounting fraud and stock manipulation, allegations that the conglomerate has denied as "malicious", "baseless" and a "calculated attack on India".
While listed companies of the group lost over USD 125 billion in market value in three weeks, opposition parties inside and outside Parliament attacked the BJP government for the meteoric rise of the ports-to-energy conglomerate. Stocks of most group firms have risen in the last couple of days.
Soros, in a speech at the Munich Security Conference on Thursday, said Modi would "have to answer questions" from foreign investors and Parliament on allegations the Adani group is facing.
His speech drew sharp reactions. The ruling BJP said Soros was not only targeting the Prime Minister but also the Indian democratic system.
This war is being mounted against India and what stands between the war and India's interests is Modi, BJP leader and Union minister Smriti Irani told reporters. "Everyone should condemn his remarks in one voice."
She alleged that Soros wants to destroy Indian democracy and wanted some "hand-picked" people to run the government here.
He has created a fund of over USD 1 billion to intervene in democratic systems, including in India, she claimed.
Soros in his speech said the turmoil at Adani may open the door to a democratic revival in the country.
His near 42-minute speech oscillated between climate change, Russia-Ukraine war, rumbling in the US, Turkey disaster and failures in China.
"Modi and business tycoon Adani are close allies; their fate is intertwined," he claimed. "Adani is accused of stock manipulation and his stock collapsed like a house of cards. Modi is silent on the subject, but he will have to answer questions from foreign investors and in Parliament."
He did not offer any evidence for his claim.
"This will significantly weaken Modi's stranglehold on India's federal government and open the door to push for much needed institutional reforms," he said. "I may be naive, but I expect a democratic revival in India."
His comments drew sharp reaction from the ruling establishment.
Kanchan Gupta, senior adviser to the ministry of information and broadcasting, said the faces behind repeated regime change stands exposed.
"Face behind repeated 'regime change' attempts in India with collaborators paid by The Open Society Foundations stands exposed. India's enemies are many: George Soros leads the pack. Democracy in India is strong, resilient. 2024 is not too far away and Soros will eat crow again," he tweeted, attaching news of Soros's comments.
Gupta went on to state that the Munich Security Conference (MSS) was a platform for discussing global security challenges and seeking paths to peace and stability, not conflict.
"Soros being given a platform to share his subversive 'regime change' agenda to undermine India tells a different story about MSS," he said.
The 92-year-old investor started his speech at the conference talking of understanding the current state of affairs and finding a way to distinguish what is important from what is less so.
"Let me start with a bold assertion. While two systems of governance are engaged in a fight for global domination, our civilization is in danger of collapsing because of the inexorable advance of climate change.
"This is a very succinct statement, but I believe it provides an accurate summary of the current state of affairs," he said, devoting a good deal of his speech on climate change.
He then stated that as the founder of Open Society Foundation, he considers open societies "morally superior" to closed ones.
At this point, he talks of repressive states and distinguishes between open and closed societies.
"India is an interesting case. It's a democracy, but its leader Narendra Modi is no democrat," he claimed.
Modi, he said, maintains close relations with both open and closed societies.
"India is a member of the Quad (which also includes Australia, the US, and Japan), but it buys a lot of Russian oil at a steep discount and makes a lot of money on it," he said before turning to Recep Tayyip Erdogan of Turkey.
"Erdogan has much in common with Modi," he said. "But, while Modi seemed to be firmly in the saddle until recently, Erdogan has mismanaged the Turkish economy and will face elections in May. All his efforts are focused on winning the elections."
Soros thereafter talked about how Erdogan was "autocratic", his attempts to jail opponents and the government's slow response to the massive earthquake in Turkey.
He then made the comments on Modi and his links with Adani before moving on to other countries like Brazil, Russia and its conflict with Ukraine, US president Joe Biden's role in the war and finally to China.
"Turning to China, Xi Jinping would be an obvious loser. His close association with Putin would hurt him. But China may be already undergoing a revolution," he said, adding Xi's Zero Covid policy was his biggest blunder.
After devoting time on talking about what ails China, he turned to the US saying democracy isn't functioning "very well".
"When Donald Trump became president in 2016, he posed a real threat to our democracy," he claimed. "Trump is a deeply flawed character, a confidence trickster whose narcissism grew into a disease."
He hoped that in 2024 Trump and Governor Ron DeSantis of Florida would "slug it out for the Republican nomination".
"To conclude, I want to repeat what I said at the beginning: while open and closed societies are in a fight for global domination our civilization is in danger of collapsing because of the inexorable advance of climate change. I believe this sums up the current state of affairs accurately," he added.