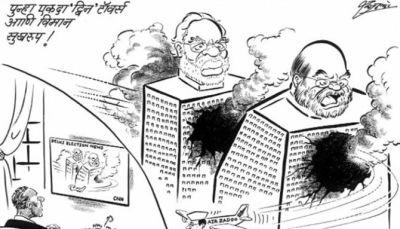 Maharashtra Navnirman Sena chief Raj Thackeray's cartoon ridiculing Prime Minister Narendra Modi and Bharatiya Janata Party President Amit Shah over their party's humiliating rout in the Delhi Assembly polls has invited sharp rebuke from the saffron party.
Not at all amused by the cartoon released on Thursday, an angry BJP advised Raj, once an ardent Modi admirer, to renounce politics and take up sketching full-time.
"Raj Thackerayji has found a way to hog limelight (after his party's poor show in Maharashtra Assembly poll). His cartoon has grabbed attention. (He) should do it full-time," Mumbai BJP President Ashish Shelar said.
The cartoon, which comes days after Shiv Sena President Uddhav Thackeray lampooned Modi and Shah over their party's rout in Delhi poll, shows both leaders as twin towers demolished and left burning by Aam Aadmi Party convener Arvind Kejriwal, who is depicted as a tiny aircraft named 'AAP Jhadu.'
The cartoon also shows US President Barack Obama sitting in front of a TV screen watching the election result and saying "It is the twin towers once again, and the aircraft is safe."
BJP spokesperson Madhav Bhandari said it is 'amusing' that the president of a party needs to resort to sketching images of political leaders to stay in news.
"Raj Thackeray seems to be in a wishful thinking mode. It is amusing that he has time to draw such cartoons despite running a political party. I hope he gets time for more such cartoons. It seems that he (Thackeray) is compelled to draw such cartoons to stay in news, which is hilarious," Bhandari said.
Hitting back at BJP, MNS leader Bala Nandgaonkar said Raj does not need their advice and he knows how to run his party.
"Raj saheb is a self-made charismatic leader. He is not only a cartoonist, but a political leader who has set up a party by himself and is effectively running it. We do not need advice of running a party from external factors. Ashish Shelar comes nowhere close to him as far as politics is concerned," Nandgaonkar said.
Image: MNS chief Raj Thackeray's cartoon attacking BJP for its defeat in Delhi.