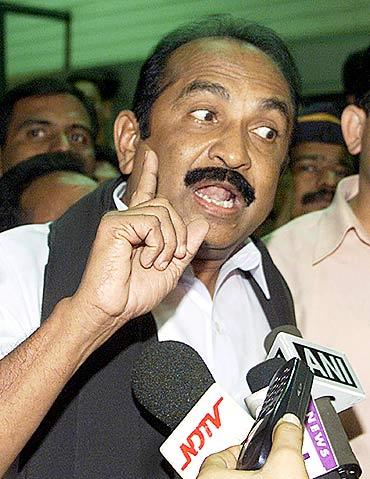 Opposing invitation to Sri Lankan President Mahinda Rajapaksa for Narendra Modi's swearing-in as the prime minister, Bharatiya Janata Party ally Marumalarchi Dravida Munnetra Kazhagam on Saturday announced a black flag demonstration against the head of the island republic in Delhi on May 26.
MDMK chief Vaiko compared his situation to that of the anti-Hindi agitation launched by the Dravida Munnetra Kazhagam under its founder, late C N Annadurai, in 1965, saying the Dravidian veteran had only opposed imposing of Hindi and not the Indian republic.
"Similarly, while extending greetings to Narendra Modi for his thumping win and expressing my happiness over the same, I oppose the participation of Rajapaksa who is involved in Tamil genocide. Since its our duty to register our opposition, the MDMK under my leadership will hold a black flag demonstration," against Rajapaksa in Delhi, he said in a statement in Chennai.
The protest, which was in line with Vaiko's earlier announcement of opposing any India visit of the Lankan President following his last year's travel to Sanchi, will be held at Jantar Mantar at 11 am, he said.
A similar protest will be also held in Chennai on the same day, he said.
A staunch supporter of Tamil Eeelam (separate home land for Lankan Tamils), Vaiko had earlier led protestors to oppose Rajapaksa's visit to Sanchi in Madhya Pradesh last year.
Vaiko, who lost in the recent Lok Sabha elections along with six other party nominees contesting as part of the alliance formed by the BJP, said it was not proper for Rajapaksa to attend the swearing-in of Modi as "it will spoil the sanctity" of the ceremony.
The MDMK leader, who had personally met Modi and BJP President Rajnath Singh in Delhi on Friday arguing against the Lankan leader's participation in the May 26 swearing-in, alleged that the minority community Tamils in Sri Lanka was still facing many difficulties.
Terming as a "betrayal" India abstaining from voting in a United States-sponsored resolution on human rights violations in a United Nations body in March this year, Vaiko charged that officials behind such a move were 'misleading' Modi in this matter.

Image: MDMK chief Vaiko