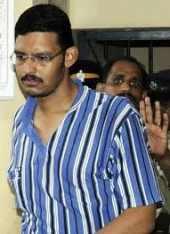 Retired Odisha DGP B B Mahanti on Saturday identified the photograph of Raghav Rajan, who was arrested by Kerala police for impersonation and forgery, as that of his rape convict son Bitihotra Mahanti.
"He identified Bitti after seeing the photographs we showed to him," leader of the Kerala police's team Josi Joseph, said after questioning the former DGP for about four hours.
The Kerala police officer emphatically said 'yes' when reporters asked him whether the senior Mahanti was innocent.
Joseph said that the former DGP had no role in the manufacture of fake academic certificates in the name of Raghav Rajan used by his fugitive son to obtain an MBA degree from a Kerala college and later a job in a public sector bank.
Earlier, the Kerala police team met DGP Prakash Mishra at the police headquarters and appraised him about the necessity of questioning the former DGP with the help of the Odisha police.
Following this Mahanti turned up at the DCP's office five minutes later on a two-wheeler.
Later, speaking to reporters, Mahanti said he had all along upheld the law and cooperated with the Kerala police.
He declined to speak about what transpired between him and the Kerala police during questioning saying he had been strictly instructed by the court not to speak about the case in public.
"I cannot say anything to you as investigations are on. Last time when I spoke to you, I had to face a lot of questions from the court," he said and asked the reporters with folded hands not to put further questions to him.
The Kerala police team had confirmed with three educational institutions at Cuttack and Bhubaneswar on Friday that the academic certificates in the name of Raghav Rajan were fake.
Bitihotra was convicted by a fast track court in Rajasthan and sentenced to seven years rigorous imprisonment for raping a German friend in Alwar in March 2006.
He received a 15-day parole in November 2006 and went underground to reappear as Raghav Rajan, working as a probationary officer in the State Bank of Travancore posted at Kunnur. He was arrested on March 8.