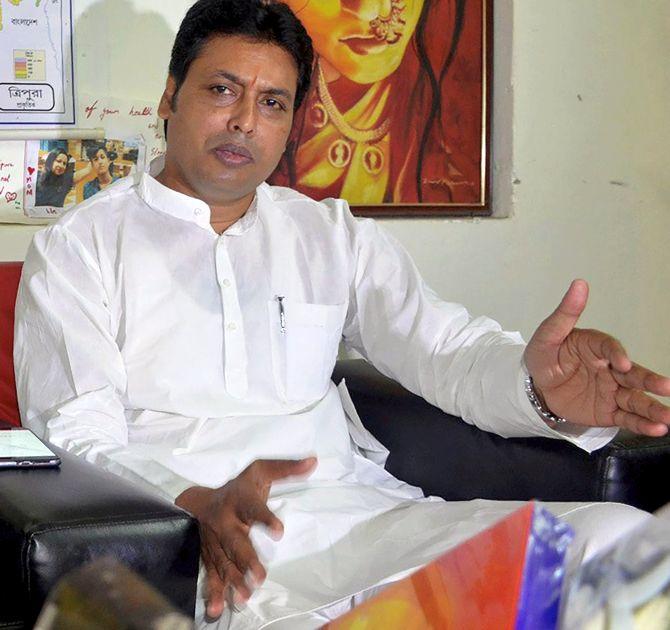 Biplab Kumar Deb, who became the first Bharatiya Janata Party chief minister of Tripura, the 'red bastion' which fell to the 'saffron force' in the recent assembly poll, has come a long way since his days in the Rashtriya Swayamsevak Sangh.
Deb, 48, became the tenth chief minister of the north eastern state.
He joins the ranks of young chief ministers of the country along with Yogi Adityanath (Uttar Pradesh), Pema Khandu (Arunachal Pradesh) and the newly-elected Meghalaya Chief Minister Conrad Sangma.
Like Manik Srakar, the Marxist chief minister he replaced, Deb had a humble beginning.
Born into a middle class Bengali family at Rajdhar Nagar village in Tripura's Gomati district on November 25, 1971, his father Haradhan Deb was a local leader of the Jan Sangh.
He completed his graduation from the Udaipur College in the state in 1999 and left for Delhi soon after to join the RSS.
He served the right-wing organisation for around 16 years under the guidance of Gobinda Acharya and Krishnagopal Sharma, two prominent Sangh leaders.
Deb returned to Tripura in 2015 and assumed the charge of central Jan Sampark Pramukh of BJP, and was made the state president of the saffron party on January 6, 2016 replacing Sudhindra Dasgupta, the longest-serving chief of the party in Tripura.
His wife Niti is an officer of the State Bank of India. The couple has a son and a daughter.
"I am ready to take the responsibility. I will not run away from taking any responsibility," he had told reporters in New Delhi.
The BJP demolished the Left citadel in Tripura, where polls were held on February 18. The saffron party won two-third majority with ally Indigenous People's Front of Tripura and ended the 25 year-long uninterrupted rule of the Communist Party of India-Marxist-led rule in the north eastern state.
Photograph: PTI Photo
© Copyright 2022 PTI. All rights reserved. Republication or redistribution of PTI content, including by framing or similar means, is expressly prohibited without the prior written consent.