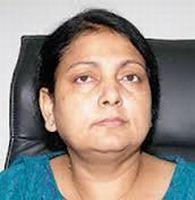 Bihar's first Muslim woman minister Parween Amanullah on Tuesday resigned from the chief minister Nitish Kumar cabinet and the party Janata Dal-United, citing dissatisfaction from the present system. She was working as the state's social welfare minister
"I have resigned from the cabinet and the party," Amanullah told at a press conference in Patna.
Though she said nothing against Chief Minister Nitish Kumar or the party, but expressed her anger against the present system in which she was feeling suffocated.
She did not rule the possibility to join another political party soon and to contest the next Lok Sabha polls.
Amanullah, in her early 50s, who is daughter of diplomat-turned-politician Syed Shahabuddin -- the convenor of the Babri Masjid Movement Coordination Committee and wife of a senior Indian Administration Service officer Afzal Amanullah, said that she has decided to return to social work again.
"I was active in social work before I entered in politics, I will serve people again," she said.
She won from Sahebpur Kamal, a Muslim-dominated constituency in Begusarai district, in the 2010 state assembly polls
She was also keen to contest the 2009 Lok Sabha elections from the Kishanganj Parliamentary constituency as a JD-U candidate, but was denied the ticket then. Amanullah's father represented Kishanganj, a Muslim-dominated seat in Parliament.