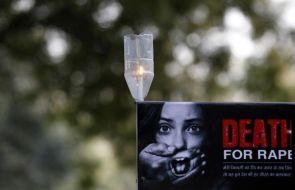 The police on Wednesday arrested two people for allegedly gang-raping a 22-year-old college girl in Bihar's Banka district.

Banka Superintendent of Police, Pushkar Anand, informed about the arrests and said that another accused was absconding.

The girl was gangraped and her boyfriend was beaten by three shepherds at Mandar hill in Banka on Tuesday evening.

Police officials said the girl along with her boyfriend were on a trip to Mandar hill, a popular tourist place, when they were held hostage for over three hours by the shepherds. The
men beat them and robbed the couple of their cash and mobile phones before raping the girl.
"The girl was allegedly gang raped in the presence of her boyfriend," Dhirendra Kumar, a district police official said.
According to police, the three shepherds assured the victim and her boyfriend to help them reach the top of the hill, asking the couple to follow them. When they reached a deserted place, both were held hostage.
Kumar said that after the victim and her boyfriend were freed, they reached Barahat police station and narrated the incident.
A case has been lodged and the police have begun their investigation into it.