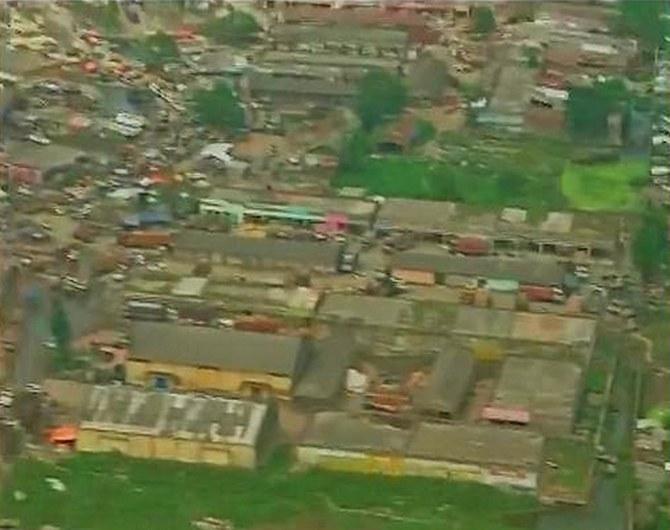 An aerial view of areas affected by cyclone in Purnia. Photographs: ANI/Twitter
The toll in the killer Nor'wester storm in Bihar rose to 55 with one more person dying on Friday in the worst-hit Purnea district even as an alert has been sounded for north-eastern regions of the state about possibility of a thunder squall and rains.
As per the latest report compiled by the state Disaster Management department, Purnea bore the brunt of the Nor'wester with a maximum of 38 deaths.
While seven persons lost their lives in Madhepura, three died in Madhubani, two each in Katihar, Sitamarhi and Darbhanga and one in Supual, the report said.
Chief Minister Nitish Kumar along with Union Home minister Rajnath Singh will undertake an aerial survey of Purnea and Madhepura.
Union Agriculture minister Radhamohan Singh, Union Information Technology minister Ravi Shankar Prasad and senior Bharatiya Janata Party leader Sushil Kumar Modi would be part of the aerial team.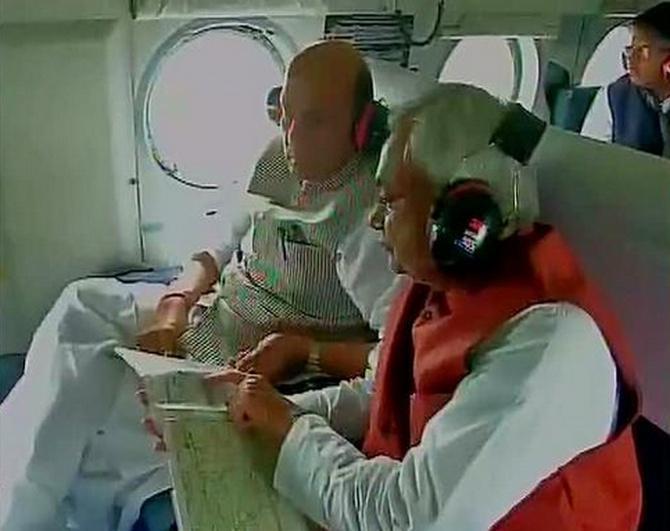 Bihar Chief Minister Nitish Kumar surveys the scene with Home Minister Rajnath Singh.
Accompanied by Chief Secretary Anjani Kumar Singh and Principal Secretary Disaster Management Department Vyas, the CM left for Purnea on Friday morning, the chief minister's office said.
The Home minister and the CM would hold meeting with officials at Purnea after return from aerial survey. Meanwhile, the state Meteorological department has issued an alert about possibility of thunder squall and rain on Friday and Saturday in north-eastern parts of Bihar.
Director state Met office A K Sen told PTI that an alert has been sounded on the basis of 'atmospheric instability' detected in the area particularly in the districts of Purnea, Katihar, Kishanganj and Motohari.
"The area might witness thunder squall and rains which are dangerous," Sen said.
Special Secretary in State Disaster Management department Anirudh Kumar told PTI that the alert has been send to district magistrates of 12 districts in the region.
He said they have been advised to keep medical teams on alert and make other necessary administrative preparations to safeguard citizens from further woes.
The affected districts are Purnea, Araria, Kishanganj, Katihar, Madhepura, Supaul, Saharsa, Bhagalpur, Banka, Samastipur, Darbhanga and Madhubani in north and north eastern parts of the state.