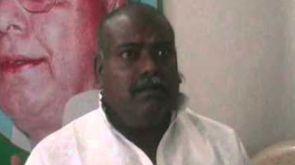 RJD MLA Raj Ballabh Yadav, who has been accused of raping a minor, was suspended from the party. M I Khan/ Rediff.com reports from Patna.
Facing aggressive opposition from the Bharatiya Janata Party-led National Democratic Alliance over collapse of law and order in Bihar, the Rashtriya Janata Dal of the incumbent Grand Alliance on Sunday suspended its MLA Rajballabh Yadav for allegedly raping a minor girl.
RJD state president Ram Chandra Purve told newspersons in Patna that party has suspended Yadav for his crime.
Yadav is absconding after an arrest order was issued on Saturday against him following a minor girl filed a complaint of rape against him, police said.
The girl from Nalanda district filed an FIR against Yadav, the legislator from Nawada, for her rape.
Police said the charges against Yadav were found to be true during their preliminary investigation.
According to the police complaint filed by the girl, on February 6, a woman named Sulekha Devi took her to an undisclosed location in Nalanda and forced her to have liquor, after which she was raped by a man, later identified as Yadav.
After she was raped, the girl said the woman gave her Rs 30,000.
She then went home and spoke about the incident to her parents who approached police.
Last month ruling Janata Dal-United Suspended its MLA Sarfaraz Alam for allegedly misbehaving and abusing a Delhi-based couple on board Rajdhani Express.Alam waa also arrested in the case and later released on bail.
IMAGE: A screengrab of a video featuring Rajballabh Yadav. Photograph: Mera Neta/ Youtube