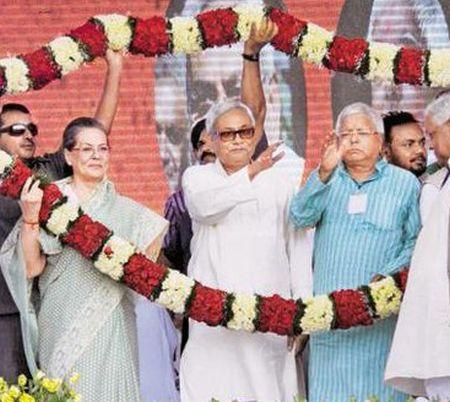 As Bihar decides its fate on Sunday, political leaders from across the spectrum weighed in.
Here are the top reactions from leaders:
A three-time former chief minister of Delhi, Dikshit telephoned Kumar and extended her best wishes to him so that he can stand up to the expectations of the people of Bihar who had overwhelmingly supported the alliance led by him.
"The victory has great significance for the country as it reflected triumph of India's pluralism and democracy. The victory also sends a message that people of India have rejected communal politics."
Former Delhi Chief Minister Sheila Dikshit
---
"It's a victory for the politics of regional pride, development and social justice. I feel that development of Bihar should happen so rapidly that Biharis will stop migrating to Maharashtra and other states."
"Migrant Biharis from all states must aspire to go back to their own state," Raj said.
Raj wished Nitish and Lalu to lead the state on the path of development, so that Biharis do not need migrate to other states.
-- Maharashtra Navnirman Sena chief Raj Thackeray
---
"It appears that the issue of Bihari vs Bahari (and Bihari Babu's absence) has been settled once and for all. It is the victory of democracy and the people of Bihar. I salute them. Wishing great luck to our victorious friends & appealing for introspection to our people.The writing was always on the wall."
-- Shatrughan Sinha, Bollywood actor-turned-BJP MP
---
"Heartiest congratulations on a well deserved victory @NitishKumar sahib. Your victory will prove critical for the nation in the days ahead. It was the BJP, not Nitish, that made this election a referendum on the Modi Govt. They have to live with the results, win or lose."
"Always remember victory belongs to the leader, defeat to the party. Simple rule of thumb & all parties, bar none, fall back on this. The BJP needs to get a refund from some news channels for crackers wasted this morning."
-- Omar Abdullah, former Jammu and Kashmir chief minister.
---
"We try to learn from every election. Give us some time. We will take corrective measures."
"There were efforts to use every issue to influence the Bihar poll outcome like the return of awards by artists and intellectuals over 'climate of intolerance'."
-- Ram Madhav, BJP leader
---
"This is clearly a victory for Nitish Kumar as he has emerged as a 'mahanayak' in this election. We have been the monitoring the polls there and I can tell you that Nitish's win was necessary for Bihar. The people have decided that they want him as their chief minister."
"Prime Minister Modi should accept his defeat as a party's loss always reflects on its leader. However, on behalf of the Shiv Sena, I congratulate Nitish and hope the Bihar results will bring a new turn for the nation."
-- Sanjay Raut, Shiv Sena leader
---
"This election was projected as a political war b/w Modiji and Nitish Kumar. Nitish Kumar has won in this battle. I congratulate Nitishji, Laluji, Sonia and Rahul Gandhi for this victory"
-- Siddaramaiah, Karnataka chief minister
---
"Raj Kumar Singh (BJP MP from Ara and former Union home secretary) and Shatrughan Sinha have betrayed us; action should be taken against them"
-- P Murlidhar Rao, BJP general secretary
---
"Trends disappointing for us. If we lose, will have to find out the reason for their victory more than the reason of our defeat."
-- Manoj Tiwari, BJP MP and popular Bhojpuri singer
---
"It was a very difficult fight. On the one hand, were moneybags and on the other were principles. It is a victory of principles over moneybags. We will win over 150 seats."
-- Sharad Yadav, Janata Dal-United chief
---
"The BJP and their alliances were doing destruction in the name of development. They were trying to play communal politics but have received a strong retort by the people of Bihar. People here are aware of the sense of fear that has gripped the nation and are aware of what has happened in Dadri and Faridabad."
"We have seen that while polls were happening in Bihar, the BJP and the NDA had been trying to polarise the country only for an electoral advantage but Bihar has chosen to reject communal politics and vote for inclusive development and social justice."
"This is an absolutely profound verdict considering the prime minister made 35 rallies instead of governing the country, clearing indicating the 'Modi wave' is long over. People are tired of 'jumlabaazi and bayaanbaazi', they want 'kaamkaazi'. They want result and work instead of spinning yarns."
-- Sanjay Jha, Congress leader
---
"Victory of unity over divisiveness. Humility over arrogance. Love over hate. A victory of the people of Bihar."
-- Rahul Gandhi, Congress vice-president
---
"The Muslim community just wanted to teach Prime Minister Modi a lesson. The larger picture is that it is a personal defeat of Modi. Wherever there will be a non-Congress face, Modi and BJP will lose from there. We introduced ourselves to people of Bihar, have established our organization there."
-- Asaduddin Owaisi, president of the All India Majlis-e-Ittehadul Muslimeen
---
"Opposition will now feel that BJP is not invincible despite its enormous resources. I am aware of the kind of resources deployed by the BJP in the Bihar elections."
"No PM had ever campaigned so intensely and aggressively, it is a rebuke to the PM's style of speaking and issues."
"I think Nitish Kumar himself has learnt a few lessons. He will be happy to deliver on the agenda of development. I always found him to be a very sober and reasonable person."
-- P Chidambaram, Congress leader
---
"It is a very decisive mandate. It is a defeat for BJP, it is a defeat for Modi. Never before has it happened that a prime minister campaigned like a local leader in a state election, addressing so many rallies."
"It will be taken as people's opinion about Modi also... it is a rejection of RSS's communal politics. Because, during the campaign, (RSS chief) Mohan Bhagwat came to the centre-stage of politics, speaking on all political issues."
-- D Raja, CPI national secretary