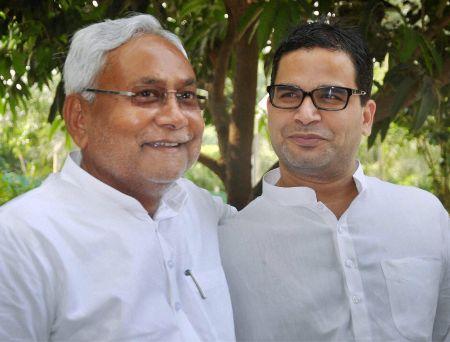 They were the ones who strategised, the ones who ideated the moves in the war. Now, they are ready to move on, not a whit discomfited by reverses, and provide their services to anyone who needs them.

Prashant Kishor, the man who put together Nitish Kumar's campaign strategy for the Grand Alliance (Mahagathbandhan), in a professionally slick and agile package of moves, is yet to decide whether he will make a serious political intervention in Bihar or will continue to be a professional running the Indian Political Action Committee(I-Pac).

The man who capitalised on the PM's 'DNA of Bihar' remark and dispatched trucks full of Bihari nail filings and locks of hair to the PMO to enable the PM to full understand the nature of the Bihari DNA, is now ready to make a more vigorous intervention in the state.

Although there are rumours that he may join active politics his supporters say they have no clarity on this.

Kishor was hugged and feted publicly by Nitish Kumar as the result began pouring in indicating a big victory for the Grand Alliance. Interestingly, Lalu Prasad took a light swat at Kishor when he said that in the morning when it seemed from the postal ballots that the BJP was winning, he called Kishor and said: "tension not"(sic). The import of Prasad's mocking reference was that Kishor may think he contributed to the victory but he should leave politics to the politicians.

Kishor's team was equally clear that their job was to campaign for Nitish Kumar and Nitish Kumar alone, and not Lalu Prasad or the Congress. This has not gone unnoticed by Prasad, who is likely to resist any further promotion of Kishor by the state government.

However, there is no denying that this is a major victory for the public campaign man, who is an ideological agnostic and believes in The Message and not necessarily The Man.
Image: Bihar Chief Minister Nitish Kumar with his campaign manager Prashant Kishor. Photograph: PTI