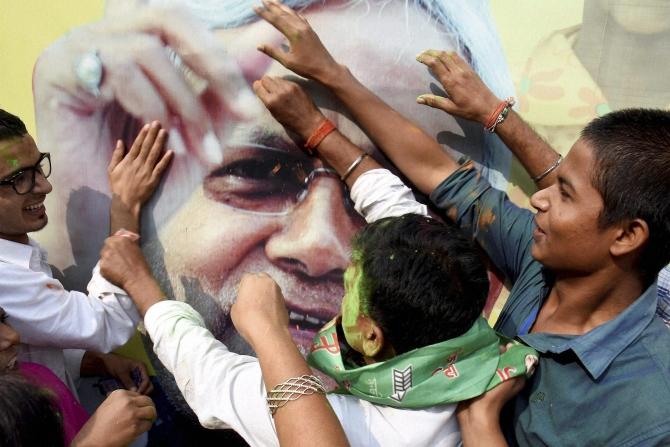 JD-U supporters celebrate the Mahagathbandhan's victory in Bihar assembly elections in Patna on Sunday.Photograph: PTI Photo
In the last assembly polls which the JD-U and the BJP fought together, the two parties had got 115 and 91 seats respectively. The RJD and the Congress, which had fought on their own, bagged 22 and 04 seats respectively.
For Modi, the Bihar results are seen as a personal setback for the second time in 10 months after the BJP's disastrous show in Delhi assembly polls where the Aam Aadmi Party secured 67 of the 70 seats, leaving only three to BJP.
After leading his party to a stunning majority in the Lok Sabha polls in May last year, Modi also ensured success for the party in Maharashtra, Haryana and Jharkhand, where the party formed government on its own. In Jammu and Kashmir, the BJP became part of the coalition government with the Peoples Democratic Party in March.
After the Modi juggernaut decimated the Congress, the RJD and the JD-U in Bihar bagging 31 of 40 Lok Sabha seats, the three rival parties came together in the assembly bye-polls that happened months later. They won six out of the 10 seats that gave them the necessary boost to join forces and repeat the success on a massive scale.
COMPLETE COVERAGE: Battle for Bihar
The Communist Party of India (Marxist–Leninist), which contested on its own, got two seats while Independents were successful in four seats. All India Majlis-e-Ittehadul Muslimeen of Assadudin Owaisi and Janadhikar Party of Lok Sabha member Pappu Yadav drew a blank.
Appearing together before the media after the results, Kumar and RJD chief Lalu Prasad said the poll verdict would have an impact on national politics as it shows that there is earning for a "good and strong alternative" and a "powerful opposition" to the BJP.
Describing the election as a "milestone", Kumar said the result was for "harmony" and against "intolerance". He said efforts at polarisation have failed.
Lalu, while attacking Modi, said the alliance will launch a "strong nationwide movement" against the BJP as part of "march towards Delhi" and will begin with a rally within 10 days in the Prime Minister's constituency Varanasi.
-- Move your mouse along the graph to see each party's vote share