Joining hands with his arch rival, Lalu Prasad Yadav, paid off for the Bihar chief minister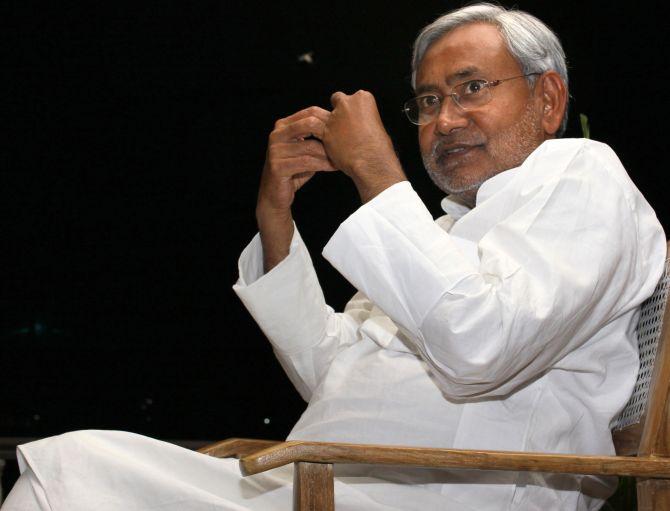 Nitish Kumar, often referred to as the Chanakya of Bihar politics, lived up to the moniker when he surprisingly joined hands with arch rival Rashtriya Janata Dal boss Lalu Prasad to script a third consecutive term for himself as chief minister after being bruised and bloodied in the 2014 Lok Sabha polls.
Following the age-old proverb enemy's enemy is friend, the Janata Dal-United leader whose party won just two of the state's 40 seats in the Lok Sabha poll, a development that impelled him to step down and hand over the reins to Jitan Ram Manjhi, joined hands with Lalu to halt bete noire Narendra Modi's juggernaut in Bihar.
Lalu and Nitish, friend-turned-foe in state politics, sank their differences to revive an alliance that began over 40 years ago with the students' agitation, which soon turned into a pan-India movement led by veteran socialist leader Jayaprakash Narayan.
Though Lalu got lucky in his very first outing in the electoral arena, winning the Lok Sabha poll in 1977, it took Kumar, an electrical engineer from NIT Patna, then known as Bihar College of Engineering, eight more years to get elected to the state assembly for the first time in 1985, after having lost twice.
Though as different as chalk and cheese, Kumar backed Lalu in bagging the chair of the Leader of Opposition in the assembly in 1989 and again when he challenged Ram Sundar Das and Raghunath Jha, nominees of Prime Minister V P Singh and Chandra Shekhar respectively, for the chief minister's post after Janata Dal came to power in Bihar in 1990.
Kumar, who won the 1989 Lok Sabha polls from Barh, shifted his focus to Delhi, getting elected to LS in 1991, 1996, 1998 and 1999. He became minister of state for agriculture in the Atal Bihari Vajpayee government and then briefly the railway minister in 1999. He resigned after the train tragedy at Gaisal in West Bengal in 1999 in which nearly 300 people were killed.
Suave and articulate, Kumar again became railway minister in 2001 and continued till 2004 during which period he was credited with introducing several reforms in the public sector behemoth like internet ticket booking and Tatkal system of instant booking.
The Godhra train burning incident in February 2002, which provided the spark that soon consumed Gujarat in communal flames, occurred during his tenure at Rail Bhavan.
Even as Kumar sharpened his political and administrative skills in the corridors of powers in Delhi, he drifted away from Lalu.
In 1994, he together with George Fernandes, the stormy petrel of the socialist movement, walked out of Janata Dal after Lalu plumped for fellow Yadav casteman Sharad Yadav for party presidentship, and formed Samata Party, which joined hands with the BJP ahead of the 1996 general elections.
In years that followed, Sharad Yadav was also marginalised in the Janata Dal, with Lalu gaining complete control over it. Later, Sharad Yadav faction of Janata Dal, Samata Party and Lokshakti of former Karnataka chief minister Ramkrishna Hegde merged to form Janata Dal-United in 2003.
After the NDA lost the 2004 Lok Sabha polls, Nitish shifted his focus back on Bihar once again where the Rabri Devi government was fast losing popularity.
An Other Backward Class leader himself, Kumar returned to Bihar and launched himself into a sustained campaign against Lalu-Rabri dispensation. His efforts paid off and the JD-U-BJP combine formed its government in the state after the 2005 assembly polls, with Kumar as chief minister.
For the first time in many years, development became the buzz word as he got into a mission mode, completing pending infrastructure projects, recruiting over one lakh school teachers, and bringing crime under check. Teachers began to be seen in faraway schools and doctors in primary health centres. He introduced a scheme of free bicycles for girl students, which sharply brought down the dropout rate. Kumar was soon hailed as 'Vikas Purush'.
Seeking to cut Lalu's support base which extended to the dalits, he created another bloc of Mahadalits, or the extremely weaker sections among the dalits, and announced a number of welfare schemes for them.
-- COMPLETE COVERAGE: Battle for Bihar
In the 2010 assembly election, the JD-U-BJP alliance won 206 of the 243 seats, decimating RJD, which could bag just 22 and was rendered ineligible for even the post of Leader of Opposition.
However, despite his strong ties with BJP, Nitish Kumar's relations with his Gujarat counterpart Narendra Modi continued to sour. Kumar had stalled all attempts by BJP to allow Modi to campaign in the two elections the alliance won in Bihar under his stewardship.
Anointment of Modi as BJP campaign committee chief for the 2014 Lok Sabha polls proved the proverbial last straw and Kumar led his party out of the NDA in June 2013.
He resigned as chief minister on May 17, 2014 after JD-U's catastrophic performance in the Lok Sabha polls when it managed to win barely two seats and handed over the reins to Mahadalit leader Jitan Ram Manjhi.
But as the assembly polls approached, Kumar realised the Mahadalit leader would not be able to lead the party to victory. Kumar asked him to step down and pave the way for his return as chief minister.
As Manjhi dug in his heels and refused to quit, he was ousted by JD-U MLAs and Kumar was back at the helm in February 2015 after a nine-month hiatus with support from Lalu's RJD and Congress.
Humbled at the hustings by the Modi wave, both Kumar and Lalu were looking for new friends to shore up their sagging political fortunes. The former comrades-in-arms decided to bury the hatchet and go to the hustings unitedly, a strategy that paid off.
Image: Reuters
© Copyright 2023 PTI. All rights reserved. Republication or redistribution of PTI content, including by framing or similar means, is expressly prohibited without the prior written consent.