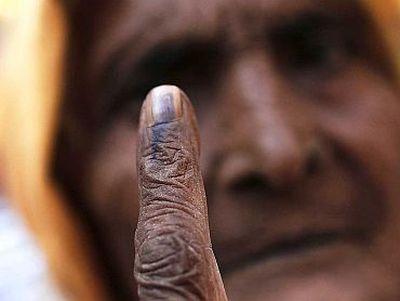 Counting of votes in the high-stakes close-to-call Bihar assembly elections, billed as a hot battle between Prime Minister Narendra Modi and Chief Minister Nitish Kumar, will take place on Sunday.
The counting for the 243 seats of the assembly will begin at 8 am and the verdict for a majority of seats is expected by the early afternoon.
Most of the exit polls have predicted a close contest between the Bharatiya Janata Party-led National Democratic Alliance and the grand alliance of Janata Dal-United-Rashtriya Janata Dal- Congress with a slight edge to the Chief Minister Nitish Kumar-led grouping.
However, two of them, including Today's Chanakya and the one done by Hansa for NDTV, have given a clear majority to the NDA.
While Kumar is not in the fray, among the prominent faces in the battle are mahadalit leader Jitan Ram Manjhi, who has fought from two seats, and two sons of RJD chief Lalu Prasad have also made their electoral debut.
The five-phased elections, which started on October 12 and ended on November 5, saw the lead campaigners from both the sides trading bitter accusations that at times turned personal.
Over a dozen FIRs were lodged by the poll authorities in Bihar against the top leaders of the two alliances relating to their alleged hate speeches. The accused included BJP chief Amit Shah, RJD supremo Lalu Prasad and JD-U president Sharad Yadav.
Modi had led the NDA charge by holding over 30 rallies while Shah held 85-odd public meetings.
A win for the saffron alliance will help BJP shake off the opposition attack on it over the "climate of intolerance" and embolden it to push its agenda ahead of the Winter Session of Parliament.
However, a loss for it will reinvigorate the opposition ranks and help Kumar acquire a key role in national politics after he suffered a big setback in the Lok Sabha polls. A defeat for the grand alliance will deliver a body blow to the politics of Kumar and Prasad from which it may take a long time for them to recover.
As much as 56.80 per cent, the highest in assembly election in the state's history, of the 6.68 crore voters have exercised their franchise.
Votes are locked in 62,780 EVMs which would be counted on Sunday. A total of 14,580 officials have been put on duty for the counting process in Patna and other districts.
Fate of 3450 candidates, including 272 women, would be disclosed in the counting on Sunday.
With hours left for the suspense to be lifted, Chief Minister Nitish Kumar remained in his 7 Circular road residence throughout the day.
"There is no engagement of the CM besides interacting with some people in his residence," an official at his residence said.
RJD President Lalu Prasad is also in his residence and interacting with some party workers and leaders arriving to him.
BJP leaders are also in their houses.
"Everybody is in buoyant mood as we are sure a BJP-led NDA government would be formed after results," state BJP Vice President Sanjay Mayukh said.
Results at Patna Sahib, Bankipore and Kumhrar are also important to know the impact of the absence of local MP Shatrughan Sinha from the campaign.
In the outgoing assembly, the JD-U and the BJP had contested elections together and won a massive majority. The JD-U had won 115 seats and BJP 91. The RJD had won 22 and Congress 4 when they contested on their own.
But, the scenario has changed altogether this time with the JD-U and the BJP parting company and heading rival coalitions.
JD(U) of Nitish Kumar teamed up with RJD and Congress in the grand secular alliance. BJP led a coalition with Lok Janshakti Party,
Rashtriya Lok Samata Party and Hindustani Awam Morcha.
From Secular alliance camp, the JD-U and the RJD contested on 101 seats each while Congress fielded candidates on rest 41.
In the NDA, the BJP fought on 158 seats and gave 41 to the LJP, 23 to the Rasbtriya Lok Samata Party and 21 to the Hindustan Awami Morcha.
For BJP, the challenge is to maintain its landslide victory in general elections in which it had won 22 seats out a total of 40 in Bihar. Its allies the LJP had won 6 and the RLSP 3.
The RJD and JD-U had fought separately and won four and two seats respectively. Congress, which contested in alliance with RJD, had also won two seats while NCP one.
A loose grouping of Samajwadi Party, Janadhikar Morcha of Madhepura MP Pappu Yadav and two others was counted as a challenge particularly to grand secular alliance but not much impact was visible except in Madhepura and Kosi area in the last phase.
The six Left parties came together to form a separate Front but their chance is rated very low.
All India Majlis-e-Ittehad-ul Muslimeen of Hyderabad MP Asauddin Owaisi fielded six candidates in muslims dominated Seemanchal area to test the
poll water in Bihar.
Due to sincere efforts of the Election Commission and security personnel, the five-phase elections in Bihar was violence-free.
Election Commission data shows that it was for the first time in Bihar that there was no report of any death during the poll.
In 2010 Assembly elections, six persons were killed while in 2014 Parliamentary polls in the state, five persons had lost lives.
A total of Rs 19,90,08,055 of unaccounted cash was seized during five-phase poll. Besides, 70,40,290 Nepali currencies and 39,00,000 other foreign currencies were seized.
In 2010 poll cash seizure in Bihar poll was Rs 35.54 lakh and in 2014 Lok Sabha election it was Rs 6,02,21,243.
EC data shows 6,87,981 litres of illicit liquor valued at Rs 12.03 crore was seized in the current election. In 2010 state poll 54 bottle of foreign liquor and 3290 bottles and pouches of country liquor was seized in the state.
© Copyright 2021 PTI. All rights reserved. Republication or redistribution of PTI content, including by framing or similar means, is expressly prohibited without the prior written consent.