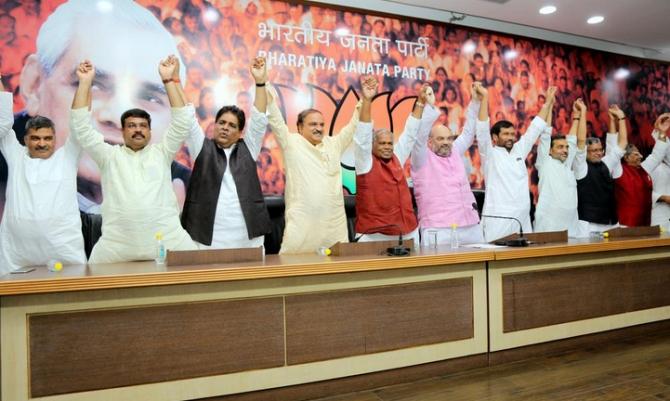 A day after the National Democratic Alliance finalised the seat-sharing arrangement for the Bihar assembly elections, the Bharatiya Janata Party has emerged as the 'big-brother' and the largest party in the state to contest the number of seats.

While the BJP decided to contest 160 seats, leaving 83 seats for its allies -- the Lok Janashhakti Party, Rashtriya Lok Samta Party and Hindustani Awam Morcha --the saffron party has become the single-largest party which will contest more seats than any other party in the Bihar assembly polls in October-November.

BJP state president Mangal Pandey admitted that it is for the first time after bifurcation of Jharkhand in 2000 that the party will contest for more seats than any other party, including its main rivals the Janata Dal-United, the Rashtriya Janata Dal and the Congress. "It is a positive development for the party and its future," he said.

In the assembly polls in the state in 2010, the BJP had contested 102 seats and its then alliance partner JD-U had contested 141 assembly seats. The JD-U was the big brother then. The BJP had won 91 seats and the JD-U 115 seats.
In 2013, Bihar Chief Minister Nitish Kumar ended the JD-U's 17-year-old alliance with the BJP.
However, this time, the grand alliance of the JD-U, the RJD and the Congress finalised seat sharing and decided that the JD-U and the RJD would contest 100 seats each, the Congress 40 seats and the new likely alliance partner Jharkhand Mukti Morcha 3 seats.
Some BJP leaders said that the party aimed to contest at least 170 seats, but later changed that in view of pressure-politics by the allies for bargaining of more seats during talks.
A few months ago, BJP president Amit Shah had set a target of 185-plus for the NDA to win in Bihar polls.
Some BJP leaders said that party plans to get a simple majority on its own in the 243-member state assembly by winning of 123 of its 160 candidates. With a cocktail of calculative caste combination and development plank, the BJP is hopeful of an advantage in the polls.
Photograph courtesy: @AmitShahOffice/Twitter