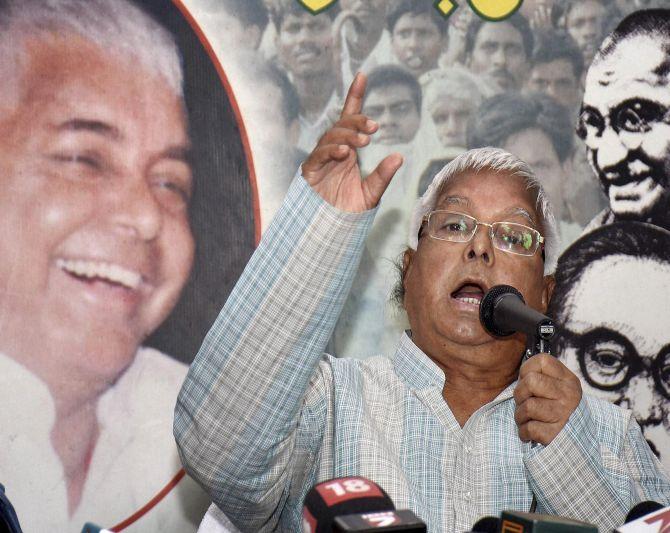 His party making a strong comeback in Bihar by winning 80 seats, a buoyant Rashtriya Janata Dal chief Lalu Prasad on Monday said that the "anger" against Prime Minister Narendra Modi was reflected in the results of the polls in the state.
A day after the grand alliance won the popular mandate, he also said he would soon launch a nation-wide agitation against the "kattarpanthi", or communal, forces.
"There is an anger against Prime Minister Narendra Modi across the country. The Bihar results have given some relief to the countrymen," Prasad said.
"Nitish Kumar will look after Bihar and I'll move around in the country to launch a movement against communal forces," he added.
Prasad, whose party returned to the political forefront in the state after 10 years, said Narendra Modi's Lok Sabha constituency Varanasi would be the first stop for him where he would search with the help of his 'lantern' (RJD's symbol) the development promised by the prime minister during Lok Sabha polls.
"I'll find out if Varanasi has become Kyoto as promised by Modi, the MP from Varanasi," he said in a dig at the prime minister.
Targeting the BJP-led government at the Centre, he claimed, "Nobody is feeling safe in the country... they have terrorised everybody... 'bolte thay acche din ayenge, par itna bura din kabhi nahi dekha desh (they used to say good days will come, but the country has never seen such bad days)."
Prasad, whose two sons Tej Pratap Yadav and Tejaswi Yadav won the Mahua and Raghopur seats, respectively, as RJD emerged as the single-largest party in Bihar assembly, also said in an apparent reference to BJP chief Amit Shah that "they used to talk about 'jungle raj' and 'chara chor' (fodder thief)... people are the best judge who is what."
Prasad, meanwhile, also criticised the media and political commentators for reiterating words like "jungle raj" and "chara chor" and said it was in bad taste. They hoped they would not repeat such phrases in the future.
Meanwhile in Chandigarh, Ajay Singh Yadav, a senior Congress leader and relative of Lalu Prasad, said, "Laluji will open a front against the BJP. He will be touring different parts of the country to strengthen the secular forces."
Ajay Yadav, a minister in the erstwhile Bhupinder Singh Hooda-led Congress government in Haryana, said, "People of Bihar felt that Prime Minister Modi had lost credibility. People felt betrayed by the tall promises which were made to them by Modi and BJP before last year's Lok Sabha polls but were never fulfilled."
Ajay, who was a star campaigner for the Congress in the Bihar elections, said, "During the poll campaigning, the mood and pulse of the people was clearly visible, which was against the BJP."
"For people of Bihar, issues like black money became a poll issue. RSS chief Mohan Bhagwat's quota remark had a backlash and went against the BJP.
"Also, Union Minister V K Singh's remark saying the government cannot be held responsible if somebody stones a dog, which was made by him in the context of burning alive of two Dalit kids in Faridabad, also went against them," claimed Ajay, whose son Chiranjeev Rao is married to Lalu's daughter Anushka.
© Copyright 2022 PTI. All rights reserved. Republication or redistribution of PTI content, including by framing or similar means, is expressly prohibited without the prior written consent.