An estimated 55 per cent of the electorate cast their votes in 32 constituencies across six Maoist-affected districts of Bihar on Friday in the second phase of assembly elections which passed off peacefully.
Like the first phase on October 12, Friday's polling also saw more women voters turning out than the menfolk.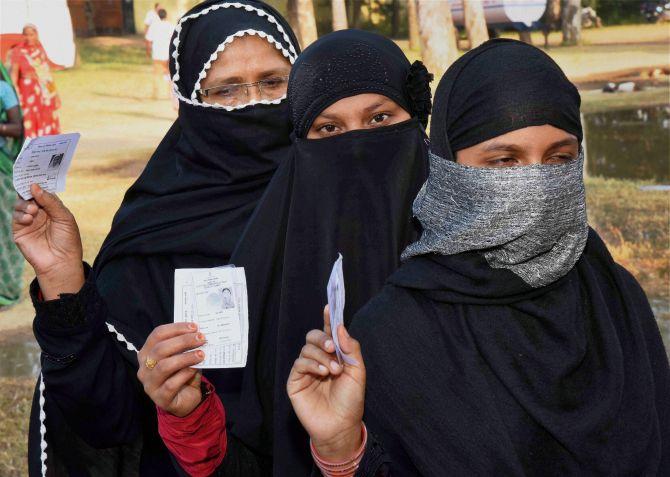 Voters wait in queues to cast their vote during second phase of Bihar elections at Gaya, Mohanpur on Friday. Photograph: PTI
Friday's polling figure is three per cent higher than the 2010 assembly election in the state, Chief Electoral Officer Ajay V Nayak told reporters.
While the women voters' turnout was 57.5 per cent, it was 52.5 for men, Nayak, who was accompanied by Additional Chief Electoral Officer R Lakshmanan, said.
The two officials said polling was more or less peaceful and there was no major untoward incident reported from anywhere. Only in Maoist-hit Gaya district, two IEDs were recovered by security personnel and defused.
Senior BJP leader and former minister Prem Kumar (Gaya town), former state BJP chief Gopal Narayan Singh (Nabinagar) and state minister Jay Kumar Singh (Dinara) are among those whose fate would be decided in this phase.
Nayak said the two bombs weighed 12 kg and 10 kg and both were defused successfully under Maigra police station of Imamganj constituency of Gaya district by CRPF personnel.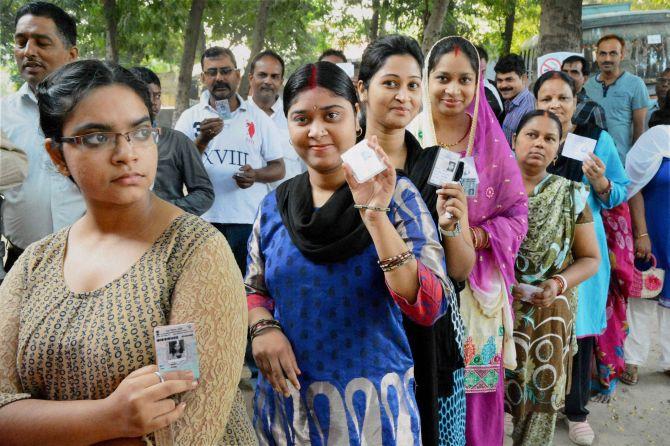 Voters getting ready to cast their vote at Gaya. Photograph: PTI
While Kaimur recorded a maximum of 57.86 per cent voting, Aurangabad saw the lowest turnout of 52.5 per cent.
A total of 456 candidates, 32 out of whom being women, are in the fray in this phase. Polling took place in 9,119 polling stations where security cover was provided by 993 companies (one company comprising of 100 personnel) of central paramilitary forces and the state police.
Rohtas recorded 54.66 per cent turnout, Arwal 53.21 per cent, Jehanabad 56.49 per cent and Gaya 55.54 per cent, election office sources said.
Nayak and Lakshmanan said 34 people were arrested during polling from different areas and a MUV and a motorcycle were impounded.
A middle-aged voter and CRPF personnel died of heart attacks in polling booths at Rafiganj and Imamganj.
Nayak said a 104-year-old woman exercised her franchise at booth number 205 at Bhabua in Kaimur district.
A cane bomb was found by the security personnel near a polling station located at Balar village in Kasma police station area under Rafiganj assembly constituency, Kasma police station SHO Sujit Kumar said.
The bomb was later found to be a dud and filled with sand, he said.
Meanwhile, former chief minister Jitan Ram Manjhi, who is contesting from Imamganj constituency against Speaker Uday Narayan Choudhary, a JD(U) candidate and a five-term MLA from the seat, alleged that names of many scheduled caste voters have been removed from the voters' list.
After voting, Manjhi, who is also in the fray from Makhdumpur, claimed that NDA would emerge victorious and there was no question of his defeat.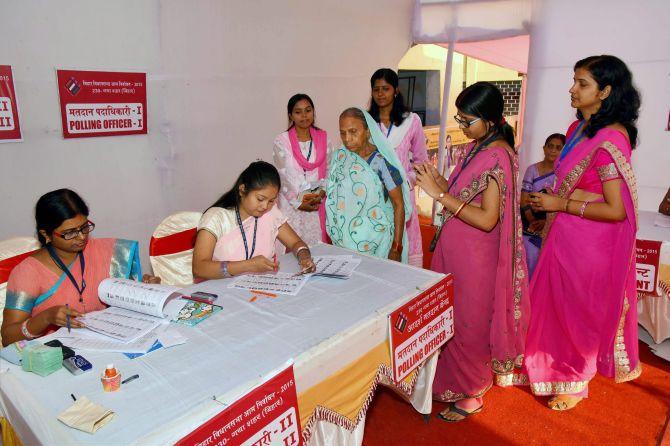 The polling stations witnessed a considerable presence of voters on Friday. Photograph: PTI
Voting started at the scheduled hour at 7 am in all the 9119 polling stations and ended at 3 pm in 11 constituencies in the most sensitive Maoist areas. In 12 constituency areas polling ended at 4 pm and in the rest 9 seats at 5 pm.
The stakes are high for the anti-BJP alliance in this phase as 21 of the 32 seats had gone to the JD(U) and RJD in the last elections in 2010.
In the National Democratic Alliance camp, half of the seats in this phase are being ontested by BJP's allies -- Lok Janshakti Party, HAM and Rashtriya Lok Samata Party.