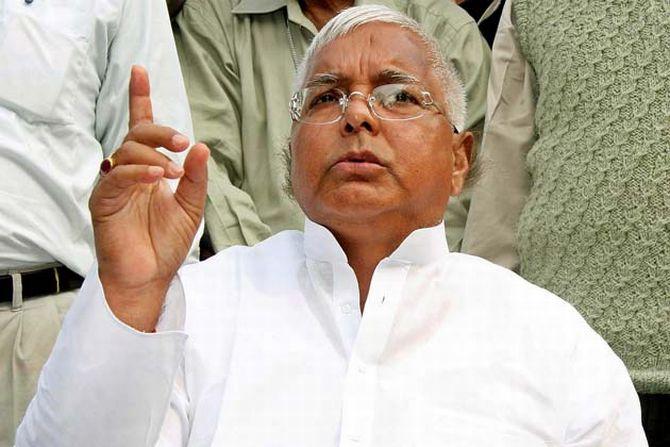 As name-calling like 'cannibal' and 'devil' permeates the high stake Bihar assembly poll campaign, the Election Commission on Thursday expressed "deep anguish" at the "plummeting level" of speeches, saying these are aimed at causing mutual hatred and urged politicians to show restraint.
The Commission's strongly-worded instructions came against the backdrop of politicians using election rallies and press conferences to target each other viciously ahead of the crucial assembly elections.
The EC said it has observed "with a deep sense of anguish and serious concern about the plummeting levels of political speeches by various political party leaders and candidates in the ongoing general election to the Bihar legislative assembly".
It said that while guidelines and advisories to political parties have been issued again and again -- the latest one being on September 17, "the situation still continues to be far from satisfactory".
"The tone and tenor of the political speeches have been found to be calculated to cause mutual hatred, disharmony or ill-will and aimed at to aggravate the differences between different political parties and classes of citizens on the grounds of religion, caste and community which the Model Code of Conduct dissuades the political parties and candidates."
The Commission reminded politicians that the fundamental right of freedom of speech and expression is not absolute and is required to be exercised in such a manner that it does not transcend the boundaries of decency and morality or disturb public order or amount to defamation or give incitement to an offence.
The poll panel strongly urged political parties, their leaders as well as the contesting candidates "to observe utmost restraint and decency in their election campaign speeches and set an example for future elections in the matter of maintaining high standards of conduct and behaviour in election campaign".
FIRs have been already lodged against Rashtriya Janata Dal chief Lalu Prasad for his "narbhakshi" (cannibal) comment against Bharatiya Janata Party chief Amit Shah. Shah has also been booked for his "chara chor" (fodder thief) barb against Prasad
Prasad was also locked in a slugest with Prime Minister Narendra Modi over the former's 'Hindus also eat beef' remark.
At a poll rally in Bihar yesterday, Modi trashed Prasad's explanation that he had made the remark--that had triggered a controversy-- under the influence of "shaitan" (devil).
"I wonder the devil got only his (Lalu) body to enter. I want to know how the shaitan got the address (of Lalu). The devil got no other body in entire Bihar, India and the whole world except that of his. And he also welcomed the devil as if some relative has come," Modi said.
In a sharp retort today, Prasad called Modi a "Brahma Pishach" (super demon).
"If I am a 'shaitan', he is a 'Brahma Pishach' (powerful demon spirit as described in ancient Hindu texts)," he said.
During poll rallies, Modi described Prasad's RJD as a party signifying "Rojana Jungle Raj Ka Dar" and its ally Janata Dal-United as "Janata ka Daman aur Utpidan (Oppression and Suppression of People)".
Hitting back, JD-U leader Nitish Kumar said the BJP means 'Badka Jhutha Party' (party of big liars) and 'Bhartiya Jumla (platitude) Party'.