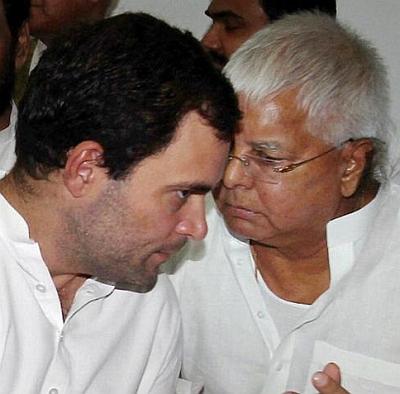 Rashtriya Janata Dal chief Lalu Prasad Yadav has refused to share the stage with Congress vice president Rahul Gandhi at a rally in Bihar's west Champaran district on September 19.
Lalu assured Congress leaders in Bihar that his younger son, Tejaswi Yadav -- regarded as his heir apparent -- will attend the Champaran rally on his behalf.
A senior RJD leader said, "Lalu said no to attend Congress vice president Rahul's rally citing his busy engagement."
According to RJD sources, Lalu is reluctant to share the dais with Rahul as he is reportedly unhappy with him over his approach and stand on certain issues.
Lalu's relation with Rahul turned bitter ever since the latter openly objected to a United Progressive Alliance government's ordinance to protect convicted lawmakers from disqualification in September 2013.
Lalu has been convicted in a multi-crore fodder scam case by a Central Bureau of Investigation court in Ranchi.
Meanwhile, the Congress state leadership has begun a hectic move to persuade Lalu to attend Rahul's Champaran rally, to show a unity of the leaders of the grand alliance of the Janata Dal-United, RJD and the Congress.
Senior JD-U leader and Bihar Chief Minister Nitish Kumar will attend Rahul's rally.
"Senior Congress leader and in charge of Bihar, C P Joshi and another senior Congress leader from Haryana Ajay Yadav, whose son Chiranjeev Rao is married to Lalu's daughter, will talk to Lalu and request him to attend Rahul's rally," a Congress leader said.
Rahul's Champaran rally will be the first big show of the grand alliance after the Swabhiman rally in Patna on August 30, which was attended by Congress president Sonia Gandhi, who along with Lalu and Nitish had directly attacked Bharatiya Janata Party and Prime Minister Narendra Modi.
Bihar Pradesh Congress Committee president Ashok Choudhary personally visited Lalu Prasad on Sunday and invited him to share the dais with Rahul Gandhi.
"I am hopeful that Laluji will attend the rally," Choudhary said.
The grand alliance of JD-U, RJD and Congress has finalised seat sharing and announced that Congress will contest 40 of 243 seats and RJD and JD-U will contest 100 seats each.