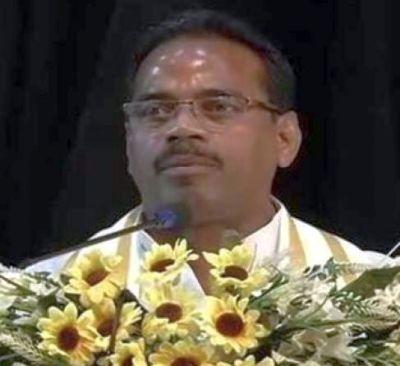 Bihar Bharatiya Janata Party minister Vinod Kumar Singh has sparked a controversy after he taunted mediapersons, who did not chant 'Bharat Mata ki jai' after him at an event, asking if they belonged to Pakistan.
Later he expressed regret over the outburst when the state BJP president, Nityanand Rai, expressed displeasure over his remarks at the programme itself.
Vinod Kumar Singh is the minister for mines and geology from the BJP quota in the new Bihar government led by Nitish Kumar. While addressing a 'Sankalp Sammelan' of the party on Tuesday, Singh urged the gathering to chant 'Bharat Mata ki jai'.
But, when the minister found that mediapersons did not join the chorus, he stopped and asked if they were "sons and daughters of Pakistan".
"We all are sons and daughters of Bharat first and then a mediaperson," he said.
The minister, who is a BJP MLA from Pranpur in Katihar district, was speaking at the BJP function attended by Deputy Chief Minister Sushil Kumar Modi, state party president Nityanand Rai and other ministers of the state.
Rai, however, expressed displeasure over the minister's remarks following which Singh, minutes before conclusion of the ceremony, expressed regret to mediapersons.
The minister said on Wednesday that "it was a slip of the tongue".
"I was carried away by emotion and have no negative sentiments against anybody.... I said so in that spirit...but still if my brothers and sisters in media feel hurt, I express regret from the core of my heart," the minister said.
Image: Vinod Kumar Singh is the minister for mines and geology from the BJP quota in the new Bihar government led by Nitish Kumar. Photograph: ANI/Twitter