Even in times of disaster and distress, caste tensions continue to stay afloat at relief camps for flood victims in Bihar with reports coming in about Dalits at the Bihar Vidhyapeet Bhawan and B N collegiate camps in Patna being abused, humiliated and deprived of relief by some upper caste men, a district official said on Wednesday.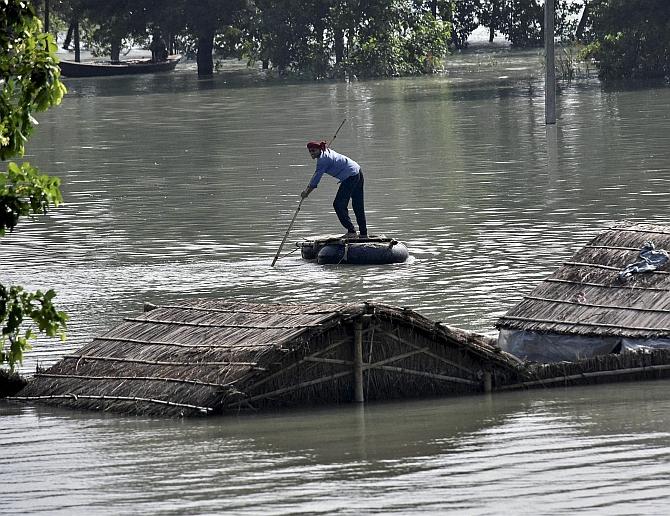 "Flood victims have been given shelter at the Bihar Vidhyapeet Bhawan in Patna as per their caste. Dalits have been treated as unwanted," Mangri Devi, a Dalit flood victim told rediff.com.
According to officials, at the time of distribution of relief items on Tuesday, a group of upper caste men forcefully drove away Dalit women saying they could not have food alongside them.
The Dalit women later informed the concerned officials and lodged a complaint against their village panchayat head who had arranged a separate shelter for them far from that of the upper caste people.
A similar situation was reported from relief camps at B N Collegiate.
"Dalits were abused, misbehaved and humiliated during the distribution of relief items," Ramji Ram, a flood victim at the B N Collegiate camp, said.
When contacted, Patna District Magistrate Sanjay Kumar Agarwal said he was unaware of any such incident.
"If anything like this happened, it is unfortunate and we will investigate it," he told rediff.com.
Agarwal has been visiting various relief camps in the district and inspecting food preparations and other arrangements.
"As per the chief minster's directive, we are serving them (the flood affected victims) food in stainless steel utensils. The administration is taking every possible step to ensure that people at the camps are being served proper food," Agarwal said.
Mahender Yadav, an activist working among flood victims in Koshi region which comprises of five flood-prone districts, is not surprised by the reports of caste discrimination.
He said: "We found similar cases of caste discrimination in relief distribution last month and reported them to district officials in the Koshi region."
A Congress MLA, who did not wish to be identified, said he was shocked to learn that panchayat heads distributed relief among their own castemen and deprived other castes, particularly poorest Dalits and extremely backward castes during last month's flood in the Koshi region. "It is saddest part in time of crisis."
Over 22 people have been killed and 23.71 lakh affected in the Bihar floods with many areas, specially the riverine belt of 12 districts, submerged.
The state is facing one of the worst floods in the decade despite receiving less than normal rainfall as all the major rivers flowing through the state are in a spate. Ganga, Sone, Punpun, Burhi Gandak, Ghaghra and Kosi rivers have affected 23.71 lakh people in 1,115 villages living in 12 districts of the state, a statement from the Disaster Management Department said.
Of the 38 districts in the state, nearly 20 have been affected by the recent floods.
IMAGE: A man uses tube boat to wade through flooded area of Hajipur, Bihar on Tuesday. Photograph: PTI Photo