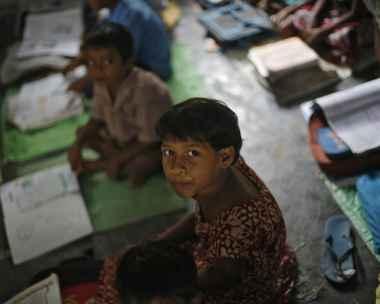 The top brass of the Bihar education department came under shock when it was found that funds granted under the Sarva Shiksha Abhiyan -- a government of India programme which aims to provide free and compulsory education to all children of ages 6 to 14 years -- was used by 54 headmasters of government-run primary and middle schools to build their own homes instead of constructing new classrooms and schools, officials in Patna said on Monday.

The rare loot of SSA funds took place in Bihar's Maoist-affected Kaimur district.

Taking serious note of it, Kaimur District Magistrate Arvind Kumar Singh said he has ordered suspension of the 54 headmasters. He also ordered for departmental proceedings against the headmasters for their dismissal from the service.

According to Singh, irregularities were found in SSA funds of Rs 5 crore that was provided to headmasters to construct new classrooms and schools.

The headmasters were provided funds for the construction of 167 additional classrooms in their respective schools. Besides, funds were made available for four new schools.
Singh said the suspended headmasters now face certificate cases for recovery of the amount of grants provided with interest under the provisions of Public Demand Recovery Act.

He said headmasters may face dismissal if the work is not completed within two months.

A few months ago the district administration was informed that suddenly dozens of school headmasters had built new homes at Bhabua, the district headquarters, which alarmed the authorities and led to departmental inquiry.
Image: Children attend classes at a government-run primary school in Bihar
Photograph: Adnan Abidi/Reuters