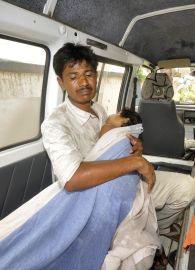 Under attack from the opposition over the death of 22 school children after consumption of mid-day meal at Saran, the Bihar government on Wednesday said it suspected a conspiracy behind the tragedy.
"The deaths were not due to food poisoning but it's a clear case of mixing poison in food," Bihar Education Minister P K Shahi told reporters in Patna.
"From where did this organic phosphorous come in the food given to students as part of the mid-day meal scheme?" Shahi asked, hinting at the controversy angle, and told the police to investigate the matter.
The minister also hinted at the involvement of opposition Rashtriya Janata Dal in the tragedy though he did not make any direct reference.
"Arjun Rai, the husband of the school headmistress, had supplied the food material for the midday meal. He is an active member of a party and cousin of local leader Dhruv Rai of Mashrakh, who is close to a prominent leader of a party (RJD)," he said.
Rai, Shahi said, owns the grocery shop from where the materials were taken by the school headmistress Meena Devi for the midday meal scheme.
Besides, the headmistress was posted at the school under pressure "from a particular party". Block education officer Pramod Kumar, who is under suspension now, had appointed her as headmistress in-charge of the school.
The minister said, "Some people seem to be in a hurry to capture power anyhow and in persuading this ambition they are indulging in inhuman acts like the present tragedy."
Shahi said a student had told the media that the headmistress had forced them to finish the meal when they expressed reluctance to eat it because of its pungent taste.
Besides, a cook had said she had complained to the headmistress about the oil given to her for cooking the meal but she told her it was fresh and asked her to use it.
The minister said the government has ordered suspension of the headmistress and the block development officer has been asked to initiate the process but it is taking time as the BDO is engaged in law and order duty in view of the Saran bandh called separately by opposition RJD, BJP and LJP to protest the incident.
Shahi, who had rushed to Chhapra yesterday on the instruction of Chief Minister Nitish Kumar, said the response time taken by the government to provide succour to the victims was quick.
Refuting lacunae in implementation of the central government's mid-day meal scheme, Shahi said the ruling JD-U has always been concerned about improving the quality of food under the programme, implemented in 73,000 schools across the state.
Image: A man holds his sick child who consumed spurious meals at a school in Saran on Tuesday.
Photograph: Reuters