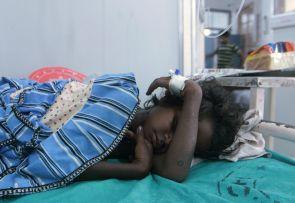 Facing widespread criticism over the death of 23 children after eating mid-day meals in Chhapra, the Bihar government on Thursday denied receiving any alert from the Centre over shortcomings in its implementation and insisted that the food was 'poisonous'.
"No such alert was issued to us. In the meeting of project approval board, a study by A N Sinha Institute of Social Science and Jamia Milia University had pointed out that in many places standard of hygiene was not maintained on which the government acted promptly," Principal Secretary Education Amarjeet Sinha told reporters.
Accompanied by Director, Midday meal programme, R Lakshamanan, Sinha said based on the studies, the state government in April held a training for principals and cooks to the maintain standard of cleanness in food for the scheme.
Earlier in the day, Union HRD Minister M M Pallam Raju said warnings were issued to 12 Bihar districts including Saran where the tragedy occurred after some shortcomings in the implementation of the programme were identified.
Sinha repeated the remarks of Education Minister P K Shahi on Wednesday that the food was poisonous as confirmed by presence of organic phosphorous.
The case seemed to be one of poisoning of food and not food poisoning, he stressed.
"Insecticide was mixed in large quantity in the oil used for cooking food or it seems that the food was cooked in the insecticide," Sinha said.
The presence of organic phosphorous was clinically confirmed by doctors, he said.
"The report of the laboratory test of the food is expected tomorrow which will give a final verdict over the issue," he said.
Image: A sick child rests at a hospital after consuming contaminated school meals in Bihar.
Photograph: Reuters