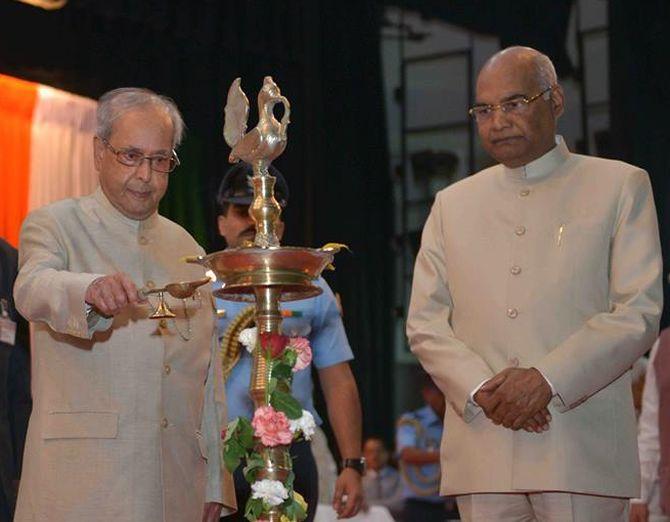 The National Democratic Alliance has announced Bihar Governor Ramnath Kovind as its candidate for the upcoming Presidential polls.
The announcement was made in a press briefing by Bharatiya Janata Party national president Amit Shah.
Shah further said that the saffron party hoped that the Dalit nominee would remain unchallenged as the choice and would be unanimously selected as the President of India.
The 71-year-old low profile Dalit leader, a two-term BJP Rajya Sabha member, is seen as an astute choice by the saffron party, which has been targeted by opposition parties over Dalit issues, and his election is almost a certainty as the ruling bloc with the support of some regional parties enjoys a majority in the electoral college.
Kovind is set to be India's second Dalit President after K R Narayanan, who served as the head of the state from 1997 to 2002.
Kovind, a lawyer, two-term Rajya Sabha MP and former president of the BJP's 'Dalit Morcha', is likely to file his papers on June 23.
Kovind said that he will meet leaders of major political parties and seek their support to emerge as a 'consensus candidate' for the coveted post.
He met Prime Minister Narendra Modi and BJP chief Amit Shah after he arrived in New Delhi from Patna following the BJP's decision.
Kovind then drove down to Shah's residence where he was greeted by senior BJP leaders. He stayed at the BJP chief's residence for nearly an hour where both are believed to have discussed the formalities related to the presidential poll.
He said he was a "small citizen" entrusted with a big responsibility.
"All those who are members of the electoral college...I will meet leaders of major political parties and seek their support...I hope that every citizen will support me," he said.
Later, Kovind briefly visited the Bihar Niwas where he declined to answer any question from the media and only said, "I thank everyone."
Shah also informed that the BJP leaders have talked to Congress president Sonia Gandhi, who told them that they would hold discussions over the Presidential nominee and proceed further.
Seeking support from opposition parties, Shah said Prime Minister Narendra Modi spoke to Sonia and former PM Manmohan Singh and sought their support.
Top BJP leaders also spoke to various opposition parties and also got in touch with their allies.
The parliamentary board of the BJP met in New Delhi on Monday to discuss the upcoming Presidential election.
Modi, Union Ministers Sushma Swaraj, Nitin Gadkari and M Venkaiah Naidu and other senior party leaders deliberated on the names for the top constitutional post.
Union Home Minister Rajnath Singh and Naidu had earlier met Communist Party of India leaders D Raja and Sudhakar Reddy at the latter's party office over presidential elections.
Naidu also spoke to Janata Dal-United leader Sharad Yadav and Samajwadi Party leaders Ram Gopal Yadav and Naresh Agrawal over phone and met Samajwadi Party patriarch Mulayam Singh Yadav and senior Bahujan Samaj Party leader Satish Chandra Mishra in this regard.
The BJP formed a panel for parleys with the Opposition as Sonia constituted a sub-group of the opposition parties for the Presidential election to create troubled waters for the ruling National Democratic Alliance for the country's coveted post.
Congress leaders Ghulam Nabi Azad and Mallikarjun Kharge, JD-U leader Sharad Yadav, Rashtriya Janata Dal leader Lalu Prasad Yadav, CPI-M leader Sitaram Yechury, Trinamool Congress leader Derek O'Brien, Samajwadi Party's Ram Gopal Yadav, BSP's Satish Chandra Mishra, Dravida Munnetra Kazhagam leader R S Bharathi and Nationalist Congress Party's Praful Patel are part of the sub-group.
BJP may get support from Nitish Kumar
Bihar Chief Minister Nitish Kumar likely to support Kovind.
"Nitish Kumar is likely to announce his support for Ram Nath Kovind soon," a senior JD-U leader close to Nitish Kumar said.
The JD-U leader said Kumar may wait till June 22 when opposition parties will meet in Delhi to decide their own candidate.
"Nitish Kumar will support Ram Nath Kovind on two grounds, first for his connection with Bihar and second that he is a Dalit," the JD-U leader said.
However, speculation is rife that JD-U's ally RJD chief Lalu Prasad will not support Kovind on the ground that he is a Rashtriya Swayamsevak Sangh man.
According to JD-U leaders, Modi had telephoned Kumar soon after Shah announced Kovind's name.
"Modi has sought support of Nitish Kumar for NDA's presidential candidate," the JD-U leader said.
Kumar is likely to meet Kovind on Monday evening.
Last month, when Kumar did not attend the meeting of non-BJP parties called by Congress president Sonia Gandhi in New Delhi to discuss how to challenge the BJP in presidential polls, it was stated that he is likely to support the NDA's candidate.
The election for the next President of India is to be held on July 17 as President Pranab Mukherjee will demit the office on July 25.
The Election Commission of India issued the notification in this regard and the process of the nomination has started that will continue till June 28.
With inputs from PTI and M I Khan in Patna
IMAGE: Bihar Governor Ram Nath Kovind, right, with President Pranab Mukherjee during the inauguration of the Felicitation Ceremony in the honour of Freedom Fighters on the occasion of centenary of Mahatma Gandhi's Champaran Satyagraha at Patna. Photograph: Kind courtesy @presidentofindiarb/Facebook