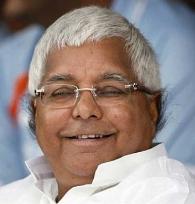 Lalu Prasad Yadav's Rashtriya Janata Dal on Wednesday won Maharajganj Lok Sabha bypoll by a convincing margin of over 1.37 lakh votes.
The result has, however, not been formally declared because the EVM of booth number 118 at Goriakothi in Siwan has developed a technical malfunction and the votes of this booth could not be counted.
District Magistrate-cum-Returning Officer Abhijit Sinha has sought the permission of the Election Commission to declare the result without counting of votes of the particular booth, official sources said.
RJD's Prabhunath Singh polled 3,81,436 votes, while P K Shahi of JD(U) bagged 2,44,324 and Jitendra Swami of Congress trailed far behind with only 33,905 votes.
The bypoll was necessitated by the death of Umashankar Singh, an RJD MP and father of Congress candidate Swami
The victory has given a boost to Lalu Prasad whose party suffered humiliating defeat at the hands of NDA both in the last general election as well as in the assembly elections in the state in 2010.
An upbeat Lalu Prasad, who worked hard for his party candidate by staying in the constituency for the last 10 days, told reporters in Patna that the Maharajganj bypoll result would trigger the beginning of fall of the Nitish Kumar government. "It will not be a defeat of Shahi but a defeat of Nitish Kumar in Maharajganj," he said.
Lalu said the Maharajganj poll outcome would be an indication of things to come in the 2014 general election for 40 seats in Bihar.
Image: RJD President Lalu Prasad Yadav