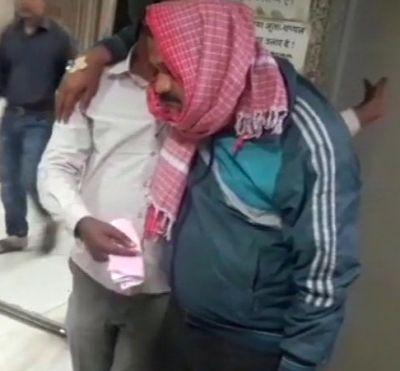 Suspended Bharatiya Janata Party leader Manoj Baitha, accused of mowing down nine school children in Muzaffarpur last week, has surrendered before police, a senior official said on Wednesday.
"Baitha surrendered at my official residence at about 1 am," Senior Superintendent of Police, Muzaffarpur, Vivek Kumar told PTI over phone.
Baitha had sustained injuries on his hand after his vehicle rammed into a wall after ploughing through a group of school children, killing nine of them, Kumar said.
He was taken to the Sadar Hospital at Muzaffarpur for treatment where doctors referred him to the PMCH at Patna, the police official said.
"He has been admitted to the PMCH where a police party is keeping a close watch. Further action will be taken in due course", he said.
A former district level worker from Sitamarhi district, Baitha was suspended from the BJP on Monday after the hit-and-run case that took place in Minapur police station area of Muzaffarpur on Saturday.
The opposition Rashtriya Janata Dal has alleged that Baitha was in an inebriated state while driving the vehicle, in flagrant violation of the ban on sale and consumption of alcohol in Bihar, and that the ruling dispensation was trying to "shield" him.
Meanwhile, in a statement issued in Patna, spokesman of the ruling Janata Dal-United Neeraj Kumar said, "The canards of the opposition now stand exposed. They should now apologise for indulging in politics over the tragic death of innocent children.
"Our government neither frames anybody in false cases nor does it patronize those accused of any crime," the statement added.