As a politician, Yadav is amiable and a consensus-maker, not hamstrung by dogma.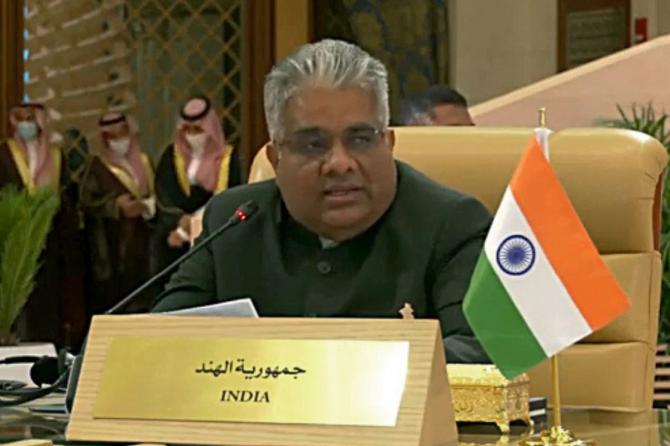 On October 28, climate change activists and administrators, especially Western ones, rolled their eyes on hearing Indian Environment Minister Bhupender Yadav (52) declare that setting net zero targets wasn't a solution and instead rich countries needed to acknowledge their 'historic responsibility.'
He also assured the interests of developing nations and those vulnerable to climate change would be protected.
Ahead of the epic climate change meeting (COP26) at Glasgow, the minister also said India was committed to 'being part of the solution' but added that fresh plans for cutting greenhouse gas emissions would be announced at an 'appropriate time and place.'
Analysts and observers concluded that India would stick to its usual script: Tussle with Western countries, berating them for breaking past emission promises and not meeting carbon reduction financing pledges, while taking the moral high ground on its own record of not only meeting Paris commitments but also being among the lowest per capita greenhouse gas emitters in the world.
No one, based on Indias environment minister's public position, expected India to commit to a net zero target.
On November 2, Prime Minister Narendra Modi informed the world that India would reach a net zero target by 2070.
'I was privileged to represent India in the negotiations in Glasgow and also overwhelmed to see the impact the PM's initiatives and ideas have created on world leaders,' Yadav wrote on his blog, backpedalling furiously.
This is not all. It was Yadav the government chose to tell the world that India would 'phase down' coal, rather than 'phase out coal,' which focused criticism on India and let bigger transgressors such as China and the US go scot-free.
'How can anyone expect that developing countries make promises about phasing out coal and fossil fuel subsidies? Developing countries still have to deal with their poverty reduction agenda,' Yadav said in justification of a stand that had actors like Switzerland and the EU frothing at the mouth and main negotiator Alok Sharma in tears at the last-minute U-turn by India -- announced by Yadav.
It remains a mystery why administrators and bureaucrats did not think fit to take Yadav into confidence.
They probably had no idea of Bhupender Yadav's depth of understanding of the environment and climate change law.
Yadav has co-authored a book titled Supreme Court on Forest Conservation with Ritwick Dutta, a well-known environmental lawyer.
Published in 2011, the book examines how the Supreme Court handled matters related to India's forest governance regime.
About encroachments in national parks and wildlife sanctuaries, Yadav and Dutta take the bull by the horns: 'Lack of political will... has been identified by almost all the states as one of the important reasons for the inability of the states to take effective steps for the removal of encroachments. Influential persons with political affiliations not only promote encroachments but also abet the entire process.'
As an MP, Yadav has done an important legal work on compensatory afforestation to wetland development and genetically modified crops.
He was a member of the parliamentary committee that reviewed the Mines and Minerals Development and Regulation Amendment Act, 2015.
The committee pointed out that the mining industry violates environmental laws with impunity, and stressed the need to allow mining only with an approved mining plan and mining closure plan.
Yadav's record as labour minister -- the other portfolio he holds -- is yet to show results.
He inherited and launched the e-Shram portal -- digital registration of the unorganised and migrant labourers -- so that the government has a database for this class of worker which is still to recover from the COVID-19-related lockdowns.
But the portal is hard for categories such as domestic help to access. The servers work when they want to.
As a politician, Yadav is amiable and a consensus-maker, not hamstrung by dogma.
He is from Ajmer, in Rajasthan, has been in the Rajya Sabha and began his association with the Bharatiya Janata Party as part of the party's lawyers' front organisation.
He has not been that active in state politics, though, lately, people have begun to sit up and take notice.
Soon after he became a minister, Yadav embarked on a jan ashirvad yatra, a thanksgiving exercise.
Although pictures of the senior-most BJP Rajasthan leader Vasundhara Raje were on the posters, her supporters were not really spotted in the yatra that had Union Minister Gajendra Singh Shekhawat, and state leaders like Satish Poonia, Rajendra Rathore, and Gulab Chand Kataria, visible and present.
At the Centre, Yadav owes his position and importance to his proximity to former party president and Home Minister Amit Shah and Prime Minister Modi.
Almost every tweet by Yadav after his ministership is a retweet of one or the other initiative launched by the PM.