A day-long nationwide strike on Wednesday impacted normal life in various parts of the country with coal production, banking operations and transport services being hit the most, while violent clashes erupted in West Bengal resulting in arrest of over 200 persons.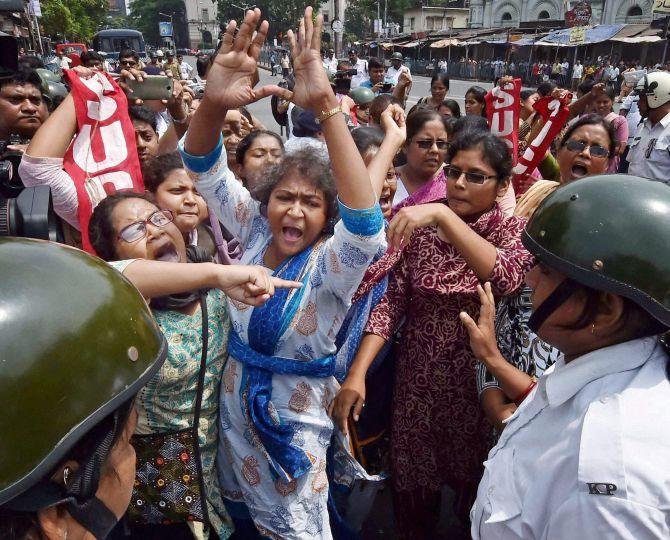 SUCI women activists arguing with the police during the nationwide strike of Trade Union workers to protest against alleged anti-labour policies of the Central government, in Kolkata. Photograph: Ashok Bhaumik/PTI
Union leaders claimed that over 15 crore organised sector workers went on the strike, call for which was given by 10 central trade unions against changes in labour laws and Public Sector Units privatisation along with their other demands. The Bharatiya Janata Party-backed Bharatiya Mazdoor Sangh ahowever stayed away from the strike.
The impact was most visible in West Bengal, Tripura, Kerala, Karnataka, Puducherry and Odisha among other places, while partial impact was seen in Delhi, Punjab, Haryana, Tamil Nadu, Goa, Gujarat, Bihar and Jharkhand.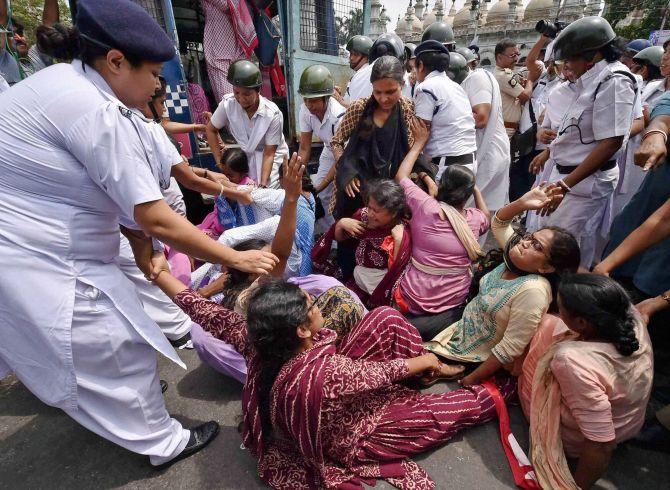 Police detain Socialist Unity Centre of India-Communisty women activists blocking a street during the nationwide strike of Trade Union workers to protest against alleged anti-labour policies of the Central government, in Kolkata. Photograph: Ashok Bhaumik/PTI
Normal life was affected in Assam, Andhra Pradesh, Telangana and Rajasthan as well, but there was not much impact in the country's financial capital Mumbai except for the banking operations.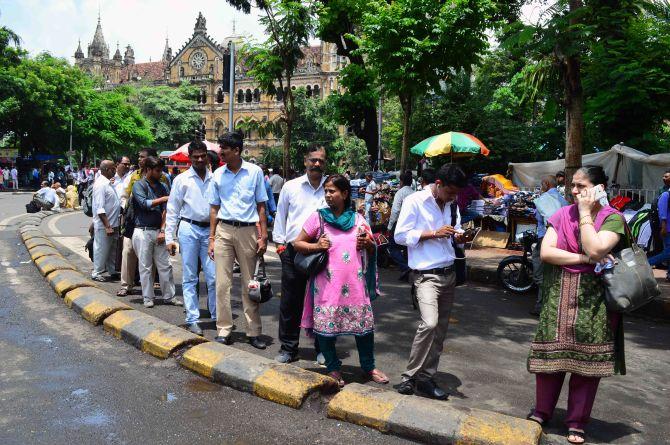 Stranded commuters outside GPO in Mumbai. Photograph: Sahil Salvi/Rediff.com
West Bengal
A day-long nationwide strike hit normal life in West Bengal on Wednesday with impact on banking and transport services, while nearly 200 persons were arrested from different parts of the state and clashes occurred at some places between the Left and Trinamool workers.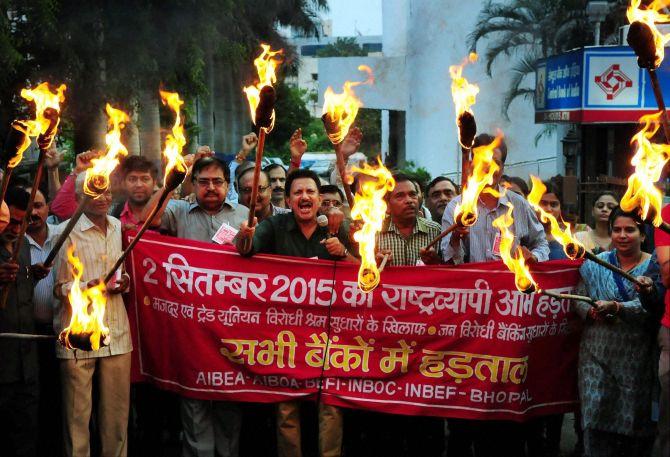 Bank workers take out a torch rally in Bhopal in support of 2nd September strike to protest against the proposed labour reforms by Central and State Government. Photograph: PTI Photo
The clashes took place at Baharampore and Domkal in Murshidabad district, while instances of scuffle were also reported from other parts of the state.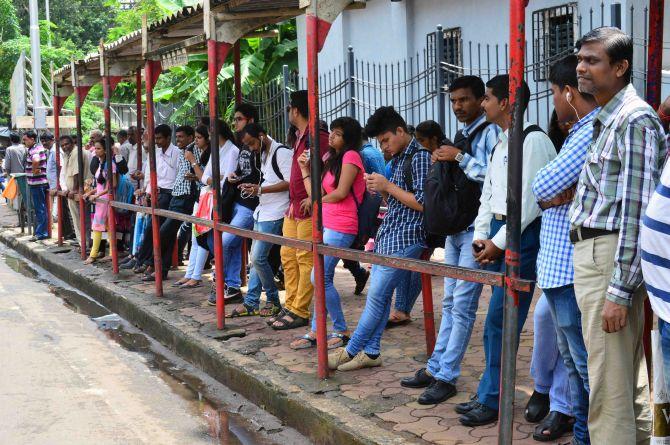 Train services of South Eastern Railway and Eastern Railway were partially affected due to the strike, called by ten central trade unions and their state affiliates. Metro Rail services in the city, however, remained normal.
State government buses and trams plied on the roads but there were less private buses, minibuses and taxis. Most shops, markets and business establishments remained closed.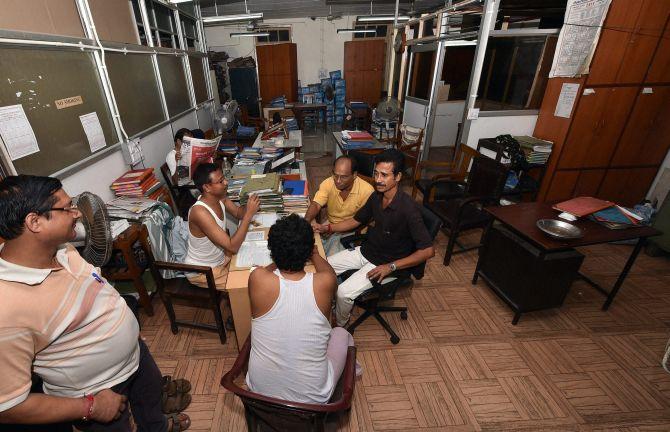 State government employees stay at their office on the eve of nation wide strike called by several trade unions, in Kolkata. Photograph: Swapan Mahapatra/PTI Photo
Airport officials said the flights of Air India and other airlines operated normally at the NSCBoseInternationalAirport, although passengers faced inconvenience due to inadequate number of taxis.
Police said there were also instances of stone pelting and use of low-intensity bombs at some places in Murshidabad, after which six Communist Party of India-Marxist workers were arrested.
The CPI-M alleged its former Rajya Sabha MP Moinul Hasan was injured along with 15 others when the TMC workers attacked a party procession.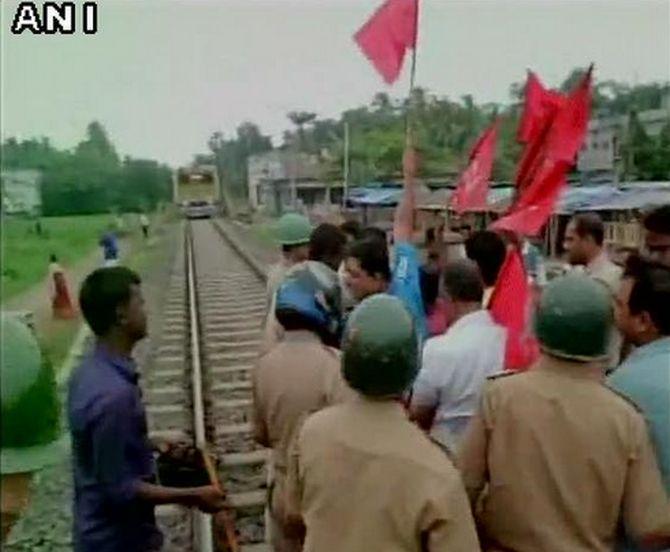 Protesters block the railway track in North 24 Parganas district in West Bengal
Delhi
In the National Capital, commuters faced problems as a large number of autos and taxis remained off the roads.
Kerala
In Kerala, public and private bus services, taxis and autorickshaws were off the roads. Only private cars and two wheelers were seen on the roads. Shops, hotels and even small tea stalls were closed in the state.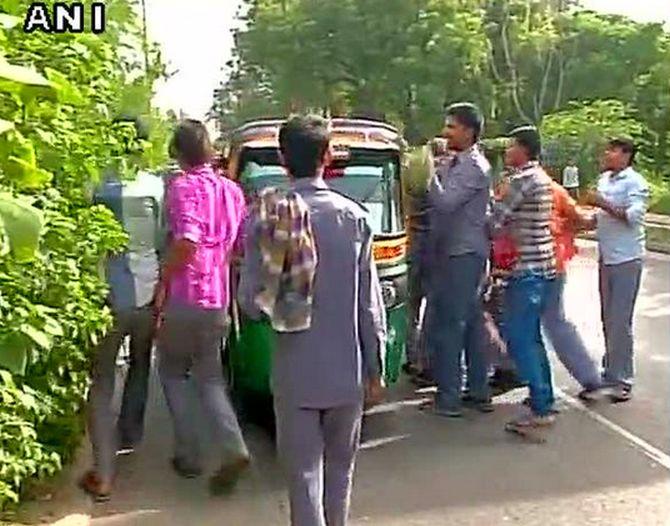 Autorickshaw drivers clash in Delhi
Tripura
In Tripura, the entrance gates of ONGC facility and the Tripura Jute Mill were closed.
Strike supporters were seen picketing on the roads and CITU members organised small rallies on railway stations while train services were also severely affected.
Goa
In Goa, the streets donned a deserted look during morning hours as private buses and state-run Kadamba Transport Corporation Ltd buses remained off the roads.
"Towns of Calangute, Ponda and Bicholim remained totally shut. All shops and transport have remained closed in support of the strike," convenor, Goa Convention of Workers and All Goa Transport Operators Associations, Suhas Naik said.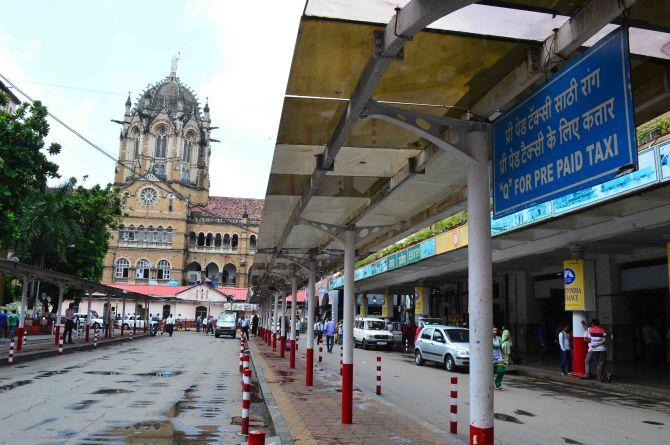 The CST station's taxi stand bears a deserted look
He said the state government was trying to force employees of KTCL to run buses but the workers refused to bow down.
Taxi service in the state was also affected as vehicles were withdrawn since mid night.
"Taxis from airport and railway stations were withdrawn since last night. Not a single taxi was plying from morning," secretary, North Goa Tourist Taxi Owners Association, Vinayak Nanoskar said.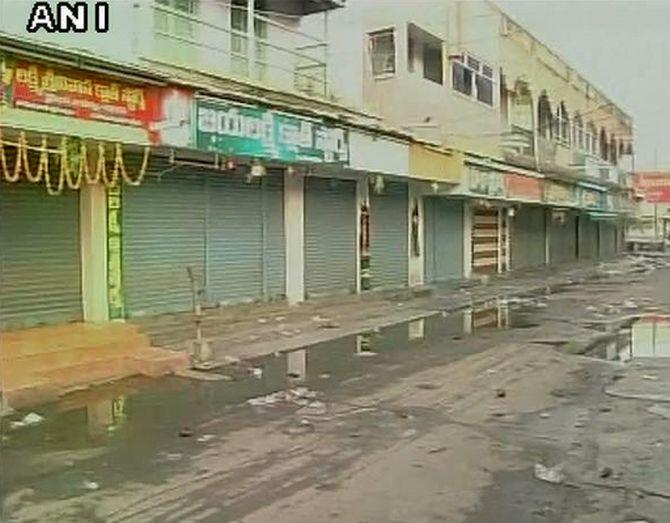 Shops remain shut for the day in Vijayawada, Andhra Pradesh

Karnataka
The nationwide strike called by 10 central trade unions today evoked a mixed response in the Congress-ruled Karnataka with stray incidents of stone pelting in the city. The strike remained largely peaceful other than stray incidents of stone pelting on buses reported from different places in the state, including the capital, police said.
With state transport workers also joining the protest objecting to the proposed motor bill, public transport in the IT capital was almost paralysed with buses not plying. Though auto unions had extended their support to the agitation, they started plying as the day progressed.
Schools and colleges had declared a holiday, while attendance in government offices was thin.
The strike affected normal life was reported from several parts of the state including Dharwad, Raichur, Davangere, Bellary and Hassan.
As per the membership claims filed by the central trade unions, there are over 13 crore members of the government recognised 12 central trade unions. India has a workforce of 50 crore people, of which over 80 per cent is in the unorganised sector.
Karnataka Home Minister K J George has warned against forceful imposition of the strike. City Police Chief N S Megharikh said adequate security arrangements have been made to see that no untoward incident happens.
Passengers have accused private transporters of over charging, using the strike as an opportunity.
Stranded commuters in Khammam, Telangana.
Odihsa
In Odisha, train services were disrupted for sometime at several places as protesters blocked tracks near railway stations like Cuttack,
Bhubaneswar, Sambalpur, Bhadrak, Chhatrapur and Khalikot, East Coast Railway (ECoR).
In the state capital of Bhubaneswar, roads wore a deserted look with agitators staging pickets at several places in a bid to prevent people from proceeding to offices and other destinations. Similar reports were received from places like Puri, Cuttack, Sambalpur, Bhadrak, Berhampur and Balasore.
The strike remained by and large peaceful with no untoward incident reported from anywhere, police said adding elaborate security arrangements were made to deal with any eventuality during the strike. In the port town of Paradip, loading and unloading of goods was hit at the port, while work in industrial units like IFFCO and PPL remained unaffected.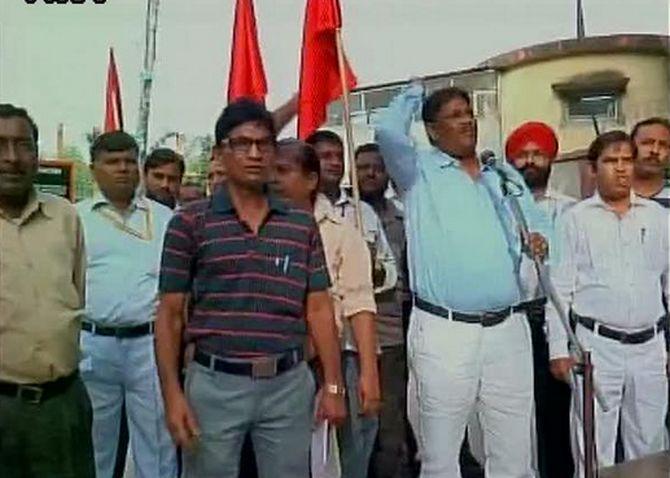 Trade union members protest over NDA's proposed changes in labour laws in Kanpur
Punjab, Haryana and Chandigarh
Several services like public transport were partially affected in Punjab, Haryana and Chandigarh. Commuters faced a lot of difficulties, though private buses plied on their route. Bank customers faced inconvenience.
All India Trade Union Congress Secretary D L Sachdev said in Gurgaon that as many as five lakh industrial workers have gone on strike there.
He also said that workers did not turn up at Maruti Suzuki plant on Wednesday due to agitation and even Rajasthan Roadways employees are in strike. Honda Motorcycle and Scooter plant in Manesar remained closed.
"The strike has had an impact across the country and even in Delhi. In several areas BMS people also joined the strike. Many local and affiliated unions have also joined in the strike," All India Trade Union Congress General Secretary Gurudas Dasgupta said.
In Delhi, people were seen waiting for hours for autorickshaws in several parts of the city, and public services like metro and Delhi Transport Corporation buses witnessed surge in number of passengers. People headed for offices, schools and colleges on Wednesday morning were impacted.
Taxis refuse to ply in Mumbai

Tamil Nadu
In Tamil Nadu, Government and private owned transport buses continued their services normally. Attendance in government offices and private establishments were also normal. All government and private hospitals also worked.
Meanwhile, a Puducherry report said normal life was hit due to the strike as shops, hotels and business establishments remained closed in the entire union territory.
Though government owned buses conducted services normally, privately operated inter-state and intra-state buses and auto rickshaws were off the roads. Majority of the schools also remained closed while attendance in government offices was normal.
Trade unions owing allegiance to Left parties, Congress, Dravida Munnetra Kazhagam and a few other political parties conducted rallies and dharnas as part of the strike.
"Puducherry unit Communist Party of India secretary R Viswanathan, Indian national trade union congress president G Ravichandran, Communist Party of India-Marxist leader V Perumal and all India trade union congress general secretary V S Abishegam were arrested for holding protests. No untoward incident was reported from any part of the union territory following the strike," police said.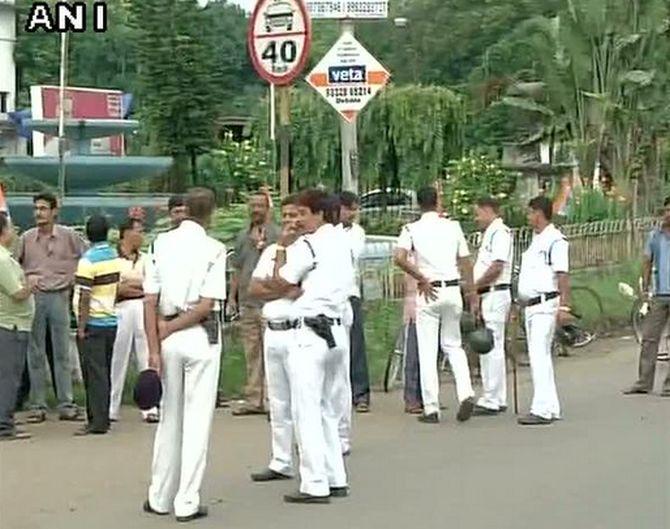 Policemen keep vigil as the government and opposition Left Front locked horns over the strike call.

The government had on Tuesday appealed trade unions call off the agitation in the interest of workers and nation. The unions however decided to go ahead with strike as their talks with a ministerial panel headed by Finance Minister Arun Jaitley last month did not make any headway on their 12-point charter of demands.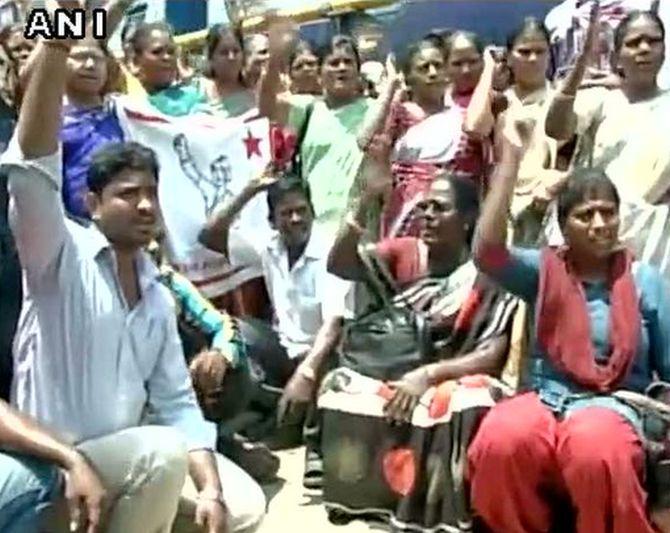 All India Democratic Women's Association and Democratic Youth Federation of India members block a railway track in Chennai
Trade unions' 12-point charter of demands includes urgent measures to contain price rise, contain unemployment, strict enforcement of basic labour laws, universal social security cover for all workers and minimum wage of Rs 15,000 per month.
They are also demanding enhanced pension for workers, stoppage of disinvestment in PSUs, stoppage of contractorisation, removal of ceiling on bonus and provident fund, compulsory registration of trade unions within 45 days, no amendment to labour laws unilaterally, stopping of FDI in railways, defence etc.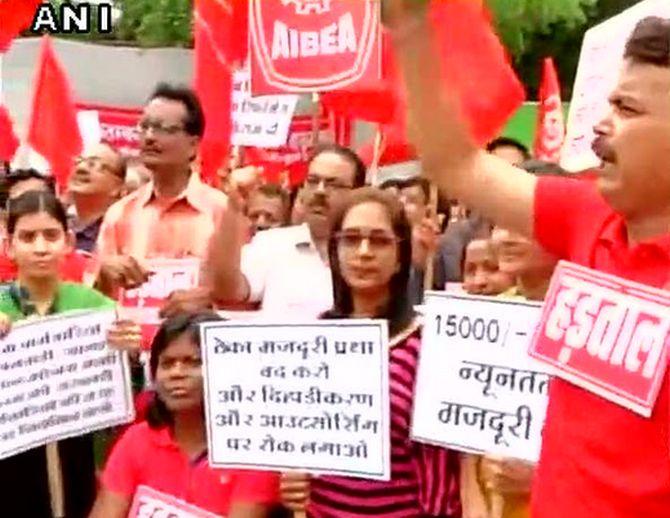 All India Bank Employees' Association protest in Bhopal, Madhya Pradesh
Mumbai
Transport services in the city remained unaffected, as suburban train services, autorickshaws and BEST city buses were operating normally despite the one-day nationwide strike called by central trade unions. "Around 30 per cent taxis in Mumbai stayed off the roads due to the strike," Anthony Quadros from Mumbai Taximen's Union said.
Nitesh Rane-led Swabhiman Sanghatana union claimed it succeeded in getting maximum taxis off the road in Mumbai. The city has around 38,000 taxis, of which close to 9,000-10,000 are believed to be affiliated to the Rane union.
General secretary of the federation of gazetted officers G D Kulthe said C and D category non gazetted government employees numbering ten to 11 lakh participated in the strike. A and B class gazetted officers have supported the strike and have reported to work wearing black ribbons, he said. There are 1.5 lakh gazetted officers in the state.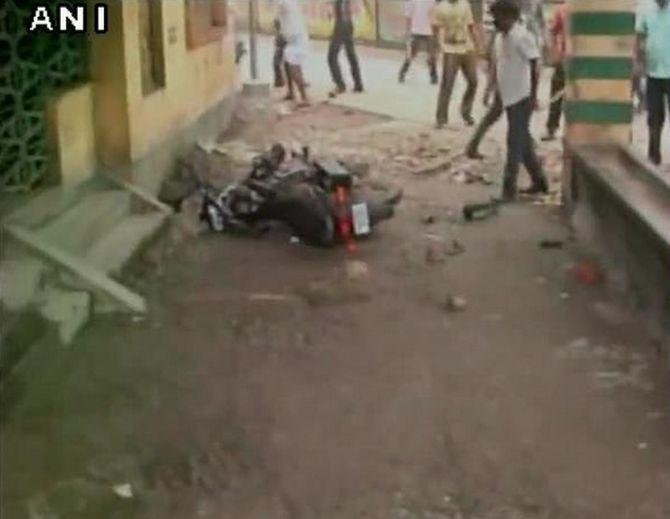 Tinamool Congress and Communist Party of India-Marxist workers clash in Murshidabad, West Bengal

Banking services are also likely to be affected with bank employees also announcing to observe strike on Wednesday.
Employees of departments which will be participating in the protest include transport, power, education, HUDA, health, irrigation, market committees, universities, he added.
Gujarat
Banking operations were mainly affected in Gujarat as nearly seven trade unions from the sector in the state on Wednesday joined the nationwide strike to protest changes in labour laws and privatisation of PSUs.
Other services remained normal in the state.
Nearly 30,000 bank employees, comprising clerical staff and peons, did not report to work on Wednesday which affected clearing and cash transactions, according to an office-bearer of Mahagujarat Bank Employees Association.
However, State Bank of India, Indian Overseas Bank as well as private banks functioned normally.
Cash transactions and clearing business of around Rs 10,000-12,000 crore will be hit due to the strike.
A trade union leader and city-based advocate Amrish Patel said around 5,000 workers of Ahmedabad Municipal Corporation, Ahmedabad Municipal Transport Service and Gujarat Industrial Security Force on Wednesday joined the strike.