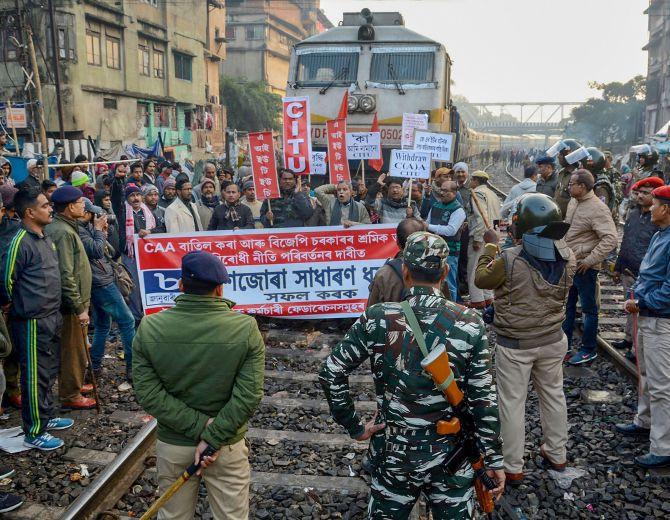 Members of 10 central trade unions have gone on a day-long nationwide strike on Wednesday against government policies, a trade body representative said.
Incidents of violence and arson were reported from various parts of West Bengal with buses, a police vehicle and government properties being vandalised by strikers who tried to enforce the 24-hour bandh.

Members of 10 central trade unions which include All India Trade Union Congress (AITUC), Indian National Trade Union Congress (INTUC), Centre of Indian Trade Unions (CITU), All India Central Council of Trade Unions (AICCTU), Trade Union Coordination Centre (TUCC), Self Employed Women's Association (SEWA), Labour Progressive Federation (LPF), along with various sectoral independent federations are participating in the nationwide strike, Amarjeet Kaur, General Secretary, AITUC said.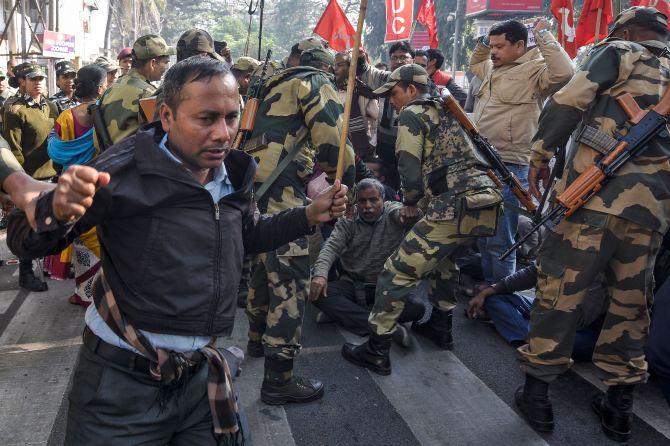 "We are protesting against rising prices, sale of the public sector (firms), 100 per cent FDI in railways, defence, coal, pharma, animal husbandry, security services, and codification of 44 (central labour) laws," she told PTI.
Nearly 25 crore people are said to be taking part in this all-India strike.
The demands also include a minimum pension of Rs 6,000 for everyone, minimum support price (MSP) for farmers, adequate supply of ration to people, she said, adding that the demands concern common man's issues besides worker-centric issues.
In Delhi, she said, rains could not impact on the movement as workers' processions will be taken out in industrial areas of the state; and as planned, workers will assemble at the ITO and take out procession.
"We are getting reports from all over India. BHEL workers have gone on strike, oil unions are on strike. There is situation of bandh in states of north-east, Odisha, Pondicherry, Kerala and Maharashtra. Roadways depos are closed in Haryana," she said.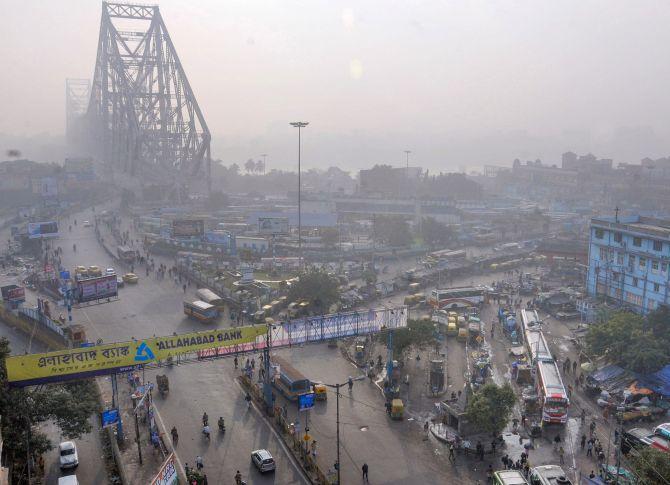 The national capital largely remained unaffected by the strike, though most industrial workers stayed away from work.
Metro and the Delhi Transport Corporation (DTC) services functioned normally despite the strike call.
Officials said no trains have been affected in the national capital, but some Delhi-bound trains from Odisha and West Bengal could be affected.
Widespread intermittent rains in the national capital also reduced the intensity of the strike.
The industrial areas of Mayapuri and Wazirabad witnessed protest march.
In Bengal,Protesters blocked a major road in Sujapur area of Malda district, set tyres on fire, ransacked government buses and torched several vehicles, including a police van.
When police tried to control the situation, they hurled stones and crude bombs.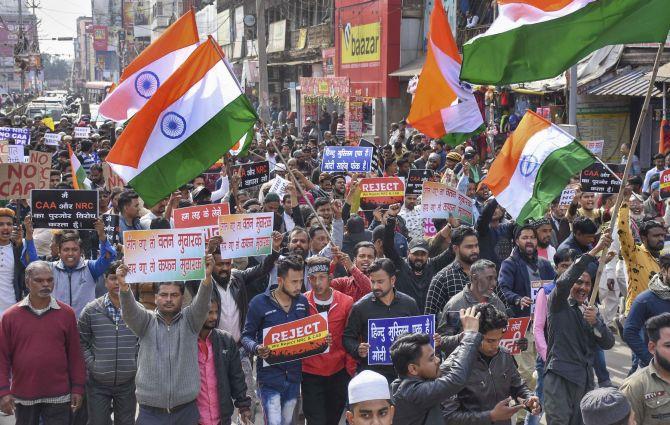 The police then baton-charged the mob, lobbed teargas shells and fired rubber bullets, officials said.
In various parts of the state, railway tracks and roads were blocked, affecting normal life.
The protesters burnt tyres and blocked roads in various parts of the East Burdwan district, besides staging sit-in on railway tracks, affecting train services in the sector.
In East Midnapore district, stones were hurled at buses, following which the protesters clashed with the police, leading to several arrests, the officials said.
Several buses were also vandalised in Cooch Behar districts by the protesters.
The bandh supporters tried to break past barricades in Kolkata's Central Avenue area, prompting police to use force.
Several strikers were held, they said.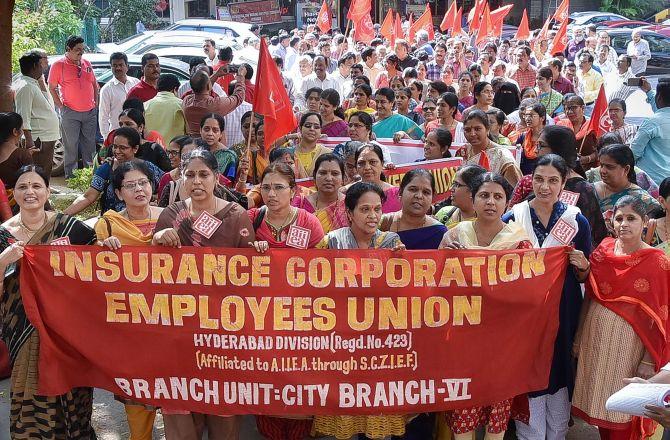 In Dum Dum and Lake Town, clashes broke out between Left supporters, who took out rallies in support of the strike, and TMC supporters who were opposing it.
A huge police contingent was rushed to the spot to control the situation, the police said.
The strikers also blocked railway tracks at Jadavpur, disrupting services in the important section and shut down vehicular movement on nearby roads, following which police resorted to baton charge.
Communist Party of India-Marxist legislature party leader Sujan Chakraborty was detained for instigating violence, the officials said.
Members of Jadavpur University students' union also also joined the strikers and staged demonstration near their campus.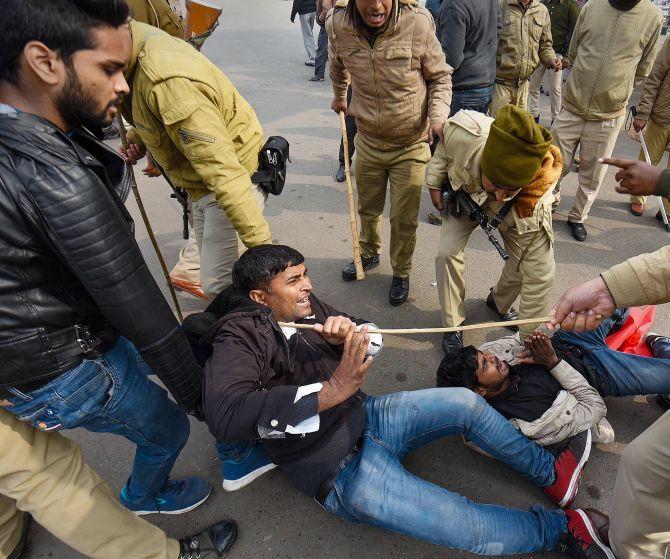 Country-made bombs were found on several roads in Barasat area of the North 24 Parganas district. Crude bombs were also found on railway tracks at some places in the district, they said.
The strikers also took out rallies in the industrial belt of the district, including Barrackpore and Sodepur, and blocked roads and railway tracks.
Daily commuters and office-goers across the state had a harrowing time as the number of vehicles plying on the roads was much less than other days.
In Kolkata, government buses were plying normally but the number of private buses was less. Metro services were normal in the city and auto-rickshaws and taxis were also seen on the roads.
Heavy police deployment was seen in several areas, including in Tollygunge, Behala, Esplanade and Shyambazar.
Slamming the Left and the Congress for trying to enforce the bandh, Chief Minister Mamata Banerjee said that those who do not have any political existence in the state are trying to ruin its economy by pursuing 'cheap politics' of strikes.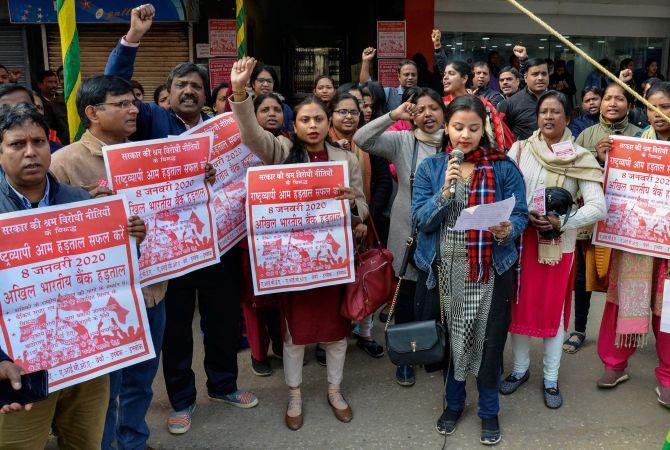 She said police will take action as per law against the protesters.
Till noon, around 55 people were arrested from different parts of the city for allegedly trying to block vehicles, stall government buses or forcibly stop shopkeepers from opening their establishments, a senior officer of the Kolkata Police said.
Flight services were normal at Netaji Subhash Chandra Bose International Airport but train services were partially affected in some sectors of the Sealdah, Howrah and Kharagpur sections due to obstruction by protesters.
The Trinamool Congress also took out rallies opposing the strike at some places in north Bengal and urged people to maintain normalcy.
Branches and ATMs of most of the banks in the state remained closed as employees stayed away. Contractual workers also joined the stir.
According to the All India Bank Employees Association (AIBEA), some 28 lakh cheques worth over Rs 21,000 crore could not be sent for clearing.
Staff of the Reserve Bank of India also joined the strike.
The All India Reserve Bank Employees Association (AIRBEA) general secretary Samir Ghosh said strike was successful.
Majority of the jute mills in the state also remained shut.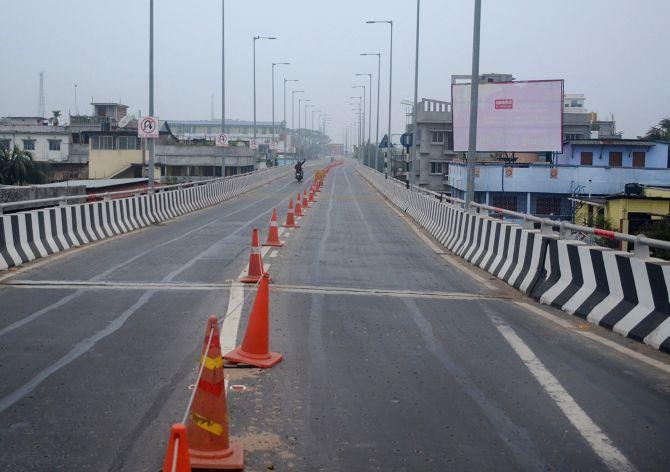 Life at Bengal's IT hub Sector V was near normal, although there was partial impact in attendance in the early hours due to disruptions in transport, NASSCOM sources said.
The state government offices recorded around 95 attendance, a senior official claimed.
The government has announced that no casual leave for absence, either in the first-half of the day or in the second-half or for the whole day, nor any other leave shall be granted to any employee during the strike.
Congress leader Rahul Gandhi came out in support of the strike, slamming the Modi government, saying its 'anti-people and anti-labour' policies have created catastrophic unemployment in the country.
He alleged that this weakening of public sector undertakings is being done to justify their sale to Prime Minister Narendra Modi's crony capitalists friends.
Extending support to the 'Bharat Bandh' call given by over 25 crore workers, he said, 'I salute them'.
'The Modi-Shah government's anti people, anti labour policies have created catastrophic unemployment and are weakening our PSUs to justify their sale to Modi's crony capitalist friends,' he said in a tweet.
'Today, over 25 crore workers have called for Bharat Bandh 2020 in protest. I salute them,' he said on Twitter.
The ruling Shiv Sena in Maharashtra has also extended its support to the bandh call.
In its mouthpiece Saamana, Shiv Sena stated that during the 'first regime of teh BJP government, the industry and labour class was badly affected due to its decisions like demonetisation and Goods and Services Tax (GST)'.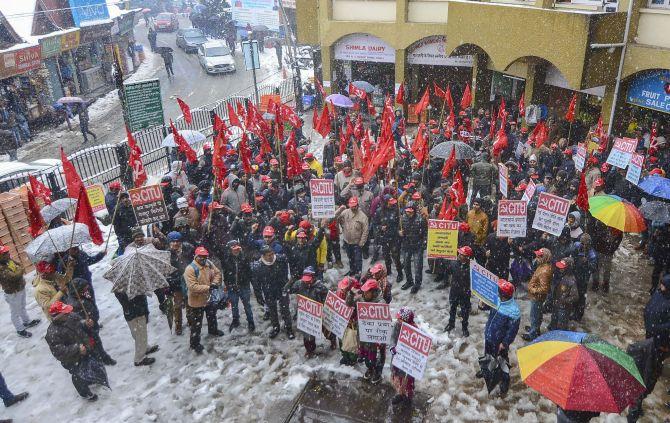 The editorial stated that people expected that things will improve, but 'six months have passed since the present government was formed and neither industries nor the condition of the labourers improved'.
However, transport services in Mumbai remained unaffected.
Suburban trains, which are called as the 'lifeline of Mumbai' with a ridership of more than 75 lakh commuters per day, public buses, taxis and autorickshaws are running normally in the island city and suburbs.
"Suburban locals on all three lines are running normally, except minor delays," said officials.
Similarly, Metro and Monorail services are running smoothly, sources in MMRDA (Mumbai Metropolitan Region Development Authority) said.
Officials of BEST (Brihanmumbai Electricity Supply and Transport), which operates a fleet of buses in Mumbai, its extended suburbs and Navi Mumbai, said buses are running as per schedule.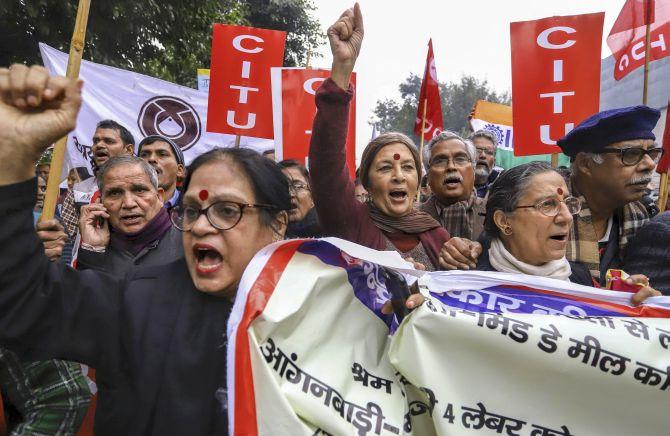 BEST buses ferry nearly 35 lakh passengers per day with the fleet of around 3400 buses.
A union leader said taxis and autorickshaws are plying as usual and there are no reports of any untoward incident due to the strike.
Normally, at least 45,000 taxis and 1.75 lakh autorickshaws ply on Mumbai roads.
In Left-ruled Kerala, normal life was affected with public transport services keeping off the roads and banking services hit as the 24-hour strike was total in the state.
Roads across the state wore a deserted look as Kerala State Transport Corporation (KSRTC), private buses, auto-rickshaws and taxis stayed away but a few private vehicles were seen plying.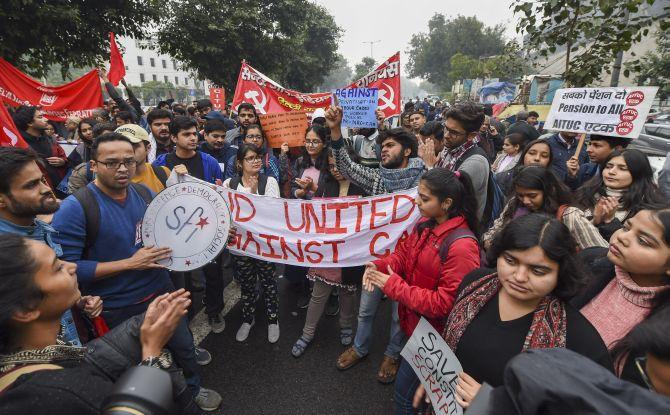 Schools and colleges had declared a holiday for today and three major universities in the state had postponed all the examinations.
Shops, hotels and other business establishments were also shut across the state despite the Kerala Vyapari Vyavasayi Ekopana Samithi, an organisation of traders, stating that they would remain open.
However, medical shops were seen open at all major towns.
As Sabarimala pilgrims have been exempted from the strike, KSRTC buses are taking Ayyappa devotees to Pamba.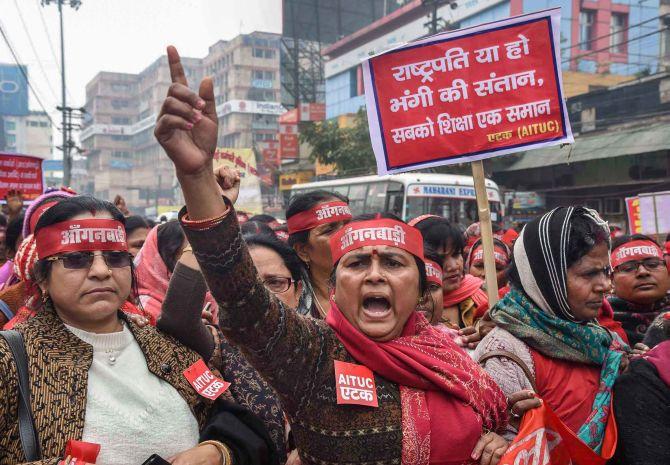 With trade unions of the ruling Communist Party of India (Marxist)-led Left Democratic Front and opposition Congress-headed United Democratic Front participating in the strike, most of the staff did not turn up at the Secretariat.
Chief Minister Pinarayi Vijayan and other ministers also did not attend office.
The weekly state cabinet meeting scheduled for Wednesday had been held a day earlier.
A Kochi report said the functioning of the public sector Bharat Petroleum Corporation Ltd (BPCL) refinery has not been affected although non-management staff is on strike, a BPCL spokesman said.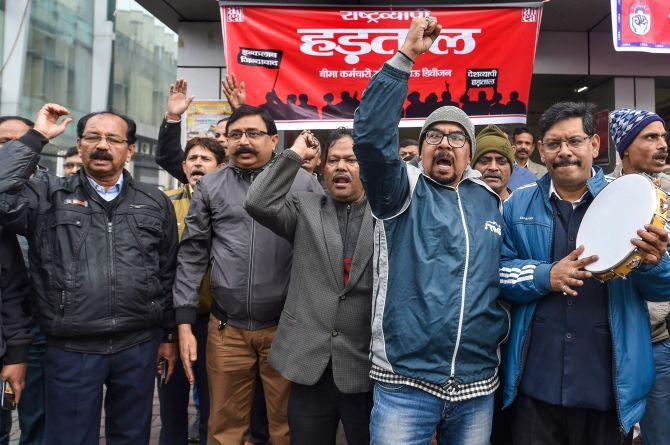 Plant is running normal using available staff, he said.
However, the strike has partially affected the functioning of the Cochin Shipyard Limited (CSL).
More than 80 per cent of the officers and supervisors have joined duty at the Shipyard but the attendance of workmen is only 20 per cent, a CSL official said.
Operations of Kochi port were not affected as around 57 per cent staff reported for work, sources said.
The Kochi Metro Rail services also functioned normally despite the strike.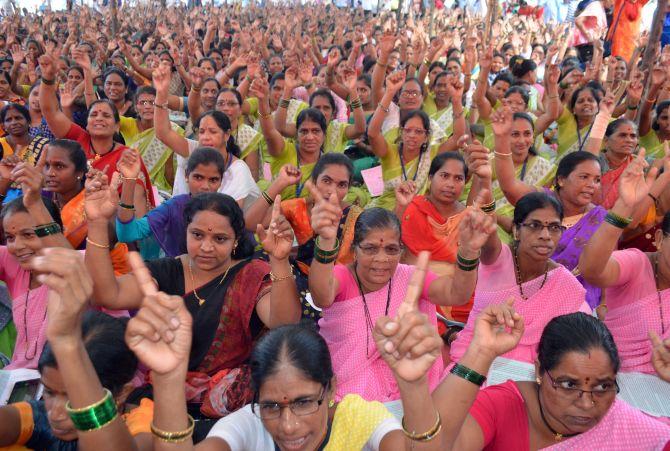 Railway sources said train services were unaffected by the strike called by various trade unions and there were no protests at railway stations.
However, passengers who reached the railway station had a tough time getting vehicles.
Police vehicles were arranged to take patients coming for treatment at the Regional Cancer Centre (RCC), Medical College Hospital and Sree Chitra Tirunal Institute of Medical Sciences.
In Jharkhand, mining activities were affected due to the strike, claimed trade union leaders, even as officials asserted that situation was normal in the sector.
The strike, however, did not impact normal life in the state with public transport plying as usual and markets and other commercial establishments operating normally.
Rashtriya Colliery Mazdoor Sangh leader A K Jha claimed that workers did not turn up for duty affecting mining activities in the state.
Dismissing the claim, officials said there was no impact of the strike in the sector.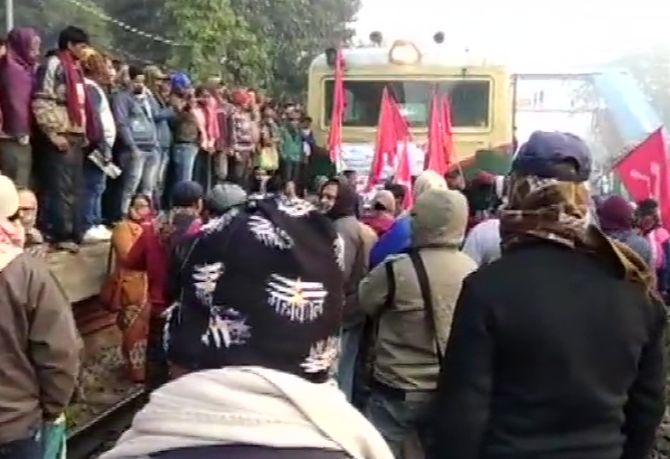 In Andhra Pradesh, leaders of the Congress, the Communist Party of India and the CPI-M were taken into custody as they staged a sit-in protest on the highway outside the RTC bus station in Vijayawada.
Reports said employees stayed off duties in various public sector undertakings, mostly in Visakhapatnam.
Most of the banks remained shut.
In Vijayawada, a rally was taken out from Radham Centre to Lenin Centre.
In Machilipatnam too a rally was organised from Koneru Centre.
Reports from Tirupati said police prevented youth organisations from carrying the effigy of Prime Minister Narendra Modi in a 'shava yatra.'
CPI state secretary K Ramakrishna condemned his arrest and that of CPI-M and Congress leaders in Vijayawada.
The nationwide strike had no effect on normal life in Bengaluru and other parts of Karnataka, with most of the vehicles including government buses plying.
While government buses including the Karnataka State Road Transport Corporation (KSRTC) were plying as usual, train services remained unaffected.
Schools, colleges and business establishments also functioned.
However, there was some impact of the strike at the Agriculture Produce Marketing Committee yards where the labourers did not turn up.
With ANI inputs